With the expansion of marijuana legalization across the country, high-end pot paraphernalia is shaping to be one of the fastest growing markets. Thankfully, this wave of legitimacy has brought along a new generation of users expecting something beyond the traditional headshop vibe with their psychedlic-420-alien wares. Designers, online retailers, and manufacturers like Ben Medansky, Pax, and Tetra have led the evolution, bringing an elevated aesthetic to the pleasure of enjoying an herbal high. Here are some of the finest in smoking accessories designed with a modernist's eye:
1. Piece Pipe \\\ $40
Constructed with high quality brass in Sweden, the bullet-shaped smoking tool on a keychain comes complete with a three-bowl capacity stash hidden in its slide-out design. A terrific gift for the traveler who wants to keep their stash ready anywhere they go, but in a discreet manner.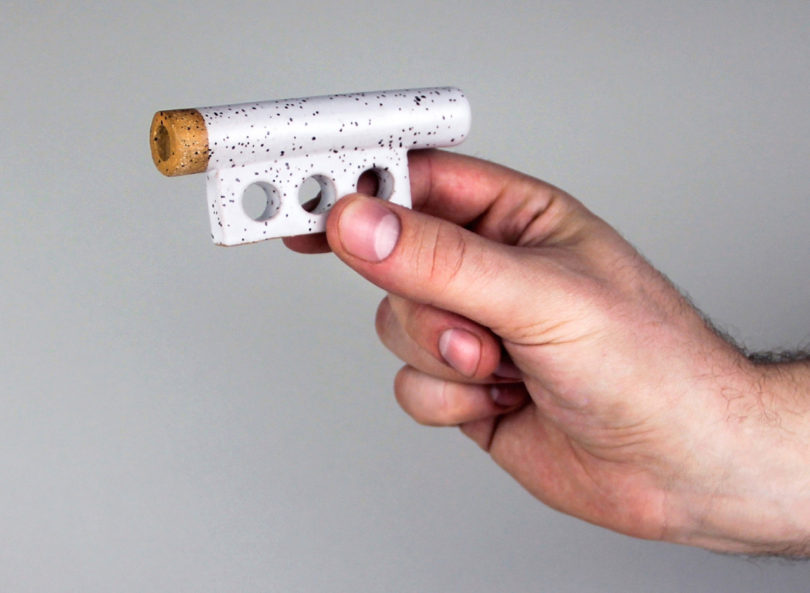 2. Ben Medansky Soleri Flume \\\ $60
Many of our favorite smoking designs comes from the studio* of ceramicist, Ben Medansky. This handmade ceramic smoking pipe is an example of the modern sculptural aesthetic Medansky brings to all his work.
*Due to an unfortunate studio fire, Mendansky's shipment and production are currently on hold. 
3. Aura Water Pipe \\\ $TBD
A team of San Francisco and Seattle designers joined forces to reimagine the water pipe with a modernist aesthetic that could be easily be mistaken for a soda or cocktails making accessory.
4. Ring Pipe by Lindsey Hampton \\\ $150
This duo of ring-shaped ceramic pipes stylishly adorned in colorful gradients come by way ofVancouver artist and designer Lindsey Hampton. Her pieces work either as beautiful decorative objects or packed with the finest in top shelf herb, indicative of Tetra's curated selection of smoking accessories.
5. Evoke \\\ $400
It's no secret Silicon Valley loves to light it up. The brainchild of a woodworking craftsman, an electrical engineer, and a super-conducting computing PhD physicist who met at a parenting class in the Bay Area, the Evoke is an app controllable, electronic magnetic induction vaporizer engineered to provide the smoothest inhale. We like the Big Sur-meets-Star Trek: The Next Generation design.
6. PenSimple \\\ $69
Packing a bowl can get messy and wasteful. The PenSimple grinds and deliver a precise amount at the press of a button. It's pocketable form factor is also a bonus for travel.
7. Crystal Voyager Ceramic Pipe \\\ $75
We don't know whether the crystals in Superman's Fortress of Solitude played any part in inspiring this geological shard design, but nevertheless, we imagine the ceramic pipe will deliver a similarly dreamy vision quest as experienced by our favorite Kryptonian.
8. LEVO \\\ $140
Infused oils or butters offer an alternative to smoking or ingesting edibles for a cannabinoid-infused high, and the LEVO is engineered to simplify the process with kitchen appliance, push-button simplicity.
9. Summerland Ceramic Bongs \\\ $165+
The classic glass bong, reimagined with lead-free, food-safe glaze and ceramic. Available in three different shapes and sizes, an arrangement of the trio together almost takes on the appearance of the works of Eva Zeisel.
10. Holmes Pipe \\\ NA
Designer Steve Bae evokes the imagery of the world's most prominent pipe-wielding detective with the modern technology of clean smoke vaporizing with his concept design, complete with ingenious temperature controls "inside" the pipe bowl.
**Coco Nuit candle from Wary Meyers \\\ $21.50
An additional bonus item meant for enjoyment between sessions – candles formulated to scent the room with the smell of tropical coconut, dark suntan oil, and the distinct smell of fresh green cannabis.