10 Natural + Neutral Accessories to Add Warmth + Coziness to Your Home
With fall in our sights this month, Scandinavian design and feelings of hygge, the Danish concept evoking coziness and well-being, come to mind. Home interiors that incorporate a mix of wood tones, rich textures and natural finishes in furniture, decor and decorative accessories layer visual interest to any environment. With warm colors like beige, brown, greige, sand, taupe, cream and gray among the favorites for a natural neutral color palette, with terracotta, amber and clay pink as accents, a sense of natural tranquility effortlessly emerges.
10 Natural + Neutral Accessories to Add Warmth + Coziness to Your Home
1/11 Photos
2/11 Photos
3/11 Photos
4/11 Photos
5/11 Photos
6/11 Photos
7/11 Photos
8/11 Photos
9/11 Photos
10/11 Photos
11/11 Photos
Arco Desert Bath Rug by Quiet Town
I have one of these rugs in another colorway but I really love the earthy tones of this one with its "future-city" inspired pattern.
Maze Gold + Linen Throw by Happy Habitat
The dynamic maze-like pattern of this throw pops in contrasting gold and linen colors that work every season of the year.
Aspen Magazine Rack by Ciseal
A hand-crafted magazine rack in walnut inspired by the aspen leaf that will hold a stack of your favorite magazines in one place.
Hook Me Up 3 Wood Coat Rack by cloudnola
A wall-mounted coat rack with a twist, it comes with three pegs to hold your hats and coats and three additional leather loops that conveniently contain your umbrellas and scarves.
Self-Watering Flowerpot by Eva Solo
This putty-colored flowerpot features a modern silhouette with the bonus of hiding a self-watering system that feeds water from the dish below to the plant in the pot.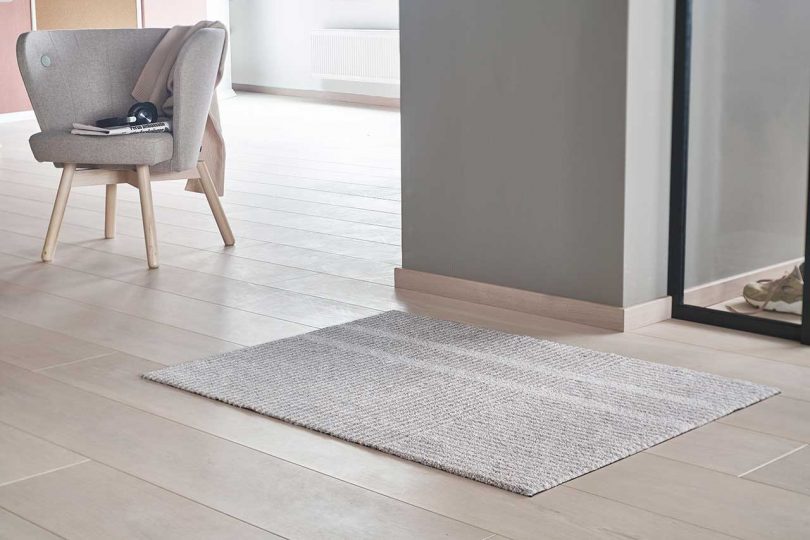 Løype Breezy Beige Rug by Heymat
With beige and cream tones, this simple patterned mat draws the eye while drawing the unwanted dirt from people's feet coming in from outside.
Conic Candle Holder by Puik Design
A cone-shaped candle holder with a neutral gray color is topped off with a black spring that holds a taper candle in place.
The Horizon Mirror by hollis+morris
Available in two sizes (Small and Large) with three mirror finishes (Clear, Sepia and Smoke), and four wood finishes (W. Oak black, W. Oak Natural, W. Oak White, and Walnut), these mirrors emulate the horizon or when rotated, a playful piece of art.
Camel Vegan Suede Knot Pillow by Knots Studio
A new twist on the throw pillow, this knotted pillow takes on a sculptural look yet it feels natural in its camel hue.
Monolis Ceramic Diffuser by Kitchibe
This minimalist diffuser is designed to resemble a stone mound, like a mountain, with the moon shining behind it acting as the reed that absorbs fragrance oil and diffuses it into the air.
>>> For more Natural + Neutral accessories, head to the Design Milk Shop! <<<