Hydration is a part of life no matter your beverage of choice, although obviously some are better for us than others. Whatever you choose to partake in, there are ways to make it more enjoyable, whether sipping coffee alone or hosting a cocktail party. To help you out, we sought out ways to enjoy your favorite drinks at home from early morning coffee or tea cups to a water carafe on your bedside table, and everything in between.
Sepia Glass Cup + Teak Saucer by KINTO
Perfect for starting the day off with a hot cup of tea, this sepia cup set is made from heat-resistant glass with a teakwood and plywood saucer for a modern twist.
Grid Mug by Recreation Center
A fresh perspective right off the pottery wheel, this handmade mug displays a high gloss speckled white grid with raw clay peeking through from behind, and a rubber dipped handle in playful yellow to make mornings brighter.
8.5 oz. HS Stacking Glass – 6 Pack by Toyo Sasaki Glass
Perhaps you're not a coffee or tea drinker and skip right to the juice. If so, these super durable small glass tumblers are perfect for it with their reinforced hard strong (HS) glass made by one of Japan's leading glass manufacturers.
Radiant Crystal Water Glasses by Puik Design
Don't forget to hydrate! Caffeinated beverages (and alcoholic ones!) can dehydrate you so make sure to keep up with your water drinking, which is much more delightful out of fancy mouth blown crystal glasses like these. Plus, you can also use these glasses for mixed beverages, wine, or whiskey.
Porter Terrazzo 20oz Bottle by W&P
Speaking of hydration, you can't forget about quenching your thirst when you're on the go, so to-go bottles are essential. This speckled terrazzo bottle features lightweight glass with a protective silicone wrapping to keep it safe while out and about.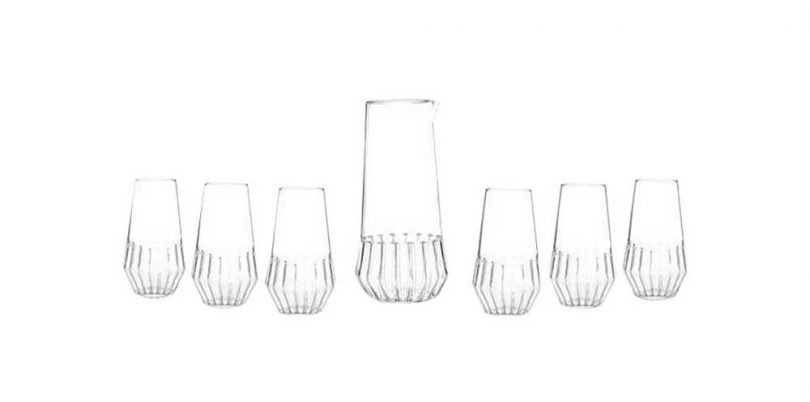 Mixed Carafe + Flute Set by Fferrone
A bit of a splurge, but one you can use this set for anything, from everyday use to parties. The handmade set includes one retro-inspired carafe and six glasses that would make for excellent afternoons sipping iced tea or lemonade libations.
Kronos Double-Wall Wine Glass by KINTO
It's always 5 o'clock somewhere, right? So you better get prepared for wine time with this double-walled glass that will keep your drink cold without condensation AND it won't tip over like a stemmed version. Plus, the outer shell has a lip that makes it easy to grip, especially after a glass or two.
Copper Cup by Yield Design
If Moscow Mules are your drink of choice, you need a good copper cup to enjoy them in, like these from Yield Design. Made of pure copper, the cups are functional and versatile with insulating and antimicrobial qualities making it an ideal pick.
Monti Birra by Sempli
For the beer drinker, this stout glass is designed in such a way that enhances the flavors of different types of beer and boosts their effervescence at the same time.
Short Glass Carafe + Glass Cup by Gary Bodker Designs
While these are sold separately, they make a great set for your bedside after a long day for late night thirst and early morning sips. Both are handcrafted out of glass and come in a handful of colors to choose from, including Rose shown here.
>>> For more drinkware and glassware options, visit the Design Milk Shop here! <<<