After a number of domestic and international flights last year, I have to say, packing is truly an art form, one that only improves after many iterations, trials and errors. While a hard-shell carry-on suitcase is my #1 preference, there are times when it seems like overkill to haul a suitcase around, like when you're going away for just the weekend or an overnight's stay. In this case, I prefer a duffle bag. It's simple, malleable enough to fit in tight squeeze places (like those small commuter planes), and much more portable if you have to rush somewhere.
If your resolution for 2018 is to travel more, here are 10 duffle bags that will turn heads at the airport and help get you to your destination in style.
Southern Field Industries Weekender, available at Need Supply
Handmade in Saitama, Japan, this unisex weekender bag is crafted by a small manufacturer that's dedicated to producing quality, timeless design that are the results of heart and master craftsmanship.
Everlane Nylon Weekender
If you're traveling to rainy cities, this weekender features a water-resistant fabric that's on the thinner side (aka light) but sturdy for frequent travels. This bag is also on the taller side so you'll have enough room to fit souvenirs you stumble upon during your trips.
Baggu Weekend Bag
Baggu is one of my most dependable brands and this one is simple, roomy and comes with a detachable interior zip pouch. The fact that it's machine washable is also a plus.
Wit & Delight Weekender Duffle
I love this bag for it's trolley pass-through pocket on the back (which makes it easy to transport if you're bringing along a suitcase too) and a bottom compartment for storing shoes or dirtied clothes.
Oliver Cabell Kennedy Weekender
Made with Italian calfskin leather and premium Italian cotton, the Kennedy has details that make it a stunner.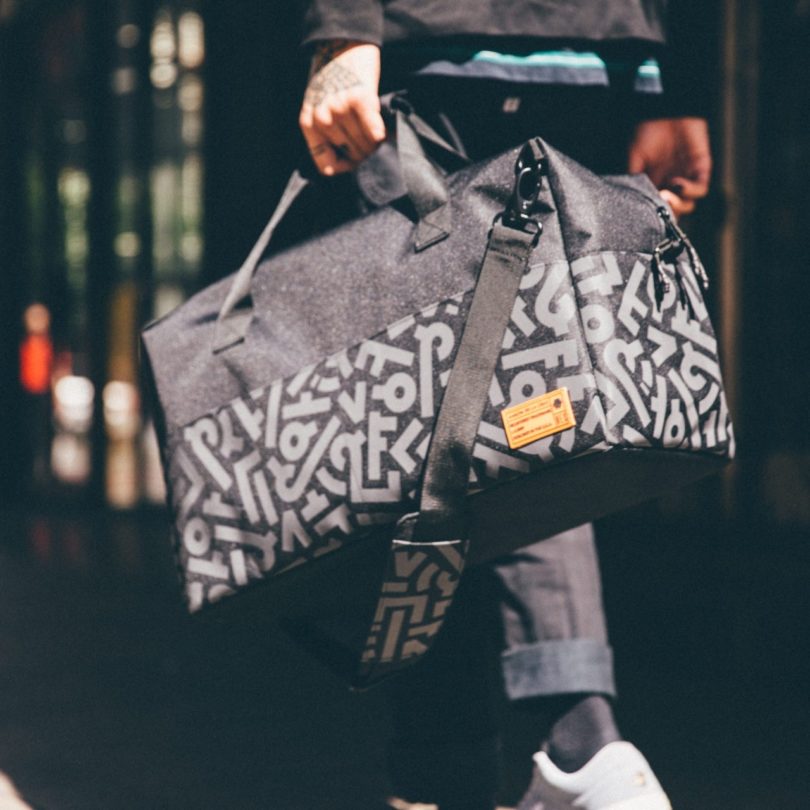 HEX x Aaron De La Cruz
This limited edition duffle features reflective accents designed by artist Aaron De La Cruz who has a signature graphic aesthetic that is a deconstruction of traditional lettering.
Malcom Fontier x The Minimalists Pakt One
If you've seen the documentary The Minimalists on Netflix, you know that Joshua Fields Millburn carries around a Getaway duffle bag made by Malcom Fontier that are no longer available. However, after an outpouring of support from fans due to the documentary's success, Malcom Fontier reached out to The Minimalists and they collaborated to create the same bag but better. The result is the Pakt One, created by experienced travelers for experienced travelers.
Society6 Duffle Bag by aftr drk
Having a distinguishable bag always helps at the baggage claim. You'll definitely find one that speaks to your personal style at Society6.
Knoll Weekender
This weekender has an interesting material combination of wool felt and leather that gives the bag a contrasting look.
Miansai Duval Duffle
Oooweee. This bag is an investment since it's made completely with Italian cowhide leather but it's the kind of bag that gets better with age, a testament to the miles you've traveled and the sights you've seen.