The following post is brought to you by Squarespace. Our partners are hand-picked by the Design Milk team because they represent the best in design.
If your just sitting on an idea, a side project or a hobby, it might be time to consider getting an online presence. Branding yourself or your (potential) company is a big first step and having an online presence is an even bigger part of that. Whether you're a full-time designer at a firm and have your own side projects at home or on weekends, or you're designing logos for friends, or doing some hand lettering for fun… creating a Squarespace portfolio is an excellent way to catalog and display your work. It wasn't until I saw all my work together on one page that I started feeling comfortable and excited about its direction and progress. Plus, all of Squarespace's templates are beautifully designed, so you're sure to have a design-worthy website from the get-go!
I've been using Squarespace Commerce for over a year now, and it's been incredibly easy. What I love about it is that it easily integrates into just about any Squarespace website, so whether you're ready for Commerce yet or not, you can very quickly add a shop to your website or create an online store in minutes. It was super fast to set up and it's all right there in the same Squarespace Admin interface. Everything is customizable and manageable, and it's even mobile-friendly!
If you need some inspiration or just motivation, here are some well-designed shops running on Squarespace Commerce:
Apotheke – This Brooklyn-based shop has such a beautiful splash page using Squarespace's Montauk template. Once you click through, the simple beauty of their site continues – I love how their site matches the simplicity of their product packaging.
Another site with a gorgeous intro page, Washiarts, using the Avenue template, knows how to visually grab you from the get-go.
Also using the Avenue template, Simple Shape, created with help from designer Stuart Hobday, works with designers and makers in the UK and Ireland. The simplicity of the materials and the designs that they carry is reflected in such a beautiful way through the simplicity of their site design. I love that there's a space on the homepage that prominently features the makers.
Good Candle is a site that makes me wish we were at the point where we could smell our computers. Maybe Squarespace will launch Squarespace Sniff, where we can touch our screen and smell these amazing-looking candles. It's an added bonus that Good Candle, using Squarespace's Marquee template, created a site that really reflects their branding. The use of specific fonts on their website that are similar to those used on their packaging reinforces their brand identity.
Brooklyn Forest is a cute little site that does something very straightforward: registers parents/caregivers and their kids for classes in the park. It's not overdone and makes it very easy to get your kid signed up for an adventure outdoors. I like the use of four photographic navigational rectangles/squares on the homepage. With the help of Squarespace's Native template, their site is visually pleasing but also totally functional.
Death at Sea is a lifestyle and accessories brand from Brooklyn that sells items inspired by bike and tattoo culture. If you're a visual person like me, you can instantly appreciate their homepage, which gives you a lovely tiled overview of the products they make using the Galapagos template. Click on any photo and you can purchase that item – simple, easy, pretty.
Wrappily is a site dedicated to wrapping paper but has a whole new take on the business. Using neighborhood newspaper presses, they print colorful patterns on 100% recyclable newsprint that can be reused up to 7 times. They've taken their site to a new level by creating a beautiful visual experience with Squarespace's Dovetail template and created colorful, branded tiles that introduce their business to you before you begin your shopping experience.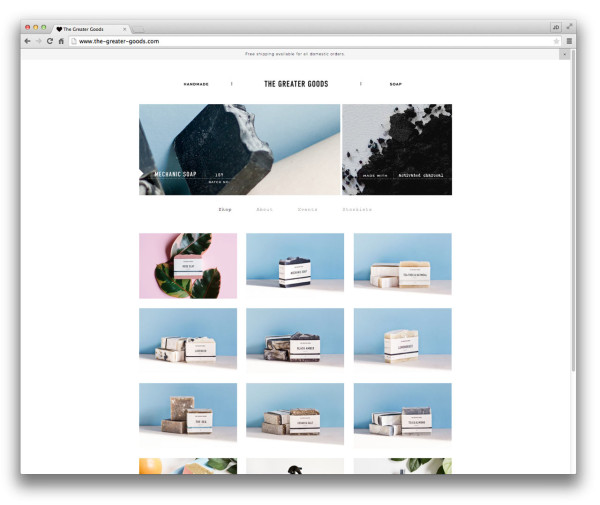 What can I say about Brooklyn-based handmade soap company The Greater Goods' website? It's a gorgeous, simple site built on Squarespace's Montauk template that reflects their brand perfectly. You'd never know it was built using a template! (psst – did you ever want to learn how to make soap? They teach classes!)
Fairly new Austin-based furniture and accessories company Only Sun Wood Works is run by Matthew Brown, who probably doesn't have time to design a website with all his making and designing and crafting. So, he relies on the Supply template from Squarespace to create a beautiful website to show clients, through which he can also sell his products. Crushing on this record cabinet…
UK-based Room39 is a company that creates original, modern furnishings and accessories with a retro feel and sustainable manufacturing practices and/or materials. We can definitely get behind that! From their very visual homepage to their shop, using Squarespace's Galapagos template with integrated commerce helps them promote their brand as well as sell products worldwide.
Was that enough of a kick in the pants to get you motivated?
Launch your own online shop with Squarespace Commerce or jumpstart your new business idea (no matter how small!) with a free trial and get 10% off your first purchase using offer code DESIGNMILK.

Design From Around The Web