A family hired ONG&ONG to renovate a three-story shophouse in Singapore to become a warm family home. Located in a conservation area that's now become all residential, the 17 Blair Road house was originally built sometime between 1900 and 1940 and had been recently used as an office.
While they wanted an updated family home, they wanted to maintain the historic nature that the home came with. At some point along the way, the original home had been gutted to make way for offices, which meant that when the new owners took possession, it wasn't fit for living.
Before the renovation, the ground floor was one long space that severely lacked light. They created an interior courtyard that brings sunlight and allows for natural ventilation of the home.
On one side of the courtyard, there's a living room and dining room separated by a massive staircase that spans all three levels.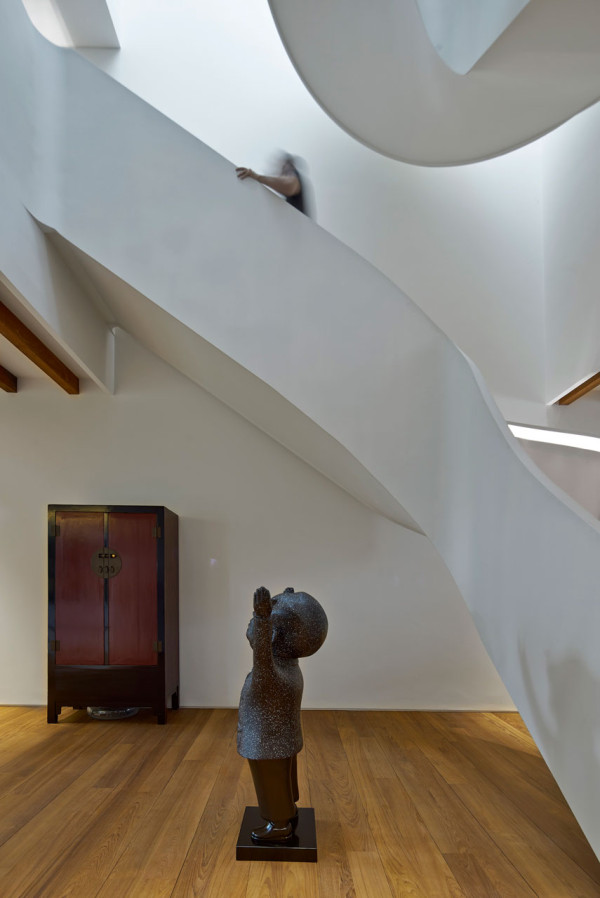 The open staircase allows light to flood through all of the floors.
The dining room is right off of the courtyard, expanding the square footage when the sliding folding glass doors are open. On one side of the courtyard is a vertical green wall.
The second floor houses two bedrooms on either end with a bathroom in between. The stairwell and long hallway help separate the two rooms.
The top floor has the master bedroom with a separate bathroom.
The master bathroom has a sloping skylight that makes you almost feel like you're outdoors, especially with all of the greenery.
Back on the ground floor and adjacent to the dining room is the rear block of the house that contains the kitchen. The staircase leads to the top where the pool is located.
Photos by Aaron Pocock.

Design From Around The Web