Anyone can rig a nozzle up on the side of the shed, controlled by the garden hose spigot. And then there are the simple rinse off spots for a beach house. These outdoor showers take it a step (or two, or three) beyond, with gorgeous landscaping, cutting edge fixtures, and well-thought out design.
Above, a sleek indoor/outdoor design with a pivot door that gives a glimpse of the water view, designed by David Jameson Architect.
This gorgeous outdoor bathroom (heck, why stop at a shower), designed by David Hertz Architects, was once an unused alleyway on the property.
This minimalist bathroom located in Hassen, Germany, was designed by Ian Shaw Architeckten. It looks to be outdoors, but perhaps it's fully enclosed, and simply open on top thanks to a clever skylight.
New York City-based firm Resolution: 4 Architecture uses Japanese-style wood slats to enclose a double shower on a deck.
This minimalist outdoor shower, designed by Rockefeller Partners on a property in Nichols Canyon with views downtown Los Angeles, is encased in concrete.
Admittedly, this outdoor shower by Copenhagen-based LASC studio is more back-to-basics than all-out luxury, but we can't resist its quintessential Scandinavian design.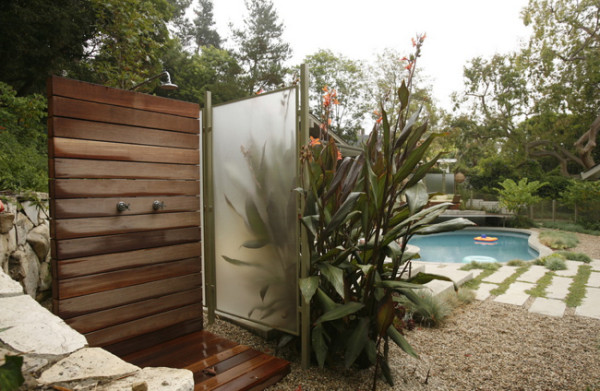 Tucked around some clever landscaping, and hidden with a frosted screen and wood slat wall, this outdoor shower and patio plan was designed by Mark Tessier Landscape Architecture.
We saw one side of this pool house, designed by architect Robert M. Gurney, in a roundup a couple of weeks ago. No surprise, this island paradise (it's located on Nevis) has a spiffy outdoor shower space too.
This fabulous home in Los Angeles, designed by Tocha Project, has a screening room, meditation room, wine room, and a pretty fantastic indoor/outdoor bathroom.
Perched on a bluff overlooking Block Island Sound, this vacation home designed by New York City-based Robert Young Architects is bordered on three sides by water, wetlands, and woods. The shower is simple, but sleek.
The Loop by Idiha Design is a freestanding, polyethelene shower system that can be placed on your patio, or even in your house (if you have a gigantic bathroom, that is). You can even order it with colored LED lighting.
We spotted this Long Beach, California residence in an Apartment Therapy house tour. The streaming sunlight and tropical greenery had us fooled—it's actually an indoor bathroom with a skylight.
For more wet design fun check out Montage: 30 Outdoor Showers on StyleCarrot!