What can I say about beds? We all have them and we all need them. We spend a huge portion of our lives IN them, so shouldn't they stand out and be just as fantastic as every other piece of furniture we love? I think so. Beds are not just about the mattresses you put on them. You gotta think about what you put those fancy mattresses on, so here are some of our favorite modern beds to lay your pretty little head on:
The Oyo bed designed by Paolo Piva for Wittmann has a built-in tilt mechanism in the headboard so that you can straighten it up or fold it over, depending on your comfort needs.
Let's begin with the fairly tame. From Nolen Niu, the Fold bed is a sleek and unusually shaped bed that has an origami-like feel to it. It looks cozy, doesn't it?
The Letto Col-letto from Lago (say that five times) has a soft foam collar that surrounds the edges that you can roll up or down. Call me crazy, but is this a crib for adults? We featured it before but we just had to talk about it again. And how cute are those nightstands that peek out from behind the fabric skin?
This one really takes things outside the box as far as design goes. Gone are the typical squared off edges of a traditional bed in favor of the futuristic, egg-shaped curves of this one we featured a few years ago. The Lomme bed is full of technology with a light therapy alarm clock, color therapy, a sound system, and comes complete with a memory foam mattress that makes you feel like you're sleeping in a cocoon.
Another bed that goes against the norm is the round Nina Rota bed by Ron Arad for Cappellini. It features a curved, padded headboard with a shelf built in. You can also get movable tables on castors that match the bed.
We've talked about Shiner a couple of times before and they really knocked it out of the park with the Mood Rocking Bed. It's made for indoor or outdoor use and comes with rubber stops in case you want to freeze the motion.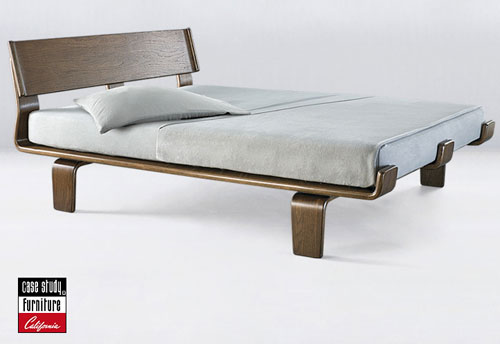 If you prefer a more minimalist look, you might like the Case Study Alpine Bed from Modernica. Inspired by the mid-century Case Study houses, the bed has beautiful curves and a simple overall design. It's been one of our faves for years now.
What appears to be your standard platform bed is actually much cooler upon closer inspection. The Bay bed from Former is actually a multimedia bed with many features incorporated into the sleek white headboard like a Bose stereo system, lighting, and a section that houses a bunch of outlets for you to plug everything into. [Close up below]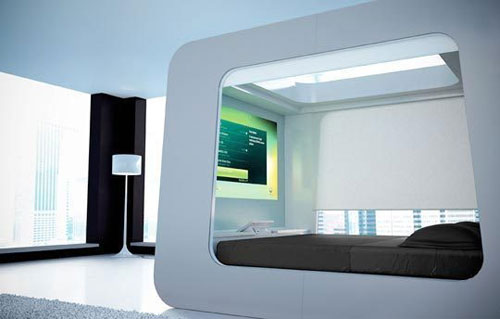 Now this bed is decked out to the nines. The HiCan, or High fidelity Canopy, features a state-of-the-art sound system, reading lights, a built-in PC and a full game system, a projector for movie watching, a screen that lowers to watch movies on, and automated blinds that enclose the bed for privacy. If this bed had a fridge, I'm fairly certain I would never leave it.
This Big Bed by Poliform just screams inviting to me. Like, spend the whole day in bed watching TV and reading the newspaper, inviting.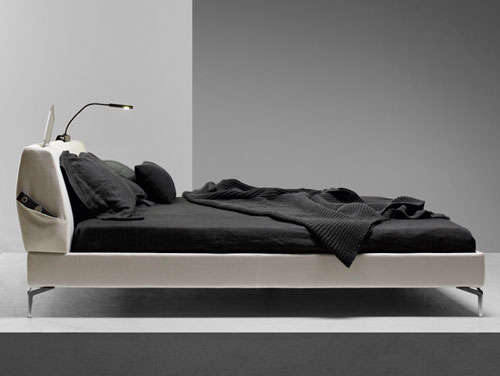 The Tea Time Bed was designed by Arik Levy for Molteni&C and the name alone makes me want to go to sleep. The upholstered headboard comes complete with slots in the top to let you place things like books or a lamp and the side has pockets for your remotes or other stuff. [Image via]
How could I do a post on beds and not include this Giant Birdsnest one?
And with that, I say "goodnight…"