12 Modern Dining + Tableware Pieces for Your Next Get-Together
12 Modern Dining + Tableware Pieces for Your Next Get-Together
1/13 Photos
2/13 Photos
3/13 Photos
4/13 Photos
5/13 Photos
6/13 Photos
7/13 Photos
8/13 Photos
9/13 Photos
10/13 Photos
11/13 Photos
12/13 Photos
13/13 Photos
With gemini season upon us, graduations all around, wedding season in full swing, and dad's day right around the corner – there's always something to celebrate. And whether you're hosting a small group or your entire contact list, dressing up your dining table is paramount. To help you wine and dine your guests in style, I hand-picked 12 modern dining and tablewares that'll take your next get-together to the next level. You can always find more design-driven dinnerware in the Design Milk Shop!
These modern hexagonal placemats are made of an easy-to-clean vegan leather (just spray and wipe!), making them a fuss-free addition to your table setting that does the job of protecting your tabletop from hot plates and spills. Their minimalist design complements your existing dining wares without stealing the show, while still bringing a modern, geometric look that's a refreshing upgrade from traditionally rectangular placemats. They also come in light grey, soft blush, and cornflower blue colors.
$16 each
Shop Now >>
You can't go wrong with departo's classic yet cool dinnerware, and their ceramic dining plate is a household staple perfected. Featuring a shallow rim and a wide surface area perfect for filling up with your favorite eats, the large plate is a joy to use and display on your dining table. They come in a variety of rich, earthy colors too that are perfect for mixing and matching.
$24 – $186
Shop Now >>
Tapered candles are an easy way to add a bit of elegance to your table setting, and the natural wood grain on these new Asterisk Candleholders by Tortuga do just that while still offering a warm, casual vibe. Available in the line's signature beech and walnut finishes, the Asterisk Candleholders also come in lilac and red orange, achieved by using a pigmented linseed oil that adds delicate layers of color without losing the asterisk's natural wooden texture.
$71 – $87
Shop Now >>
This rose-hued plate by Fors Studio adds a pop of polished pink to your spring and summer tablescape. Perfectly sized for salads, desserts, and small bites, the Medium Plate features a sleek, minimalist profile with a low, subtle rim to elevate the presentation of your dishes. Made using chip-resistant bone china, every Fors plate is one-of-a-kind and sure to be your next favorite piece of dinnerware.
$28
Shop Now >>
New to the Design Milk Shop, this Asterisk Trivet Set brings the timeless asterisk form to your dining table. Designed by Studio Den Den and hand-tooled using natural beech and walnut, the trivet's modern simplicity and clear wax coating lets their natural wood grain shine, adding warmth and texture to your tabletop.
$47 – $54
Shop Now >>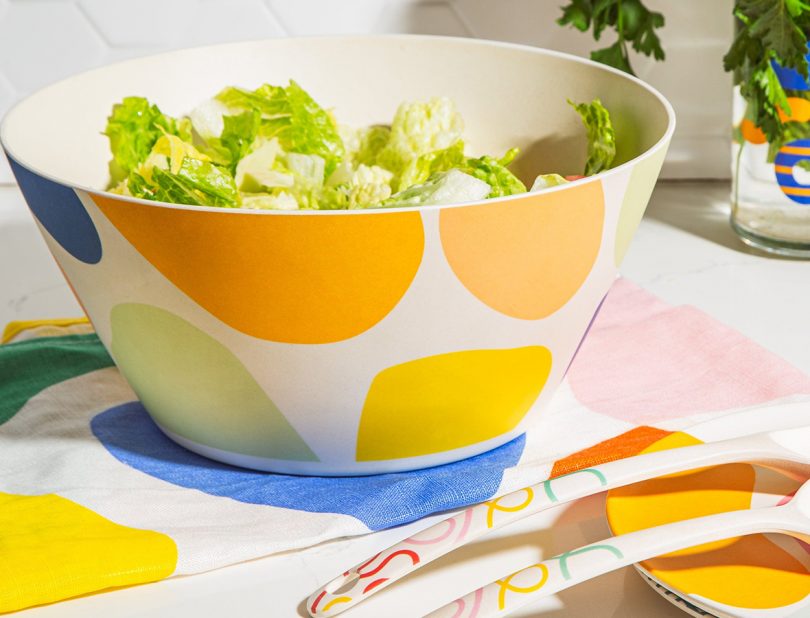 This Poketo Serving Bowl was made for summertime barbecues. The abstract pebble pattern brings a playful world of color to your dishes, and the lightweight yet durable design makes it a low maintenance addition to your cabinet. And the best part? The bamboo fiber and cornstarch material make this stylish serving bowl 100% compostable, making it as good for the planet, as it looks on your dining table.
$28
Shop Now >>
Aussie brand BENDO never fails to put a smile on my face with their neon, bent wire goods (their CLIP Wall Hooks went viral on TikTok!) – and their HOT Trivet is no exception. While minimalist in shape, the trivet's bright color and unique construction are anything but. Put simply, the HOT Trivet keeps your hottest pans and dishes off your table and countertops and looks good doing it.
$40
Shop Now >>
Prepare to be obsessed with the sculptural pleats on this pitcher by Areaware. More than a modern vessel for water, lemonade, and bulk cocktails – the Pleated Pitcher carries its weight as a solo decor item. When you're not using it to serve drinks for your guest, it can take up residence at the center of your table as a floral vase, or even completely empty as a sculptural accent.

$95
Shop Now >>
Poketo's Glass Candlestick Holders are the perfect middle ground for folks who want to dress up their table while still leaving room for playfulness and whimsy. The curvy, rounded details on these candleholders are a call back to the ornate aesthetic of old school candleholders, while the glass material and bright color options – bold yellow, baby pink, and pure green – bring liveliness and captivating light reflections to your dining table. I recommend mixing and matching between the different colors and heights for a fun, wonderland-inspired centerpiece!
$32
Shop Now >>
These stackable ceramic mugs feature sculptural shapes along their exterior to replace space-consuming mug handles for easy storage. Featuring rounded curves, half cylinders, and small bolts – each one of these mug's 3D add-ons are strategically placed for a fun and comfortable drinking experience that lends a sculptural, handmade look to your kitchen. Find them in peach and lavender for a pop of pastels.
$50
Shop Now >>
Terrazzo fans will adore the multicolored flecks in this placemat and coaster bundle, and the eclectic look they add to a place setting. On top of camouflaging stains, the navy, terracotta, beige, and grey flecks offer a subtle, neutral palette that still delivers on visual interest – making it a set that the color crazed and neutral loyal will appreciate. Plus, it's made of recycled rubber for easy cleaning and non-slip use on your tabletop.
$83
Shop Now >>
The sculptural look of this carafe and cup set by Fors Studio is well worth keeping on display all year round. Made of the brand's classically beautiful bone china, these hand-glazed pieces are designed with soft complementary forms that allow them to nestle snuggly into the other for a modern and harmonious display – all while being durably designed for unapologetic use. They're even dishwasher and microwave safe! There are a variety of colors to choose from, but the coral set is an eye-catching favorite.
$130
Shop Now >>
Shopping any of our top dining + tableware picks? Share your haul and tag us @designmilk to be reposted on our Instagram!