The holiday season is upon us and while the art of letter writing has sadly diminished over the years in favor of all things digital, nothing beats opening your mailbox to find that someone took the time to send you a card. Return the favor and bust out your pen and a card that reflects whatever you choose to celebrate, and let someone know you're thinking of them this time of year. Here are some of our favorite cards to help you spread the love around:
A minimalist forest of tiny trees gives nod to Christmas in this letterpress print card from The Good Twin.
Typography and the "12 Days of Christmas" carol? This match made in holiday heaven came from designer Erin Jang of The Indigo Bunting and her designs are now available on the Paperless Post. I dare you not to get the song stuck in your head now. (OK, so this is very Christmas-y, less holiday)
Because you know good Hanukkah cards are hard to find, so Near Modern Disaster laid it right out there.
Is there any better way to celebrate the season than to retreat to a cozy cabin with family? I think not and this card from egg press says it all.
A nice, yet naughty card that tells it like it is from BEPaperie.
Jolly – straight up and to the point. From Ruby Press, this all-white card uses no ink, just the letterpress impression to state its message.
What holiday is complete without a little a dose of sarcasm? Leave it to Sapling Press to tell it like it is because you know that password is all you want!
Say Happy Holidays with this card from Quick Brown Fox Letterpress featuring one of those printed plastic bags that seem to be everywhere during the holidays.
Karte Design Fabrik is so great at sticking to subtle designs for whatever theme they are working on. They are geometric, colorful, and modern, and it's hard to pick just one fave!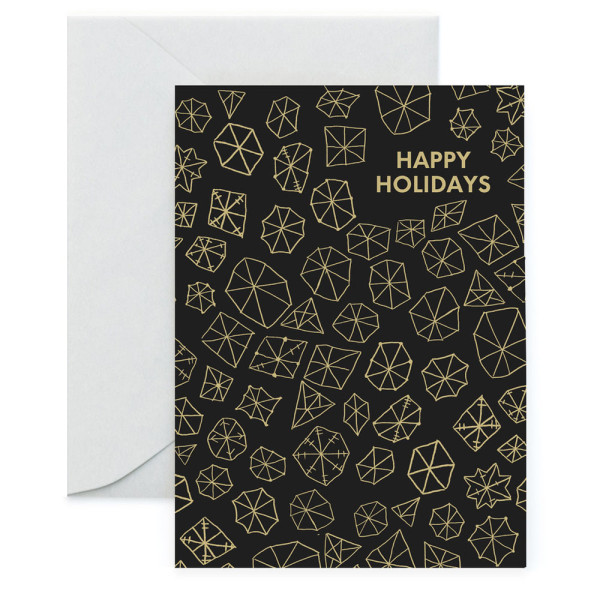 Geometric, golden snowflakes, from Carolyn Suzuki, make really cool holiday greetings.
While we purposefully were avoiding any specific holidays, how could we not include this Dr. Dre-del card from Silly Reggie?
Another specific-y holiday one from Sad Shop that could not be resisted. No explanation necessary.

Design From Around The World