James Dyson is not one to rest on his knighted laurels. Already synonymous with innovation in the vacuum market, it should come as no surprise Dyson has long had his eyes on integrating navigation into an autonomous robot form. In fact, his team has been tinkering for 16 years. Thanks to some technological leaps, Dyson is finally ready to release the company's first fully robotic vacuum: the Dyson 360 Eye.
The newly unveiled Dyson 360 Eye robot vacuum cleaner is the net result of improving two shortcomings hampering existing robot vacuums: navigation and suction power. Firstly, the 360 Eye improves navigation with Dyson Digital Algebra, a 360-degree camera system and algorithm programmed to snap 30 photos per second to stitch together a live map of a surrounding environment. Partnered with infrared sensors to "see" smaller hazards in the vacuums way, the 360 Eye is spatially aware of its surrounding, whether it be furnishings, pets, or humans in its path, eliminating the "bump and go" pathway behavior of other autonomous vacs.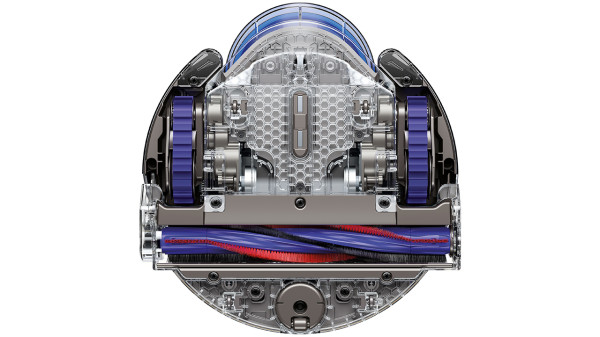 But an improved navigation system wasn't enough for Dyson to feel confident entering the ever crowded robot cleaning device category. Dyson also wanted to improve the overall suction performance and capacity of the robotic vacuum design, noting most existing models can only marginally tidy up a floor, rather than truly clean debris with the same veracity of a powerful handheld or small canister vacuum. The V2 Dyson digital motor markedly improves performance, capable of a whirlwind 104,000 rpm of suction power. A 2-layer soft+hard carbon fiber bristle sweeper handles low pile carpeting and hard floors, while rugged tank treads allows the robot to do a serviceable impersonation of the Mars Rover.
The final component of the Dyson 360 Eye is a Dyson Link, an iOS and Android compatible functionality app. Users can review maps created by the Dyson Digital Algebra's optical 360-degree camera, alongside manage scheduling.
The Dyson 360 Eye will first go on sale in Japan next spring 2015, then worldwide afterward. No price available yet, but expect the Dyson Wall-E…ahem…360 Eye, to be priced somewhere in the same zip code as the best iRobot Roomba.

Design From Around The Web