Color Swatch Calendar 2017 by Peter von Freyhold \\\ $43
In its 4th edition, this calendar offers over 365 CMYK colors you can tear off and collect to form a color swatch book.
DodeCal 2017 \\\ £79
Made of European Sycamore, the polyhedra DodeCal (dodecahedron + calendar) displays each month on one of the 12 sides of this tabletop calendar.
Minimalist 2017 Wall Calendar by Knoed \\\ $30
Perfect for any minimalist – this iridescent foil stamp on black calendar is stripped down to 7 columns that represent the days of the week.
Wallpaper Calendar by All The Fruits \\\ € 21
This colorful wall calendar comes pre-glued so you can adhere it to the wall for 2017 and easily remove it when the year is up.
SNUG.GEO Calendar 2017 by snug.studio \\\ € 21,50
A graphically beautiful print where the months are shown through playfully arranged circles, triangles, semi-circles, and rectangles that represent the first letter of each month.
2017 Isometric Risograph Calendar by JP King \\\ $24
This calendar pops with its use of fluorescent pink, blue, and yellow soy-based inks printed onto 100% recycled Oatmeal-Kraft paper.
Today – 2017 Daily Calendar by Matthew Hoffman \\\ $36.50
This compact desk calendar displays new thoughts and phrases every day, ranging from aspirational to humorous.
Typodarium 2017 \\\ € 19,80
For every day of the year, you can enjoy 365 fresh fonts designed by 263 designers from 30 countries.
The Circular Calendar 2017 (PDF) \\\ € 8,00
Available as a poster-sized PDF, this printable calendar gives you the daily sun hours in your choice of locations.
2017 Matchbook Calendar™ by Inkello \\\ $8
In its 8th edition, this pocket-sized calendar has a chevron pattern on its front cover, which is handprinted in your choice of red, yellow, blue, or metallic grey covers.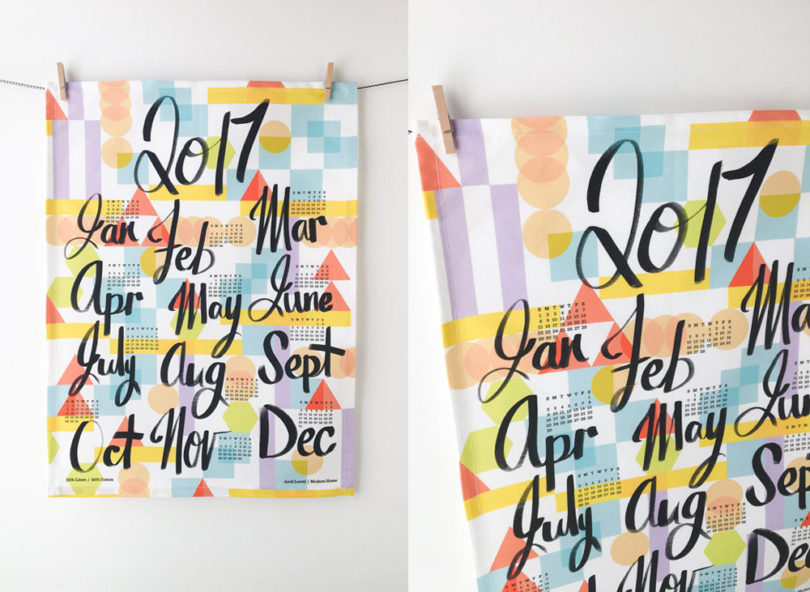 2017 Calendar Tea Towel by Avril Loreti \\\ $18.50
Avril Loreti's latest tea towel calendar features layers of colorful geometric shapes with her signature hand lettering in black.
Vertical Calendar by Nack Studio \\\ $26.99
A large wall calendar that displays each month of the year in a linear way on its own separate panel. It includes 4 super magnets and tacks to hang it up, as well as 108 event stickers.
Photodarium 2017 \\\ € 29,80
A tear-off calendar featuring 365 snapshots of various photographers, both well-known and up-and-coming, with information on the back about the image and the photographer.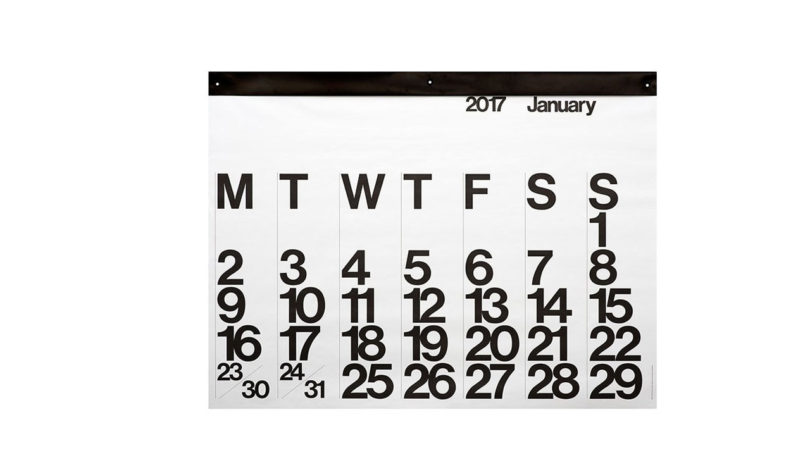 2017 Stendig Calendar by Massimo Vignelli \\\ $45
The infamous, oversized Stendig calendar has been around since 1966 and will always be a Design Milk favorite.
2017 Year Planner by Crispin Finn \\\ £16
A limited edition, embossed, 2 color screen print in red and blue on 100% recycled, biodegradable white paper allowing you to see the entire year at a colorful glance.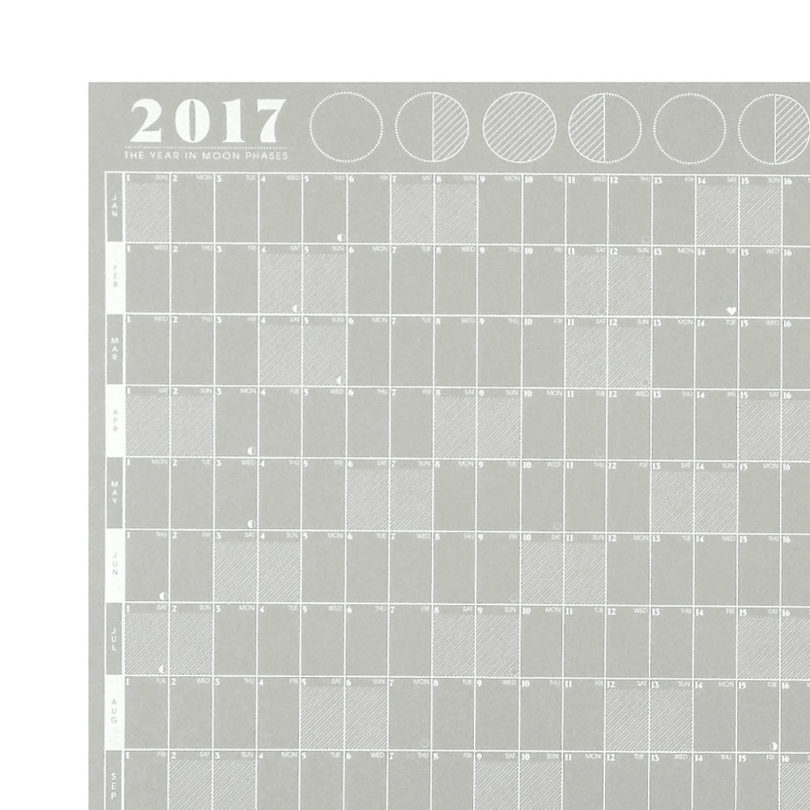 Moon Phases 2017 Wall Planner by Dowse \\\ £24.50
A limited edition calendar that's hand screen printed white ink on a warm grey textured paper showing the phases of the moon.
2017 Bubble Wrap® Calendar \\\ $26.99
Enjoy 365 days of highly addictive bubble wrap popping throughout 2017.
2017 Calendar by Akiko da Silva \\\ $26
Each month features original abstract watercolor artwork by Akiko da Silva.
Ryan McGinness 2017 To Do List Calendar Pad \\\ $24.95
Whether you like to make lists or scribble, this calendar pad comes with 365 unique drawings with extra space for you to fill.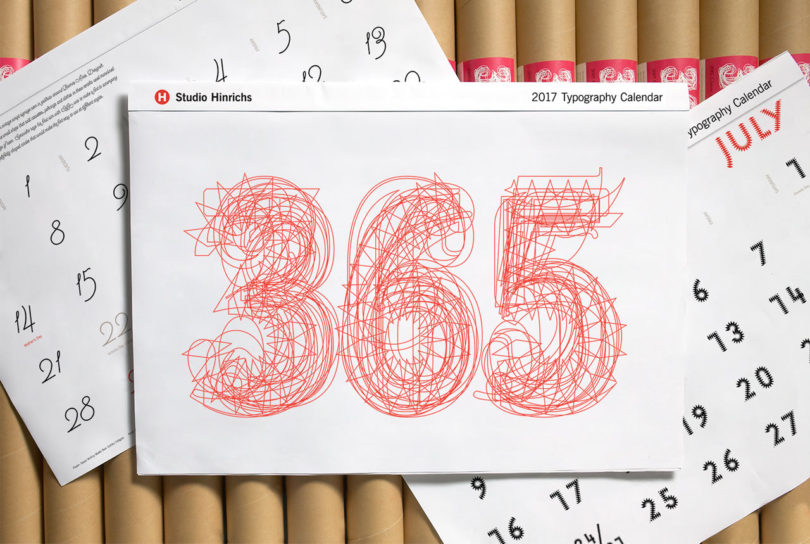 2017 Typography Calendar by Studio Hinrichs \\\ $32 (desk) or $49 (super)
A mix of 12 classic and revival typefaces that aim to bring attention to particular typefaces and the designer who made them.
A Year Long Calendar by One Must Dash \\\ £10
Each month is represented on a long sheet with a leather buckle that slides down to highlight each day.