20 Modern Calendars for 2023
20 Modern Calendars for 2023
1/21 Photos
2/21 Photos
3/21 Photos
4/21 Photos
5/21 Photos
6/21 Photos
7/21 Photos
8/21 Photos
9/21 Photos
10/21 Photos
11/21 Photos
12/21 Photos
13/21 Photos
14/21 Photos
15/21 Photos
16/21 Photos
17/21 Photos
18/21 Photos
19/21 Photos
20/21 Photos
21/21 Photos
As the end of the year will be here before we know it, we're jumping in with a reminder to go ahead and order your calendar for 2023. If that number sends shockwaves through your body like it does ours, we get it. How can it be 2023 already?! We have no idea but we just have to roll with it and accept that Y2K was 23 years ago (big gulp). Before we lose our mind on time flying by, we're here to share 20 modern calendars for *2023* that can make time disappearing feel a little better.
Kapitza Calendar 2023 \\\ £39
A new entry into our calendar list and we're glad to have it! The color and the patterns are stellar!
2023 Stendig Wall Calendar \\\ $49.95
A long-time, Design Milk favorite! Chances are if you visit any of our houses, we'll have it on the wall somewhere. It's a classic for a reason!
Typodarium 2023 \\\ 20 €
A calendar favorite every year, the Typodarium daily desktop calendar delivers 384 pages in 12 colors with 365 fresh fonts by 236 designers from 34 countries making this a true global effort.
2023 Calendar To-Do List Pad by Ryan McGinness \\\ $40
Another fave for those looking for daily interaction. Whether you're a list maker or scribbler, this calendar pad comes with 365 unique drawings with extra space for you to fill.
2023 Gradient Grid Calendar by Once Upon a Tuesday \\\ $19.84
Twelve different gradient patterns to enjoy all year long with this vibrant and colorful design.
2023 Zodiac Calendar by Poketo \\\ $28
If you're looking for more positive energy this zodiac wall calendar will bring star power with its colorful drawings.
Today – 2023 Daily Calendar \\\ $36.50
This tiny but mighty calendar delivers a daily affirmation, from aspirational to humorous, for regular inspiration. Now in its 9th year, the calendar pages have gone from white to color!
Crispin Finn 2023 Year Planner – Classic Landscape View \\\ £20
Always a favorite, this folded wall calendar is printed in red and blue on 100% recycled paper allowing you to see the entire year at a colorful glance.
The Mini 2023 Calendar by RISOTTO \\\ £9
Definitely a mini calendar but with a colorful punch, courtesy of RISOTTO. This risograph printed calendar features a handy loop for easy hanging next to your desk.
A3 2023 Wall Hanger Calendar by RISOTTO \\\ £18
Another from RISOTTO, this risograph calendar is for those looking for something larger with space to add notes on each day. Another colorful design with each page printed in multi colors.
Vertical Calendar by Nack Studio \\\ $34.99
If you're looking for more of a statement wall piece in black and white, this 8″ x 24″ calendar is a great option. Each month is listed in a linear fashion for easy reference.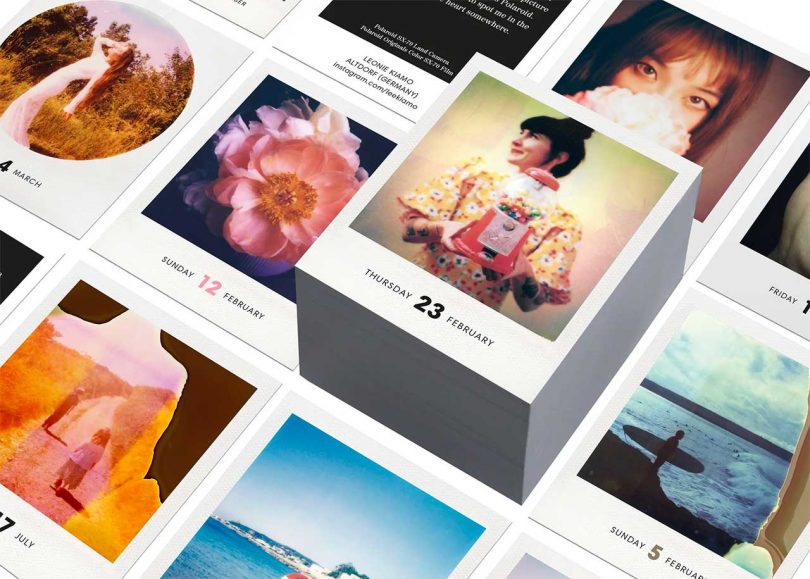 Photodarium 2023 \\\ 32,50 €
Now in its 11th year, the Photodarium desktop calendar offers a new snapshot every day to enjoy from different photographers.
2023 Buoys Modern Wall Calendar by Mezzaluna Studio \\\ $23
Inspired by the nature of Tofino on Vancouver Island in Canada, this rectangular calendar features colorful buoys found hanging in a tree.
2023 KAL Wall Calendar (with bracket) by kalstore \\\ $42
This calendar is all about appreciating the analogue experience. A minimalist wall calendar comes with six, double-sided calendar pages in Helvetica with a simple black bracket for hanging. If you have the bracket from previous years, you can also just order the calendar pages.
2023 Colour Block Calendar by Once Upon a Tuesday \\\ $19.88
Another from Once Upon a Tuesday, this one with a bold color block design with abstract shapes and bright color combinations.
2023 Vinçon Wall Calendar by Octàgon Design \\\ $36
This minimalist calendar with a black, red, and white design was first produced in 1975 in Barcelona at the Vinçon store. Now in its 48th edition, it's a classic icon that looks as if it could have been designed in the present.
2023 Wall Calendar by eddandmoonstore \\\ $21.09
Shipped rolled in a tube, this poster-like wall calendar lays it all out there for the entire year in a horizontal fashion. Each weekend is denoted by a colorful design and the phases of the moon are represented as well.
Houseplants 2023 Wall Calendar by Favorite Story \\\ $26
Perfect for those with a green thumb, this calendar features contemporary illustrations of house plants, including the fiddle leaf, cactus, monstera, and ferns.
2023 Wallplanner by WiLaNo \\\ $30.47
Available in four color gradients, this large, rectangular wall planner shares the entire year with each month being a different color.
Bloom 2023 Wall Calendar by Atelier Kuki \\\ $25.22
With a new, abstract floral design each month, the Bloom calendar will bring color to any wall it hangs on.