This year's Designer Dailies posts takes us through a day-in-the-life of designers who create everything from furniture and lighting to wallpaper and rugs, captured in their own photos and words. We've gathered all the Designer Dailies posts from 2011 for you — be sure to check the list in case you missed one. Click on their names for behind-the-scenes looks at what our favorite designers got up to on a typical day this year.
Sayeh Pezeshki AKA The Office Stylist
Office decor magic begins with a strawberry smoothie and a very furry cat. How we wish Sayeh Pezeshki would bestow chicness on our overloaded desks. Her Designer Daily brings us out and about as she tackles the details of her very busy business.
Melinda Cox of Balanced Design
Committed to utilizing New England resources, including an old mill in Rhode Island, Providence-based designer and producer of eco-friendly textiles, Melinda Cox, takes us to the school bus as well as a colorful boutique.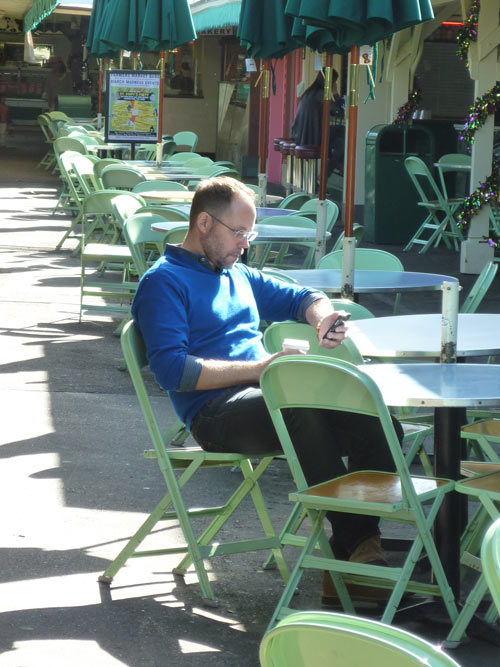 Kevin Kolanowski of Fuse Lighting
Can you imagine what an average day is like for a designer/business owner with a dozen pieces in production? Busy, to say the least. Kevin Kolanowski of Fuse might start out in the calm of a farmer's market, but things quickly get technical before winding down over dinner with a furniture designer friend.
Dino Sanchez
This New York City-based artist and designer initiates edgy collaborative public art projects, but like many designers we see here, starts his day with child in hand. Follow his day, right through to an underground radio set.
Finn Stone
This artist/designer pleases and surprises with out of the ordinary sculptural creations. This Designer Dailies lets us see him in action. And, yes, that's a bear. No, not a real one.
Robert and Cortney Novogratz
With seven kids, television series, a line of paint colors for Stark, and of course, their interior design business, we were grateful the Novogratzes had the time to snap shots of the crazy that's their life, hamming it up in the process.
Ilan Dei
Sometimes we really wish for a designer's life. Such is the case with  Ilan Dei, who designs everything from furniture to interiors, and spends his days frolicking (and working) in sunny SoCal. Click through to catch a wave.
VJ Mar-K.os
Markos Aristides Kern, otherwise known as VJ Mar-K.os, is the force behind visual design agency Visual Drugstore. This Designer Dailies tails him through a very cool installation for Time Warp 2011.
Anita Modha and Jonathan Nodrick of Rollout
Indie wallpaper wizards responsible for producing designs like x-ray skulls and Parisian antiquarian maps give Design Milk a peek at their new studio in Toronto, not to mention their greasy lunch.
Scott Dergance and Jonathan Coppin of Elemental Living
These environmentally-conscious, Denver-dwelling architects gave up corporate globe-trotting to create simple furniture of their own design. But their lives look anything but simple. A typical day involves a photo shoot, visit to a metal working factory, and a wardrobe change in a parking lot.
Angela Adams
Known for her lush wool rugs in contemporary naturalistic and geometric patterns, this Portland, Oregon designer in branching out into home accessories. Adams takes us through her day, which starts on the water at sunrise and ends with a home-cooked, locally-sourced meal.
Heather Keiko
This Australian textile designer crafts covet-worthy jewelry from felt, a feat in itself, but does so while juggling the demands of her toddler son, amidst his toys. She may be peeking over her computer at us in this photo, but her Designer Dailies lets us a glimpse her sketchbook, workspace and family.

Design From Around The Web