We all have someone on our holiday gift list that, well, is almost impossible to buy for. They either buy themselves everything or just already have it all. It's easy to spend hours racking your brain as to what to give these people, but look no further – we've done the work for you! We rounded up a diverse collection of gifts that would be perfect for that person who has just about everything.
Oden Pitcher by Ian Anderson \\\ $150
A pitcher with a geometric handle and a body that shifts planes to create the fanciest thing on your dinner table.
A & Z Concrete Bookends by Sigurd Larsen \\\ £65.00
Using concrete and a typewriter-like font, Larsen created a set of bookends that could even work to prop open a door.
Pfeiffer Collection Desktop Wood Bundle by Eric Pfeiffer for Evernote \\\ $106
Easily revamp a boring desktop with these solid walnut and soft-touch plastic organizers that will help keep clutter at bay.
Tray Set with Brass Shakers from Heath Ceramics \\\ $190
A seasonal collection of trays for hors d'oeuvres or snacks plus a set of brass salt and pepper shakers from Heath Ceramics.
Bubble Bracelet by Laura Wass x WXYZ \\\ $80
A soft rubber bracelet to make a bold statement with its large circular loops inspired by biological configurations.
L'Oiseau by Ronan & Erwan Bouroullec for Vitra \\\ $175
A sweet and sculptural little bird milled out of maple that recalls the wood objects in Nordic folk art.
Arch Marble Mousepad by Chen Chen & Kai Williams \\\ $950
Class up a boring desktop with a sleek marble mousepad that's part of a numbered edition of 10.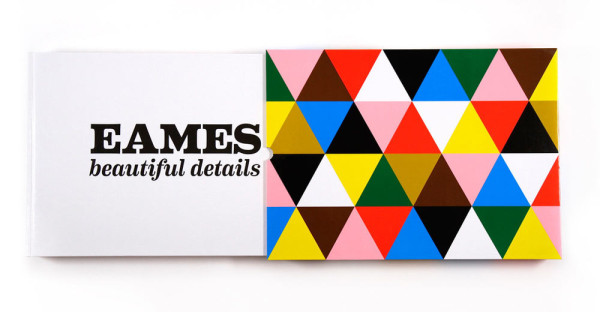 Eames: Beautiful Details by Eames Demetrios \\\ $83
A gorgeous, colorful book that shows the many mediums that the Eames' work covered through the years.
3 Piece Pyramide Objet Set from DwellStudio \\\ $125
A set of sculptural objects that will bring a minimalist touch to any shelf or table.
Broken Ornament by Snarkitecture \\\ $45
Taking its form from the traditional glass globe ornament but this time it reveals a partially ruined globe with a jagged texture.
Biran No. 2 Silk Blend Scarf from Vacation Days \\\ $70
A scarf with geometric shapes that incorporates textures from Hamish Robertson's liquid brass paintings.