That one person on everyone's list – you know the one – the one we all dread buying for because they already own everything. We scoured the internet searching for gifts that they might not have already thought to buy for themselves in hopes of making it easier to check them off the list this year. Take a look at some ideas for that person who has everything.
DOCK for Apply Watch Marble Edition from Native Union \\\ $119.99
A stylish place to rest and charge your Apple Watch while letting you view and use it at the same time.
Metal Electric Toothbrush by quip \\\ $50 and up
quip delivers you a beautifully designed electric toothbrush along with fresh brush head and toothpaste refills to your door every 3 months, so you never have to go to the drugstore again. $50 will get you 1 quip Metal Electric Toothbrush and 1 Year of Brush Head Refills (30% off the regular price of $70). Available as subscription or set.
Life Measured Vessel by MOLD \\\ $65
A multifunctional vessel you can use to water plants, as a bedside carafe, or as a pitcher to serve tea. It also has movable bands to help with measurements.
Memoblock M-257 from ITO Bindery \\\ $33 – 45
A minimalist block of paper for list making, doodling, or little reminders.
Two Speed Manual Turntable by Crosley \\\ $399.95
A premium turntable for vinyl lovers everywhere with a sleek, modern appearance.
A5 Memobottle Water Bottle \\\ $25
Not only do these reusable water bottles prevent waste, they also conveniently fit into your bag like a book so they take up less room.
Form Tea Pot by Tom Dixon \\\ $200
A beautiful brass tea pot with a curvy form and lustrous finish, which will definitely up your beverage game.
Ostrichpillow Mini by Studio Banana Things \\\ $25
A small bit of comfort for when you need a little nap midday or when traveling.
Cloudy Day Toilet Paper Storage by Bertrand Jayr \\\ $99
A sculptural way to store those unsightly rolls of toilet paper.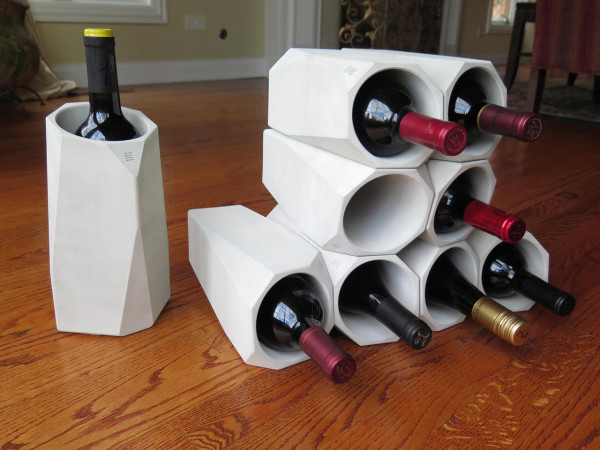 Corvi Concrete Wine Cooler from IntoConcrete \\\ $75
A faceted wine cooler that easily stacks to store more than one bottle or stand it upright to serve a chilled bottle.
Akimbo 6 – Greyscale Pillow from Eskayel \\\ $139 – 305
A gorgeous pillow with a soft gradient greyscale pattern that will fit any decor.
Mia Pitcher by Mario Botta for Alessi \\\ $210
Use it for wine or water, this stainless steel pitcher is both a practical and sculptural addition to anyone's kitchen.
Case Study Desk Top Cylinder with Wood Stand \\\ $89
Perfect for your desktop, this mid-century inspired planter will bring a bit of greenery to an office.