Father's Day is most importantly a time to show our love and appreciation for the fathers, grandfathers, and stepfathers in our lives. It's also an opportunity to gift them something luxurious, cool, expensive, or maybe even something totally unexpected that dad wouldn't normally get himself. Here are 14 gift ideas we think the dad with a design streak will appreciate on Father's Day, ranging from fashionable, practical, technological, and maybe even a little weird…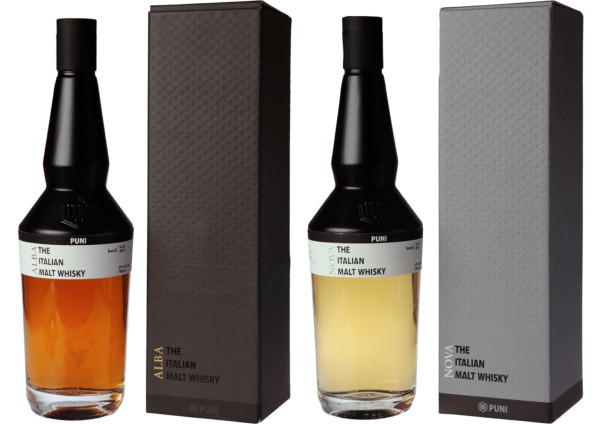 1. Puni Distillery Italian Malt Whisky
For the man who likes to end the day with a serving of liquid gold at the lips, this World Whiskies Awards winning spirit comes from the first and only whisky distillery in Italy in two beautifully designed bottles worthy of keeping out on display.
2. Octopian – Analog 2
A limited edition zine for retro-futurists. Inside, art, technology, architecture, fashion, culture, science fact and fiction coalesce into a guide for exploring mind and spirit. If dad's heroes include Jodorowsky, Jacques Cousteau, Paolo Soleri, and Vangelis, he'll find much to love within the pages of Octopian.
3. Drawsta Random T-Shirt
This one is for the dad with a playful personality – the one quick to jump onto face-swapping apps and prone to dropping "dad jokes" at any given opportunity. What looks like a random graphic tee turns into an animated augmented reality experience with the tap of an app. The visuals are updated constantly, guaranteeing he'll be bugging you to check out his shirt on the regular.
4. Framed Tech
The name says it all – collage art assembled using real parts from disassembled pieces of beloved technology of the past. Think of it as wall art for the tech-obsessed nostalgist who is known to wax poetic about the 8, 16, and 32-bit gaming eras.
5. Sennheiser HD 630VB
Gents with an audiophile streak are probably already acquainted with the German company Sennheiser. In fact, their $55,000 Orpheus model is memorably the best-performing headphones that have ever graced my ears. On a more reasonably priced level, the company's HD 630VB are their first closed-back audiophile headphones, a model that produces an immersive and natural soundstage, partnered with a super comfortable fit (despite their size, they're well balanced and cushioned for use over hours). Extra features like a fold-flat design and volume/bass adjustment controls on the right ear cup make this a versatile audio accessory for the type who extols the virtues of "experiencing" music rather than just "listening" to it.
6. Raden Smart Luggage
Luggage is normally a pragmatic purchase, a utilitarian necessity. But partners and spouses of tech-savvy travelers should take heed of the next generation of travel gear. The Raden's two models each come equipped with two USB charging ports, monitor the contents of the case to determine whether what's packed is near the weight limit specific to an airline, and utilizes Bluetooth radio to keep tabs on the proximity of the luggage via compatible app. Giving this to the frequent flyer in your life tells them you want them to always fly in first class…at least in the luggage department.
7. M.R.K.T. x RAEN Remmy 49 Sunglasses
A collaboration between Los Angeles-based design label, M.R.K.T. and San Diego-based eyewear brand, RAEN, these sunglasses fitted with Carl Zeiss CR-39 lenses are the physical manifestation of a Southern California summer day at the beach (in fact, the color was inspired by the kelp beds off the coast). Only 300 pairs of these sunglasses were made, making them a unique fashion accessory, and so very easy on the eyes.
8. The Element by JDS Labs
An exemplary example of engineering balanced by thoughtful design, there's nothing extraneous about this piece of audio gear. The physical manifestation of its purpose is clearly communicated by a giant dial gracing this all-in-one DAC and headphone amp, a control supremely satisfying to use. The pleasure of turning The Element's smooth volume dial is only exceeded by its confident ability to reintroduce crisp detail and expansive dynamic presence to any style of music when paired with a proper set of headphones deserving of this extra bit of digital-to-analog help.
9. LG PH550 Minibeam LED Projector
It's impressive how much smaller, quieter, and brighter home projectors have become in just last couple of years. The diminutive size of this HD-resolution DLP projector belies its slew of genuinely desirable features that make this a versatile standout: Bluetooth sound out, a built-in battery pack offering up to 2.5 hours of untethered playback, screensharing with Android and Windows devices, and the ability to pull in over-the-air broadcasts. This Minibeam model is a good gift for the guy who wants a portable projector that's bright enough to go from a business meeting to the backyard in an instant.
10. Quiet Life x Saucony Quiet Shadow
You know the gent in your life needs some new kicks to replace the ratty pair of sneakers he's worn down to the last millimeter of the soles. Get him a pair of these new trainers that combine the silhouette of the Saucony Shadow 5000 model with a graphic print sourced from art done by LA-based The Quiet Life. They're the sort of kicks everyone will ask, "where do I cop some?", instead of "whaaaat are thooooose?!"
11. Native Union CLIC Marble Green iPhone 6/6s Case
Marvel at the marble…that there is naturally green marble sourced from Rajasthan, India. In continuation with the limited edition theme, this pick too is only available in very small quantities and available for a limited time, so buy one for dad and tell him he's as special as the green marble protecting his iPhone.
12. G. Pinto ON turntable A CORIAN plinth and platter with a multi-layer beech veneer deck makes for one beautiful turntable to gift anyone with an affinity for vinyl. But its appeal goes well beyond skin deep: the ON can be connected to computers with a USB cable and to portable devices (smartphones, tablets and digital music players) via a Bluetooth aptX audio receiver. Inside a dedicated power supply and digital amplifier means this deck is ready for plug-and-play use when paired with speakers, compatible for either analog or digital sources.
13. Halifax Chair
With much of our gift guide above promising dad some rest and relaxation – with spirits poured, record on the turntable, headphones on ears, and reading material in hand – it seems appropriate to include a comfortable spot to kick back in. The modern profile Halifax Chair designed by Gus* Modern looks to have just the right amount of lean; the black and walnut color are an especially good looking combination suitable for the living room or home office.
14. Stahl Firepit
I've always wanted a firepit, but they're usually too expensive or aesthetically unappealing [think Skymall]. But this laser cut steel design not only passes muster in the design department, but also looks super easy to assemble thanks to its no-tools-required interlocking 5-piece design. Available in small, medium, and large sizes from Portland, Oregon, gift this and you'll upgrade dad's backyard game all year long.