The best tech gifts aren't just gadgets, but devices or accessories that make life easier, more fun, and a little more comfortable for the recipient. Give one of the gifts below and you'll tell the person you know they like tech, but appreciate design and long-lasting quality even more.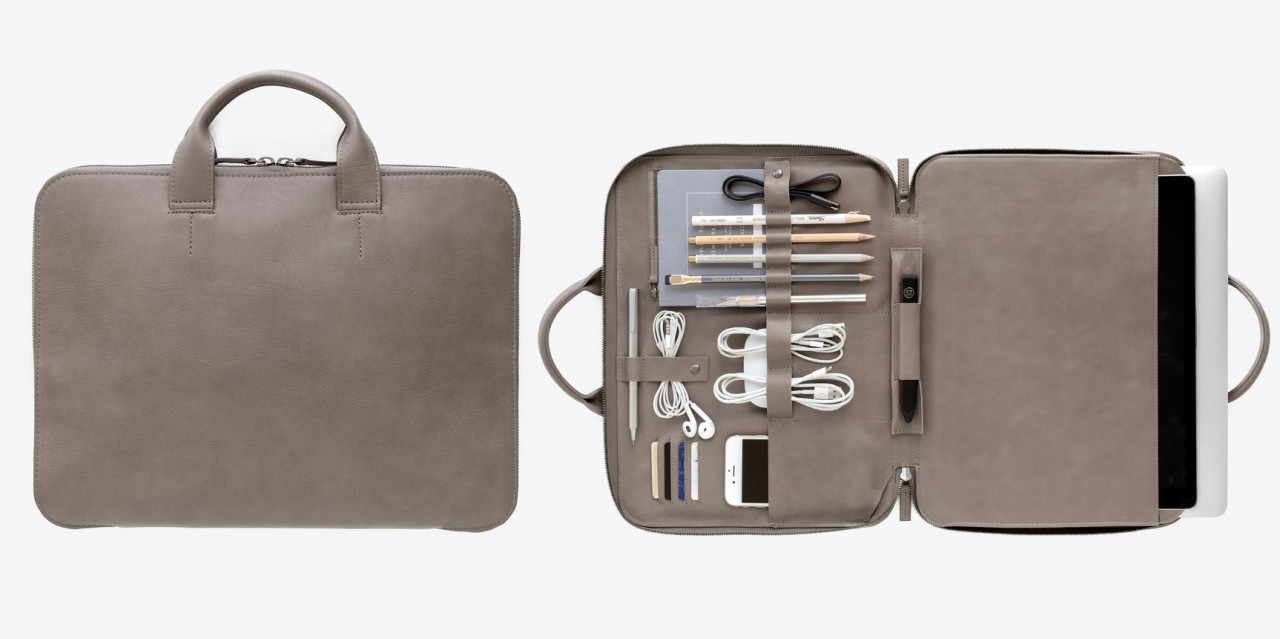 This Is Ground Mod Laptop 3 \\\ $499
Los Angeles-based This Is Ground is all about the perfectionist's eye paired with an obsessive attention to organization. Their catalog is for the picky technologist aesthete operating under the maxim, "a place for everything, everything in place". The newest Mod Laptop 3 briefcase is desirably handsome in all five colors and accommodates 11-12″, 13″, or 15″ laptops. I'm particularly fond of the carrying case in its feminine/masculine French Grey iteration. –
Bergman Magne System Turntable \\\ About $10,500 (Bergman Magne) + $399 (Pro-Ject)
I definitely can't afford it. You probably can't afford it. Yet, the stunning reductive simplicity of this air-bearing turntable system with near-frictionless performance is undeniably worth wish-listing. Even while off, the turntable named after the baby son of Norse god Thor stands as an imposing example of Nordic industrial design. The Bergman Magne turntable will appeal to a very specific and discerning audiophile who believes the "best" has no price tag.
For those with budgets more like my own, I'd recommend the Pro-Ject Debut Carbon DC turntable, offering a similar minimalist profile with pleasing and dependable playback.
Sennheiser HD 4.30 Headphones \\\ $99
Don't let the fashionable white and copper combo fool you, Sennheiser's glammed up headphones still house the engineering mastery of the much respected German audio company. These cans are a little more lightweight than some of Sennheiser's more expensive models, but that may be a good thing. The fold-up design, 3- button remote, and inline microphone tips off these headphones were designed for music listeners on the go.
WiseWear Smart Bracelets \\\ $295-$325
Give one of these bracelets to the person who believes technology is best unobtrusive and inconspicuous…but always there when you need it. Each conceal an array of notification and tracking technologies designed to seamlessly pair with Bluetooth-enabled smart devices. Tether one to either an Android or iOS smartphone and the wearer will never miss messages or calls thanks to vibration notification. The bracelet also quietly tallies step count, distance, calories burned and active time while worn. Water-resistant construction and a 3 day battery life fulfills pragmatic needs, while an inset Swarovski crystal adds a luxurious and subtle touch.
Palette Controller \\\ $199 and up
This is an easy gift to recommend because its appeal and utility are so specific. Visual creatives comfortable in Lightroom 6 and Adobe Creative Cloud 2014+ software will love playing around with the customizable modular controls that turns the photo editing process into something closer to a DJ working a mixer. Buttons, dials, or sliders are customizable to a specific editing control, with a small color OLED module displaying which application is on deck. Editing photos with physical controls give Photoshop and Lightroom users a tactile precision and satisfaction absent from a mouse or touchscreen.
Electric Objects EO2 / Meural \\\ $299 + $595
Both of these digital art display devices deliver a sizable catalog of digital artwork instantly onto any wall. Their differences are mostly pronounced when considering the viewer's tastes.
If your recipient tends to enjoy more experimental art and design, the new Electric Objects EO2 is our favorite recommendation. This second iteration is slim, down 50% since launch, with a sleek anodized aluminum frame housing a brightness-adjustable 23″ 1080p LCD matte display. A faster 5GHz WiFi antenna means quicker downloads too. The Electric Objects art collection is continually expanding, with collaborations with the likes of LACMA, The National Gallery of Art, The Rijksmuseum and The Getty. Our favorite is the perpetual influx of vibrant animated digital artwork curated by Electric Objects and their community of users that keep options feeling fresh and relevant.
The Meural is the larger of these two displays, with a 27″ 1920 x 1080 IPS screen displaying static or subtly animated digital art. With 8GB of memory onboard, the digital canvas stores up to 2,000 images, with a built-in ambient light sensor ensuring optimal viewing. Unlike the EO2 above, the Meural is more flexible, positionable both vertically or horizontally. The cool interface trick up Meural's sleeve is a gesture control option that gives users the ability to browse through artwork or access menus with a swipe.
Lutron Caséta Wireless \\\ $77+
Lutron's home automation system is probably the best prosumer/user-installable system available today – a cool practical gift for anyone wishing for an affordable route to a smart automated home. Start off with a dimmer kit and throw in an Amazon Echo or Echo Dot and you've got instant voice activated lighting. Install the system secretly and gift the small remote control to give on the day of unwrapping.
Plumen WattNott Bulbs \\\ $13-$40
Pair one of these LED filament bulbs with this geometric multifaceted glass shade from Schoolhouse Electric & Supply Co. and you've got an eye-catching pairing that should make any retro-futurist in your life very, very happy (especially when they realize they won't have to change out the light bulb for 25,000 hours).
Samsung KS8000 SUHD and Sony Playstation 4 Pro \\\ $1699 (SUHD) and $399 (PS4 Pro)
I demo a great many products throughout the year, but it's a rare occurrence when I enjoy something so much, I inquire about paying to keep the reviewer's unit. This was the case after a few months with the Samsung KS8500 SUHD, a curved "Ultra HD Premium" outfitted television that immediately made our older 1080p TV seem downright dull in comparison.
I purchased the similarly equipped (non-curved) KS8000 SUHD, pairing it with the 4K-compatible Sony Playstation 4 Pro to take advantage of all those additional pixels. Enhanced versions of Tomb Raider 4 and Uncharted 4, alongside upscaled episodes of Westworld, should make for a very entertaining autumn and winter.
Sensu Brush Stylus \\\ $39
The iPad Pro's best sidekick is undoubtedly the Apple Pencil, an accessory that bridges the gap between digital and traditional tools in a convincing manner. But every artist/designer likes to have more than a single tool in their toolbox, so why not give them this stylus that transforms into an actual brush with just a flip of a protective cap? The bristles work on any capacitive screen, giving the user the tactile-feedback of a traditional painter's tool without the mess and hassle of mixing paint. Two words: stocking stuffer.
Awair \\\ $199
The Awair is a practical gift wrapped in the package of a design object. Allergy sufferers will appreciate you're thinking about their health when you present to them this handsome looking air quality reader engineered to keep tabs on temperature, humidity, CO2, VOCs and dust. But even the non-allergy afflicted will probably enjoying keeping tabs of their household metrics reporting back what they're breathing in using the system's color coded 0-100 scoring system.
XBox Design Lab Custom Controller \\\ $79+
This is one of those gifts that won't be instantly gratifying because the recipient will have to wait a little while for their color-customized wireless controller to arrive. They'll enjoy customizing the front shell from a palette of 15 different colors, then mix and match additional colors for the back, the shoulder/trigger buttons, directional pad, and analog thumbsticks. Splurge an extra $9.99 and they can even add 16 characters so everyone knows that the wild pink and yellow controller belongs to them…and only them.
HTeeML Tote Bag \\\ $23
This bag is tote-sally cool, a great add-on gift for the web designer in your life.
Savant Remote + Host \\\ $499
Savant seems to have hit a homerun here with a remote control programmed to not only control practically any modern home entertainment component (about 380,000), but also gaming consoles and streaming audio from Sonos speakers with an easy to navigate visual interface via high resolution screen. A voice-controllable remote to rule them all.