The latest phone, console, laptop, tablet, speaker – all undoubtedly rate high on many people's holiday wish list. But let us not forget there are a multitude of other options within the tech category capable of sparking creativity, supporting health, inspiring travel, and aiding relaxation. We've gathered a list below of tech gifts designed to upgrade lives, not just devices.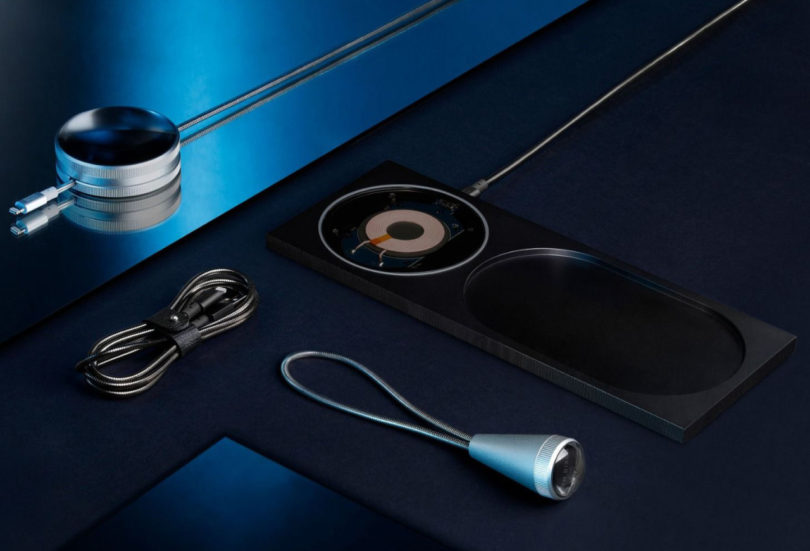 Tom Dixon x Native Union Block Wireless Charger \\\ $199
Apple's official AirPower charging pad is yet to be found, but in the meantime Tom Dixon has lent his distinctive attention to material and surface finishes to tech-lifestyle brand Native Union, offering a sleek aluminum block tray embedded with a transparent circular 10W wireless charging surface.
Apple Watch Series 4 \\\ $799+
Up till now, the Apple Watch – both functionally and fashionably – seemed more of a novelty rather than a necessity. But Apple has remained committed to improving their wearable, upgrading its speed and adding features with every update. This fourth iteration is graced with a beautiful larger screen, thinner case, improved health tracking/diagnostic tools (with an FDA-cleared EKG still in the software update pipeline), and surprisingly loud speakers. Not everyone needs a smartwatch, but for anyone who does want one, the Apple Watch 4 is the de facto standard in design and capabilities.
The Peak by Puffco \\\ $379
Blame it on a recent extended stay in London, but we can't help but see a striking resemblance between The Peak vaporizer and the side profile of Renzo Piano's Shard 95-story skyscraper. The tabletop vape rig's fast heating and precise controls is indicative of the evolution of the cannabis industry's leap away from sketchy paraphernalia to a burgeoning industry of hi-tech, designer tools engineered to turn crumble, wax, shatter, and other concentrates into a relaxing session with the press of a button.
Human Home Lynea \\\ $235
Available in a 40″ and shorter 28″ edition, the Lynea is a clever, minimalist plug-in lamp that would look great solo near a side table, or bedside in pairs. Is it an elongated sconce? A wall lamp? Whatever your take, it's an illuminating space-saving design we covet.
Mission Workshop The Rhake Laptop Bagpack \\\ $365
Our appreciation for the thoughtfully outfitted and durably constructed Rhake laptop backpack has grown with every trip we've taken. So voluminous its capacity and so secure its storage options, the backpack has allowed us to truly learn the joys of packing light. We knew this backpack design was something special when TSA requested a closer look – not for security, but to satiate their own curiosity about a "very cool looking backpack".
Nuraphone Headphones \\\ $399
Active noise-canceling headphones are a godsend for travelers and open floor plan workers alike. The Nuraphone serve this purpose to a high degree – its standout feature revealed during setup, when an emittance of low-level otoacoustic tones adjust output specific to an individual's sensitivity of high and low frequencies (represented by a colorful graphical amorphous shape showing high and low hearing range). The resulting listener's profile is acutely improved from the generic out-of-the-box experience (and improved compared to most other noise-canceling headphones). It's basically the aural equivalent of being fitted for a made-to-measure suit.
Mikol Marble Wireless Charging Pad \\\ $79
Made with genuine Spanish Nero Marquina, Emerald Green, or Italian Carrara white marble, these Qi-compatible wireless charging pads buck the reputation of typical tech accessories as decorative eyesores. If you're lucky they may even match the recipient's marble kitchen countertops and really blend in.
Fender Play \\\ $9.99 per month
Learning how to play a musical instrument requires practice, patience, and traditionally, years of lessons. But today, millions of people head online to learn new skills – including how to play an instrument – on phones and tablets. Taking this trend into account, the Fender Play app is designed to guide beginners with incrementally more challenging, yet always easy-to-follow, instructional videos laid out in digestible lengths. Paired with a Fender California Series Guitar, this bit of technology makes an excellent gift pairing intended for the musically-inclined. There's a free 14-day trial, which allows would be Johnny Marrs to try before they buy into a monthly $9.99 subscription or purchase all at once with an annual $89.99 package.
Fujifilm Instax Square SQ20 Instant Film Camera \\\ $199
Even with phones and digital cameras delivering instant gratification, pull out an instant film camera during a social occasion and a small group will inevitably form to witness what develops over the span of minutes on film. This new Fujifilm Instax does feature a notable upgrade beyond its IG-icon shaped compact case: a 2.7" TFT Color LCD monitor with 230K dots resolution, allowing users to preview shots before having to commit and press "print".
Roland & Karimoku Kiyola \\\ $4299
Because not everyone has room for a grand or baby grand piano (or even a traditional upright), electronic keyboard manufacturer Roland and Japanese furniture designer Karimoku's collaborated to make the most beautiful electronic piano we've ever seen. It's so aesthetically compact, it's deservedly and exclusively sold domestically by the MoMA Design Store.
Most Modest Niko Powerstrip \\\ $95
Powerstrips usually deserve to be hidden from view, but these power solutions from Most Modest are unequivocally designed to be seen. If you have to keep plugs out available for laptops, mobile device chargers, or lighting, you might as well invest in one as colorfully pleasing as this grounded power outlet design.