The holidays are right around the corner so we're hoping to get you prepared by knocking things off your gift list with the help of our gift guides. One of the coolest things you can give is a gift that's handmade. They usually come with a story behind them, they're lovingly created with blood, sweat, and tears, and you're also paying it forward by supporting smaller makers instead of big box corporations. Plus, each item is a little bit different than the next making it special and unique. We've rounded up 10 items, each handmade, that are bound to make those in your life feel loved.
NEX GEN Concrete Salt and Pepper Shaker Set by Culinarium \\\ $32
Made from recycled concrete, these salt and pepper shakers have a minimalist feel with single "+" and "-" signs on each side that indicate flow rates of the salt or pepper. The plus side has a larger aperture to let more salt/pepper shake out while the minus allows for a more delicate pour.
Ring Pipe Blue by Lindsey Hampton \\\ $150
With more states moving to legalize marijuana, designers are creating more design-focused paraphernalia and we're here for it. This ring pipe features a blue ombré fade with speckles that would look nice on a coffee table should you forget to hide it prior to company coming over.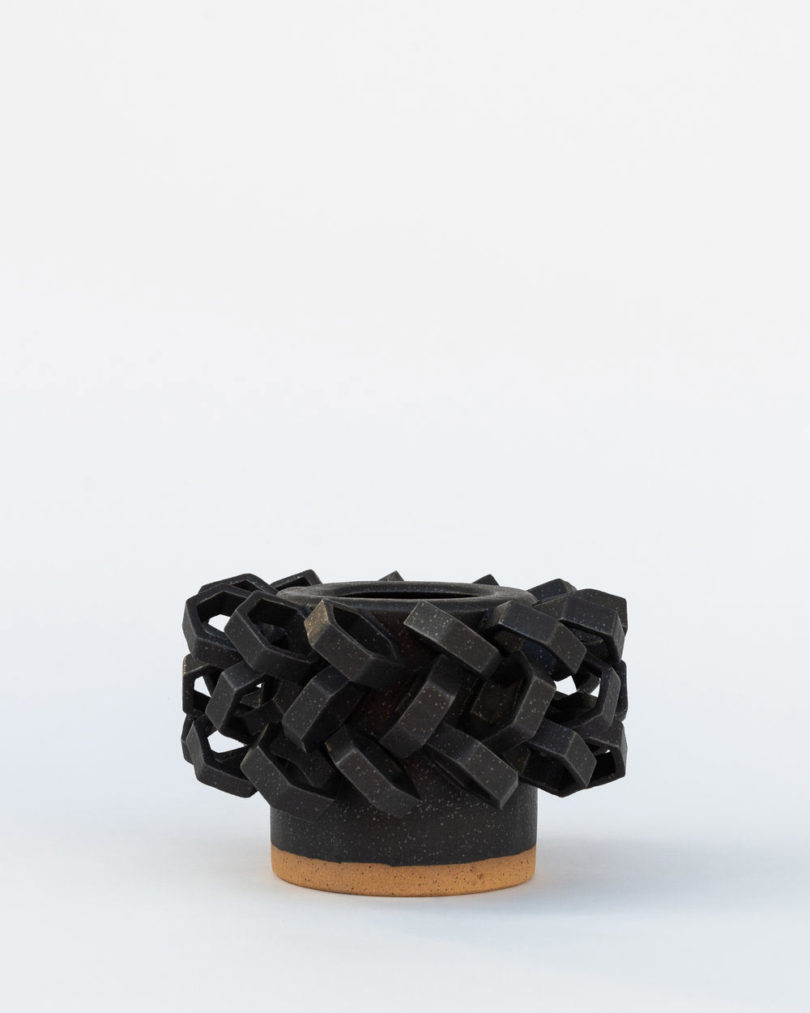 Radial Hex Vessel by Ben Medansky \\\ $575
Ben Medansky's sculpture work is straight-up captivating and this black vessel with repetitive hex nuts sculpted and adhered to the sides is just that. The hardware-like components make you almost forget that it's a fragile piece of art to be admired and not played with.
White Grapefruit Erode Summit soap + Bouton Plate by UMÉ Studio \\\ $75
Each uniquely-shaped soap is poured and cast by hand meaning no two are alike. The mineral- and antioxidant-rich soap will release aromatic notes from the essential oils as it's used while also changing its sloped form.
Beech Round Charcuterie Board by etúHOME \\\ $126
This medium-sized board is both beautiful and functional, as it can be used as a cutting board as well as a display for party meats or treats. It's handcrafted from reclaimed beech with two strips running perpendicularly to prevent warping.
Black Walnut Wood Bowl "Champlain Collection" by Andrew Pearce Bowls \\\ $100 and up
Large serving bowls are one of those things you can never have enough of when it comes time to have people over. This bowl, which was inspired by Vermont lakes, is made from rich black walnut that's hand-turned and finished with a premium, non-toxic, food safe walnut oil making it perfect for salads, pastas, or decorative fruit.
Peach Cotton Panalito Runner by MINNA \\\ $78
This runner was handwoven in Guatemala by a family-run cooperative, which adds a special detail to a thoughtful gift. The reversible piece comes in a soft peach color that's lighter on one side and darker on the other making it a two-for-one.
Bessho Carafe with Bessho Tumbler Set by fferrone \\\ $440
A classic beverage set, like this handcrafted set from fferrone, makes a great gift for anyone who loves to entertain. It's made from the finest quality borosilicate glass with simple silhouettes defined by fluted details making it practical but elegant enough to display.
Bath Brush Puck by Iris Hantverk \\\ $24
It's been proven that self care is a critical part of life which is why so many skincare products (hello, face masks!) have hit the market. Perfect for lathering up a favorite soap, this handmade bath brush will give a spa-like experience without needing to leave home.
Handmade Wire Basket – Classic 35 by Korbo \\\ $145
The gift of storage is a beautiful thing, especially when it's in a beautiful woven wire basket with carrying handles. These baskets date back over 90 years as Swedish fisherman rely on them for their durability and craftsmanship.