Finding modern gifts for kids takes a little bit of looking if you're trying to find something that doesn't come in primary colors, saccharine phrases, or overly gendered patterns. However, once you start finding design-conscious brands or shops that curate a plethora of modern toys and apparel, it can be hard to ever go back to a mall to shop for kids! Below, we rounded up 10 gift ideas for the modern baby/kid that we think parents would love as well.
Hanno the Gorilla Figurine by Areaware \\\ $100
I'm a fan of wooden toys because they allow for imaginative free play. Areaware makes some of the best wooden toys including building block sets and figurines that will stimulate your child's imagination.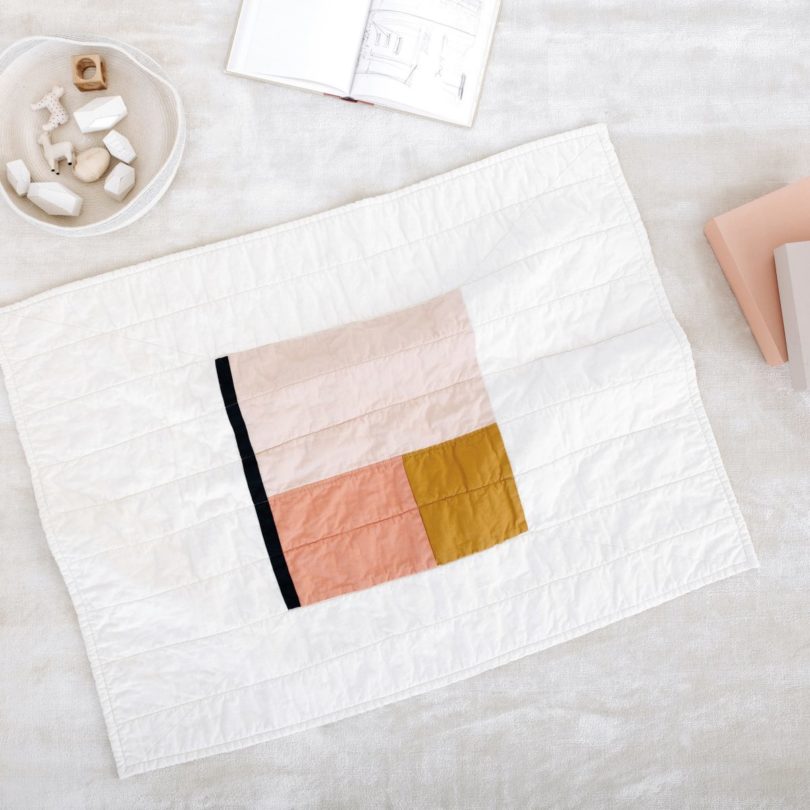 Elora Little Quilt by Louise Gray \\\ $225
We've been a fan of Louise Gray's quilted designs and I'm so glad she also makes smaller items for kids and infants. This smaller version of her signature throw quilt can be used as wall decor or to cozy up with your little one.
Stripes Playsuit by Meme Kidswear \\\ $40
Meme Kidswear gives kids and design-conscious parents a break from all the primary colors with their line of monochromatic apparel. How cute is this modern stripes playsuit?
Wooden ABC Animal Letter Set \\\ $60
If you're in the US, Design Life Kids has one of the best well-curated shop for toys, furniture, decor and apparel for the modern kid and are always adding new-to-me brands that are designing the coolest things for children, like these wooden letters by Dutch brand Petit Monkey that makes learning the alphabet fun.
Tahoe Dress by Winter Water Factory \\\ $59
Made in the US, Winter Water Factory's line of baby, kids, and women apparel have a certain Marimekko-esque aesthetic to them with their fun, graphic prints. I especially love this Tahoe dress for its simple design and cheerful yellow print.
Pacifier Clip by Loulou Lollipop \\\ $15
Never worry about losing your baby's pacifier with these silicone pacifier clips made with food grade silicone beads. They easily attach to clothes, blankets or strollers and are free from toxic chemicals.
Socks by Tchutcha \\\ $13
These organic cotton socks by newly launched Tchutcha add such a sweet pop of color and pattern to baby's little limbs that you won't mind the small hassle of putting them on every 10 minutes. ;)
Eames Elephant by Charles and Ray Eames, produced by Vitra \\\ $105
An iconic favorite for design aficionados, the Eames Elephant adds an element of whimsy in any kid's room and will for sure be a family heirloom to pass down for generations.
My First Shapes with Frank Llloyd Wright Board Book from Mudpuppy \\\ $17
Help your little one learn their basic shapes with this colorful book that focuses on the circle, square, or triangle. Who knows – maybe they'll one day be the next Frank Lloyd Wright!
Baby Clothes from COS \\\ From $7
COS' first ever baby collection is here to the delight of minimalist parents! The line of simple, organic apparel in neutral colors and prints makes you want to buy every single piece.