Picking holiday gifts for others already presents a daunting challenge even when your intended recipients fall under the category of easy going. But when tasked to find a suitable gift for that person with an affinity for the unique and who seems to already have everything, the search can become exponentially more difficult (and expensive). Thus, we've gathered together a selection of ten limited edition gift ideas veering off the beaten path, hopefully delivering a degree of unexpected delight upon unwrapping this holiday.
Small Transparent Speaker \\\ $550
As their name implies, Transparent Speaker's eye-catching audio speakers somehow straddles the line between being both an attention grabbing design and also capable of blending into the background thanks to their clear tempered glass paneled details. Although the company offers a larger size, we're partial to its smaller cousin, equipped with Bluetooth connectivity, a built-in Class D amplifier, 2x 15W output, and the option to pair two units into a stereo set-up. In either case, your recipient will "clearly" be impressed.
Monti-IRI Limited Edition Taste Set \\\ $125
LA-designed and made in Italy, just 200 hundred of these hand-blown iridescent crystal 4-set beer glasses have been made. Named for the ancient 
Egyptian word for "eye", the various shapes were conceived to pair with an IPA, pilsner, lager, and a pint (obviously not included, but opening the doors for some additional fun shopping specific to your recipient's preferences).
Caviar iPhone 11 Pro Solarius Zenith Full Gold \\\ $125,920
On a scale of 1-10, the Caviar iPhone 11 Pro Solarius Zenith Full Gold rates far off-the-charts, an unabashedly ostentatious expression of technology meets luxury. Adorned with 750 grams of yellow gold with an array of diamonds detailing sections of the ornate customized version of the latest Apple iPhone, subtlety is thrown far out the window, with the tourbillon clock mechanism adding to the oligarch style broadcast by the design (no worries about not being able to recognize your phone from the crowds, guaranteed).
Elago AW3 AirPods Case \\\ $14
Unusual, unexpected, or unique doesn't always have to mean prohibitively expensive. As a stocking stuffer this nostalgic nod to the original Macintosh should delight anyone who grew up computing on a floppy disk era desktop and continues on today enjoying the convenience of the Apple AirPods. Let's just hope for an AirPods Pro edition fashioned after a PowerPC era case.
Perpetuum Calendar by Studio Yonoh \\\ $510
If mindfulness is the panacea for the ever-increasing speed by which time passes us by, sometimes looking to the past permits us to better appreciate our present (and stop worrying about our future). Inspired by the sawtooth roofs of 1920-30s factories, this 3D printed calendar realized in 3D printed Acrylic and 18k 3D printed gold requires manually moving each piece to mark the start of a new day – a tactile respite from the world of online notifications, Google Calendars, and everything else that hurls us forward without intent.
Asics Metaride Amu by Kengo Kuma \\\ $364
While the likes of starchitects like Rem D. Koolhaas, Zaha Hadid, and Frank Gehry have all designed footwear, they've primarily (and unsurprisingly) focused upon form over function. That's why we're genuinely enthused about these Asics Metaride Amu running sneakers designed by Kengo Kuma, fabricated using the same traditional Japanese technique used to knit layers of bamboo. Limited to just 2020 pairs, your recipient won't have to worry about being spotted wearing what everyone else is running around in.
Hangover-Free Holiday Set \\\ $125
A little bit of healthy 'n nice with a dose of relaxed vice makes this a one-and-done set the sort of gift you give and then hope you're invited to share upon opening. Includes a Tetra Elbow Pipe by Ninon Choplin, a bottle of low-alcohol sparkling verjus wine, Dandelion Chocolate, Beachwood coffee by Canyon Coffee, Le Feau De L'Eau votive candle, and Matcha Golde Tonic.
Dims Barbican Trolley \\\ $350
The 2019 Wallpaper* Design Award winning design studio Visibility can take credit for this modern take on the serving trolly/bar cart, one that would make for a very nice pairing with the holiday set above. But even by itself, the versatile utility of a trolley lends itself to a variety of purposes in the home, delivering with it the pleasure of carting in food, drink, or even music with a little dramatic flair.
Grove House, Miami (No. 2) photographic print \\\ $200+
Pleasing pastels and graphical architectural details captured by Los Angeles-based photographer Hamish Robertson project the promise of warmer days after the holidays (even if today's winter forecast says otherwise). The print is one of several Miami-themed architectural limited edition prints, each limited to an edition of 40 on heavyweight metallic museum-grade paper, numbered and signed by the artist, and available framed or unframed.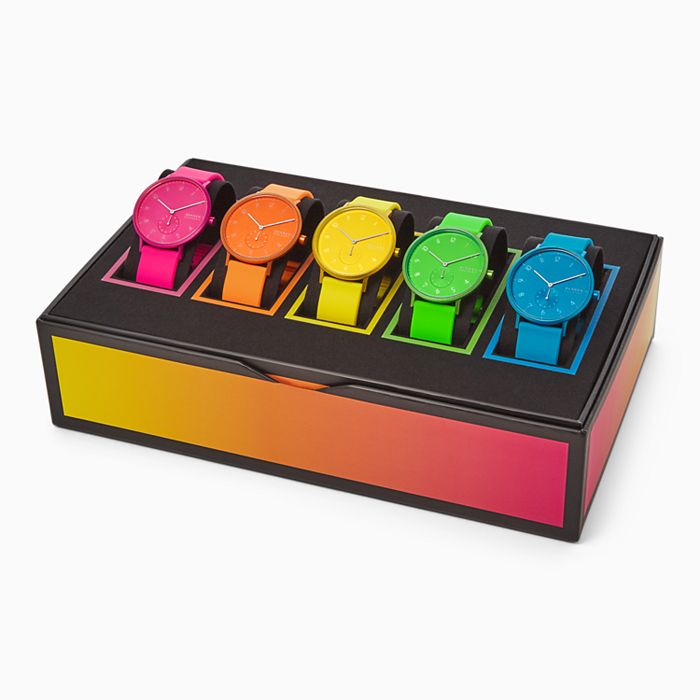 Skagen Aaren Kulor Collector's Box Set \\\ $395
For the color lover who wants a watch for every occasion and for every day of the work week, the Skagen 5-piece set is a joyous rainbow connection between wearer and watch.