Shopping for kids has never been more fun, whether you're looking for toys, clothes, or furniture. Although we've included gift options for the tiny artist and budding architect in your life in this round-up, we've also included gifts for parents, too! So whether you're shopping for a kid or shopping for a someone who has/is expecting one, here are some of our favorite kid-friendly buys.
LALO Daily Stroller \\\ $715
New York-based industrial design studio Visibility has designed some of the coolest products we've seen (see here and here) and their latest design is the LALO Daily Stroller, an all-inclusive stroller that has everything you need at no extra cost, including: newborn bassinet, toddler seat, adaptors to popular carseats, stroller hooks, all-weather cover, seat liners, and even a parent organizer with a cell phone charger. Available in five different colors, the Daily is a dream ride for both kids and parents.
Raduga Grez Apartment Building Blocks \\\ $160
The motto for Raduga Grez is "toys as art," and it couldn't be more true. The Russian family-run company hand makes every single piece of wooden blocks, vegetable and fruit sets, stackers, and more (you can watch their IG Stories for a behind-the-scenes look at their production). They are routinely sold out so you'll have to stalk their stockist list to find them sometimes. Because they're tactile, open-ended toys that constantly "evolve" during playtime, we bet they'll be reached for often over your plastic light-up toys.
Baby's First Eames by Julie Merberg and illustrated by Aki \\\ $12
From Art Deco to Zaha Hadid, teach them young with this book that exposes kids to architecture and modern design in rhymes! A educational board book that covers everyone from Alexander Calder to Isamu Noguchi and everything from Tulip chairs to Poulsen pendants, it's a fun way to share your passion with your little one.
Moon Picnic Weather Station \\\ $54
Teach your little meteorologist to learn about, observe, and report the weather with this interactive toy that features dials, meters, and sliders. It's safely made with non-toxic paint and sustainable wood so you can feel good about gifting this, too.
Primary \\\ various prices, starting at $8
For cute and durable clothes in a rainbow of primary colors, Primary makes great basics in every type of garment kids need, from footie sleepers and bodysuits to jackets and mittens. The price point is great too since kids seem to constantly outgrow their clothes!
North of West \\\ various prices, starting at $14
If you're looking for more toned down clothes, we love North of West children's clothing line for their fun patterns and subdued hues. They're handcrafted in Portland, Oregon, so you'll also be supporting small businesses – a win-win for everyone!
Little Bot Baby Play Mat \\\ $150
Minimalist, neutral design, durable, non-toxic, cushy, easy to clean – what else could you ask for in a baby mat? These mats are much more cushier than most foam options available, so don't be surprised if you yourself end up taking a quick snooze during playtime! The play mat is available in three neutral versions and come double-sided for when you want to quickly change up the look of the playroom.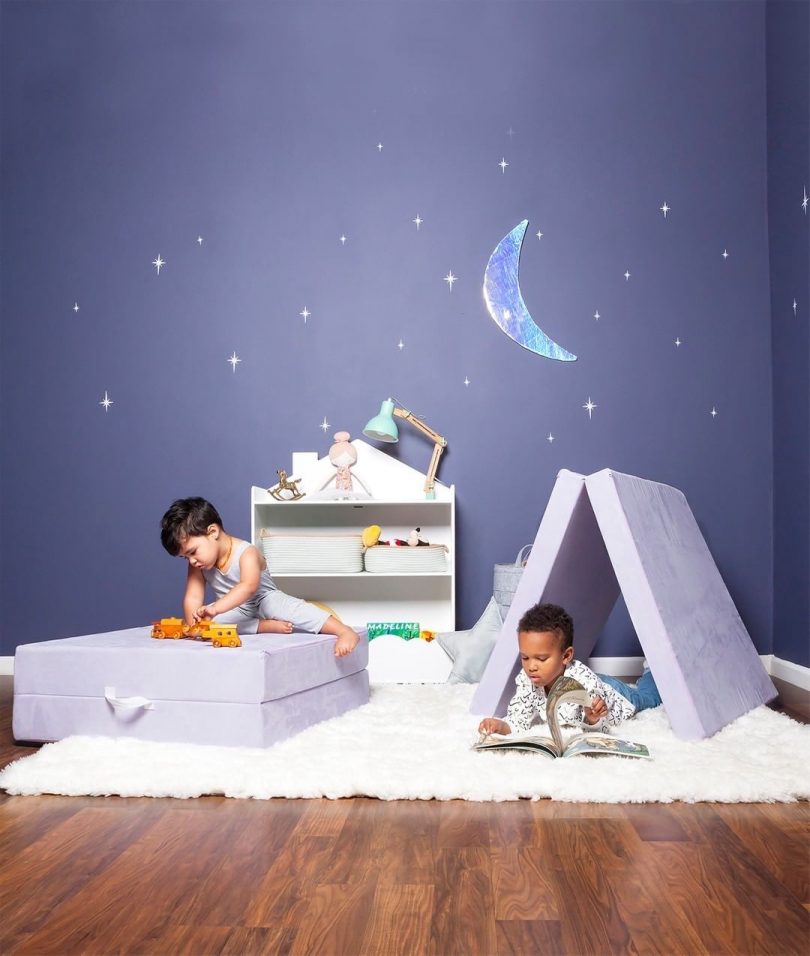 The Nugget \\\ $230
You might think this is just a cushion for sitting but it's so, so much more than that! For kids, the Nugget is for fort-making, sliding, climbing, hiding – basically endless imaginative play! For parents, it makes a great cushion for overnight guests because, fun fact!, it was originally designed in college by one of the co-founders to be a simple, easy-to-move futon. From playtime to nap time, the Nugget will be your most-used furniture for its simple and comfortable design.
Amanda Jane Jones x Winter Water Factory \\\ various prices, starting at $10
Amanda Jane Jones and Cree Jones authored Yum Yummy Yuck, a bright and light-hearted board book that teaches kids what they should and shouldn't put in their mouths (boogers, no no; ice cream, yes yes). Winter Water Factory collaborated with the Joneses to create a collection of cool, adorable clothes to be worn during story time and afterwards. We particularly love this booger tote…
Miku Smart Baby Monitor \\\ $400
This gift is primarily for the parents and an important gift at that. Winner of the Baby-sit Best of Babytech at CES 2019, this baby monitor uses proprietary sensors that don't require wires or wearables in order to track your baby's vitals and nursery conditions in real time. Besides the military grade engineering to monitor breathing and sleeping patterns, mobile device compatibility, and data-secure technology, another great feature is that the Miku works at all times, even if you lose Wifi connection! You won't need to have both a Wifi and Wifi-free device in order to be rest assured that your little one is okay throughout the day and night.
Gathre Mats \\\ various prices, starting from $22
Whether they're used for changing, playing, or eating, Gathre makes durable mats in an array of tonal colors that can be used anywhere and everywhere. The Utah-based company also makes yoga mats, tablecloths, and bibs in leather and a double-sided vegan alternative.
Oioiooi Alphabet Play Block Set \\\ $180 at Design Life Kids
Korean design studio Oioiooi created a beautiful alphabet play block set to help promote creative learning. Each letter has corresponding shapes for kids to find and match as they learn the alphabet. Whether for decoration, story-telling, or learning, these blocks are easily heirloom toys with their timeless beech and walnut wood design.
Lovevery Subscription \\\\ various prices, starting at $36/month
Lovevery's play kit subscriptions are so convenient for families who want to give their kids age- and milestone-appropriate toys. The toys are backed by developmental research which you can learn about with each kit as they come with guides to teach you how to foster educational playtime. Not only do they expose kids to STEM (science, technology, and mathematics) concepts, they're designed in bright, enticing colors that you won't mind leaving out in your home.
Botanicool Color Stix Crayons \\\ $19
We wish we had crayons this cool when we were growing up. Hand-cut and hand-poured into color-blocked rectangles, these crayons are perfect for the mini artist in your life.
Rafa Kids XL Shelf \\\ approximately $405
For a piece of furniture that will continue to be used long after daily story time, the Rafa Kids shelf features a minimal design using 100% Finnish Birch plywood and powder coated metal. Although the shelves range from small to extra large, we especially love the warmth of this limited edition, all natural wood version.