2020 Gift Guide: New Homeowners
2020 Gift Guide: New Homeowners
1/12 Photos
2/12 Photos
3/12 Photos
4/12 Photos
5/12 Photos
6/12 Photos
7/12 Photos
8/12 Photos
9/12 Photos
10/12 Photos
11/12 Photos
12/12 Photos
If you've ever moved residences, you know how costly it can be with deposits, movers and having a ton of things to buy to get settled in. Oftentimes, there's not much money left to decorate the place when it's all said and done. If you know anyone that's moved recently or are moving in the near future, consider gifting them something to help them get started on making their new place feel like home. Read on for 10 gift ideas for the new modern homeowner!
Havenly Online Home Interior Design Services \\\ Packages start at $79**
Havenly is the most delightful way to design and visualize spaces in your home, all online. Our expert online interior designers get to know you – your style, space and price range. Get matched with our designers based on your style & design your dream space. **Havenly is offering Design Milk readers $10 off a mini package and $20 off a full package. Use promo code DESIGNMILK10 for $10 off a mini package, and DESIGNMILK20 for $20 off a full package!
NICOLEHOLLIS: CURATE INTERIORS book \\\ $60
If you know someone who's way into interior design and loves inspiration, a beautiful coffee table book is a great gift. If they don't yet know the work of Nicole Hollis, they'll soon be a fan after flipping through the pages of this book. It's filled with endless enviable interiors everyone will want to live in.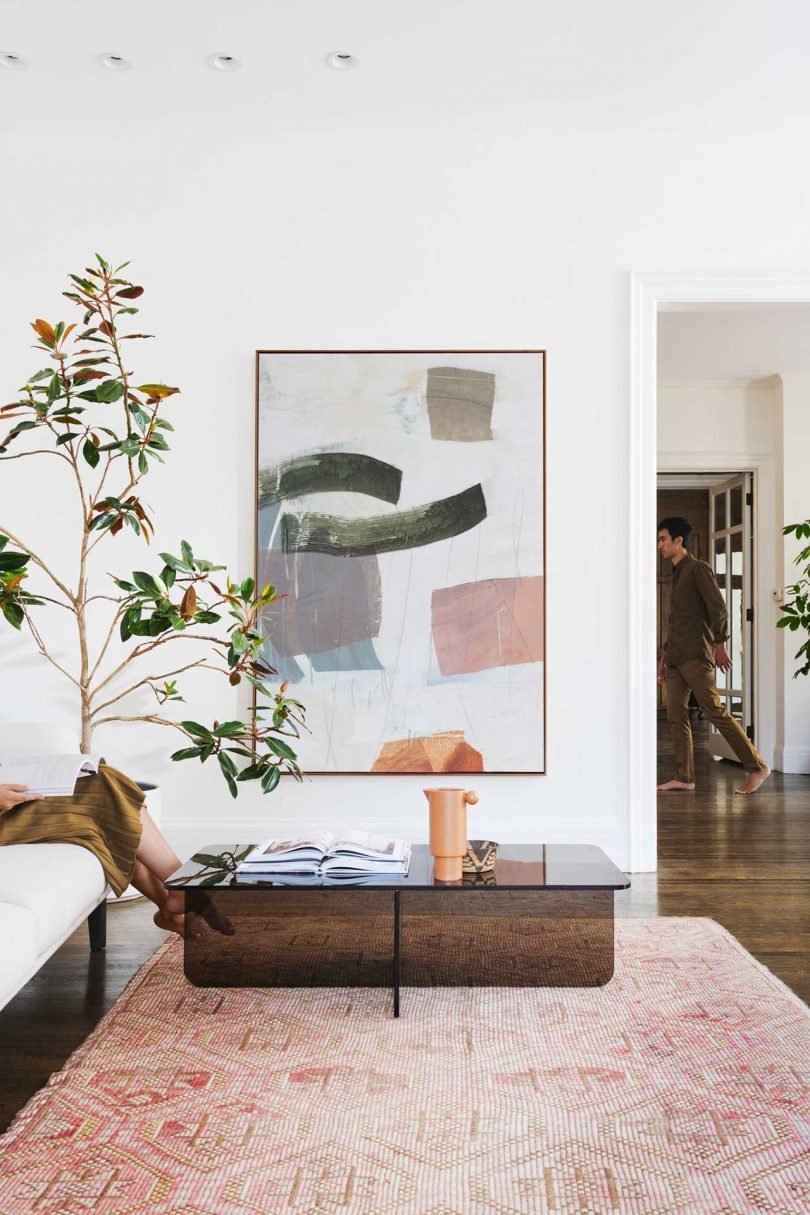 Monuments 2 Framed Canvas Art by Jennifer Daily from Minted \\\ Starting at $38 framed
Give them something for those blank walls – limited edition fine art from Minted. We love this particular fresh, abstract print by Jennifer Daily but you can shop curated art in Minted's global community of 15,000 independent artists. It's more than a print: you can choose a framed work that includes full bleed, canvas, float mounted or matted, finished with your choice of 17 exclusively-designed frames. And, their new hand-stretched framed canvas includes 6 frame options. Sizes range from 5"x7" to 44"x60".
Barisieur Tea + Coffee Alarm Clock by Joy Resolve \\\ $276
We all have that tea- or coffee-obsessed person in our life and this clever design will definitely pique their senses when they wake up to the freshly brewed aroma every morning. This brewer is outfitted with an alarm clock and a smart refrigerator to keep milk cold until it's set to wake them up with a fresh cup.
Mixed Up Stripes Black Throw by Happy Habitat \\\ $165
Everyone can use a bit of cozy after the intense year we've all had and this modern throw is perfect for that. Thrown over the back of a sofa or at the end of the bed, the black and ivory striped design will go with any color scheme your loved one has.
Beekman Aluminum Bird Feeder by Shift \\\ $135
Available in white or this happy yellow, this modern bird feeder will bring all the birds to their yard offering hours of bird watching entertainment. With everyone spending more time at home this year, adding a fun outdoor feature to someone's new pad is bound to bring them joy.
Wine & Bar Stainless Steel Corkscrew by Georg Jensen \\\ $59
If you know anyone who enjoys a glass of wine or 10, this sculptural corkscrew is the perfect gift for someone stocking their new home bar. Besides being beautiful, the corkscrew is ergonomic and fits easily in the hand to make opening wine a breeze.
SR Wall Rack by Scout Regalia \\\ $110 for Brushed Brass, $70 for color
New homeowners are just getting settled and trying to set up things to make their lives more functional but that also look great. This wall rack fits both as it has a small shelf to display their favorite things, while hooks hang below allowing them to store their gear, like aprons, keys or dog leashes. It comes in Navy Grey, Bright Orange, Matte Black and Matte White, but we're particularly fond of the Brushed Brass version above.
Pixel Spirit Green Rectangular Cushion by Zuzunaga \\\ $115
It's seriously expensive to decorate a new place after all the buying and rental costs and then moving fees, so help help your friend or loved one out by getting them started with a fun decor item, like this vibrant pixelated pillow that's bound to match anything else they already have.
Heritage 4-Qt. Covered Oval Casserole by Le Creuset \\\ $115
Your gift recipient might have the kitchen basics but helping them expand their collection with a versatile covered casserole dish is both practical and appreciated, I'm sure. When you think of iconic cookware brand, Le Creuset, you might not think of modern design right away, but in classic white it will definitely change your mind.
If you're still undecided or haven't found the right gift, there's one universal gift that is well-liked by friends, family, colleagues, and kids alike: the Design Milk gift card. Let your recipient pick out something for themselves from our shop. We're sure that they'll find something they didn't even know they wanted.
Check out the rest of our 2020 Gift Guides here!