2020 Year in Review: Circular by Design
The circular economy is a proposed alternative to our traditional 'take, make, waste' model of production and consumption – one that offers hope in the face of environmental catastrophes from climate change to ocean plastic. Designing out of waste and pollution, keeping materials and products in use, and regenerating our natural environment are so important to contemporary design that this year we wanted to create a dedicated space for the projects bringing these ideas to life. Back in May we launched Circular by Design, a bi-weekly column by longtime contributor Katie Treggiden, that explores the potential of waste as a valuable new raw material. In case you missed anything, we revisiting all of the Circular by Design posts from 2020.
2020 Year in Review: Circular by Design
1/1 Photos
Studio Woojai Turns Waste Paper Into Bricks and Furniture
Eindhoven-based Studio Woojai is run by Korean New Zealander WooJai Lee, a designer motivated by exploring and experimenting with the hidden potential of sometimes surprising materials. We caught up about one project in particular that repurposes waste paper into functional bricks and sculptural furniture.
Camira + SEAQUAL Turn Ocean Plastic into Upholstery Fabric
Yorkshire-based British textiles manufacturer, Camira, has teamed up with the SEAQUAL Initiative – which turns waste plastic captured from the sea by fishermen into yarn – to make the industry's first upholstery fabric to contain ocean plastic. We caught up with Camira's group design manager Ciara Crossan to find out more.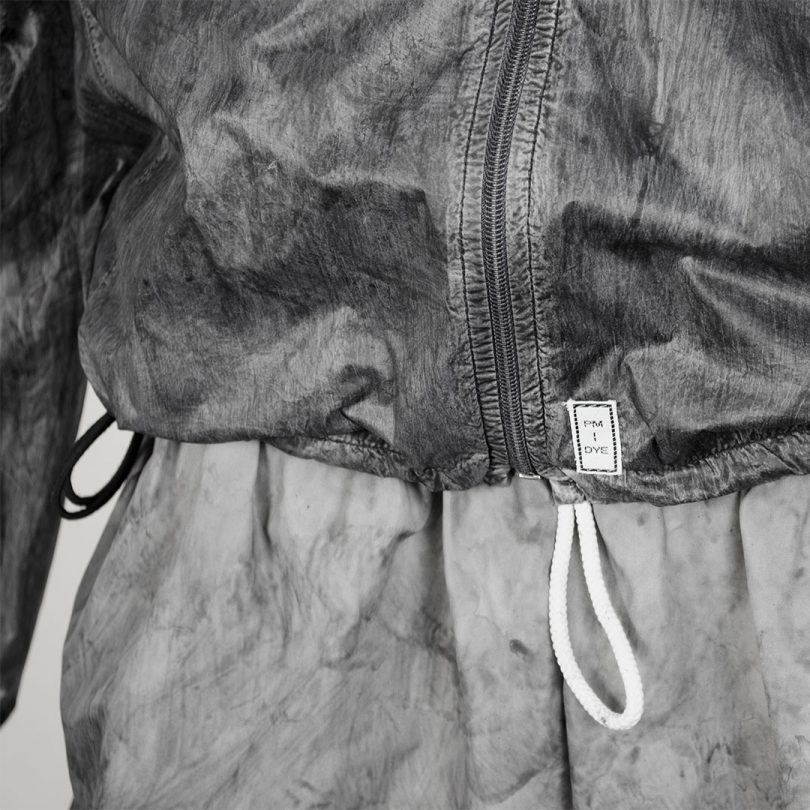 Tino Seubert Turns Air Pollution into Art + Usable Products
German-born London-based product designer Tino Seubert draws upon history and contemporary art as well as science and material research to make products that make statements. For The Colour of Air, he took air pollution and turned it into ink and dye, with which he made screen-printed artworks, pencils and clothes, to demonstrate the fact that even invisible, airborne waste could be turned into something less damaging and more meaningful. We caught up with him to find out more.
Susana Godinho Turns Offcuts + Cork into Rugs
Portuguese designer Susana Godinho established Sugo Cork Rugs in 2017. Using contemporary design to inject life into traditional weaving techniques, she combines the performance of highly sustainable cork with recycled and recovered fabrics from the fashion and textiles industries. Based in the North of Portugal, the brand is committed to not only working in harmony with the natural world but also providing employment opportunities for people living with disabilities.
Wendy Andreu Turns Selvedges Into Innovative New Material
Paris-based designer-maker Wendy Andreu uses materials as a means of communication, experimenting to find surprising outcomes that can be translated into functional design proposals. She collaborated with performance fabric manufacturer Sunbrella to create a new innovative material from its waste selvedges – the woven or knitted edges of textile rolls that are usually discarded.
Sabai Turns Recycled Fibers + Bottles Into Affordable Sofas
Caitlin Ellen and Phantila Phataraprasit founded Sabai Design when they spotted a gap in the market for a sofa that looked good, aligned with their sustainability values and was affordable enough for someone setting up a home for the first time. They launched two sofas and an ottoman with a range of fabric options (the velvet is made from 100% recycled PET bottles) and a 'closed-loop promise', which guarantees they will buy back their sofas (from New York customers, at 20% cost, within three years of purchase) to keep them out of landfill sites. We caught up with Ellen to find out more.
Daniel Svahn Turns Waste Furniture Into New Furniture
Stockholm-based product and interior designer Daniel Svahn established his eponymous studio after graduating from Beckmans Collage of Design in 2009 with a BFA in product design. Crediting his inspiration to the everyday things we see all around us – whether 'small or big, relevant or irrelevant, nice or ugly,' he feels anything can be made into something new if you're observant enough and keep your imagination awake. True to his word, A New Paradigm – an evolution of the New Goodies but Oldies project he presented at the 2020 Stockholm Furniture Fair – is a collection of six pieces of contract furniture made from furniture discarded by the same sector.
StoneCycling Turns Industrial and Demolition Waste Into Bricks
When Tom van Soest was a student at Design Academy Eindhoven in The Netherlands, he developed a way of upcycling waste he found in nearby vacant buildings awaiting demolition. He ground, crushed and mixed this rubble in a homemade industrial blender and, after much trial and error, found a way to create new materials that were both resilient and appealing. On graduation, he established StoneCycling with long-time friend Ward Massa to build upon what he called his 'WasteBasedBrick,' officially launched in 2015. The bricks now appear in buildings, in private homes and offices, Starbucks and Cos stores from Amsterdam to New York. We spoke to Massa to find out more.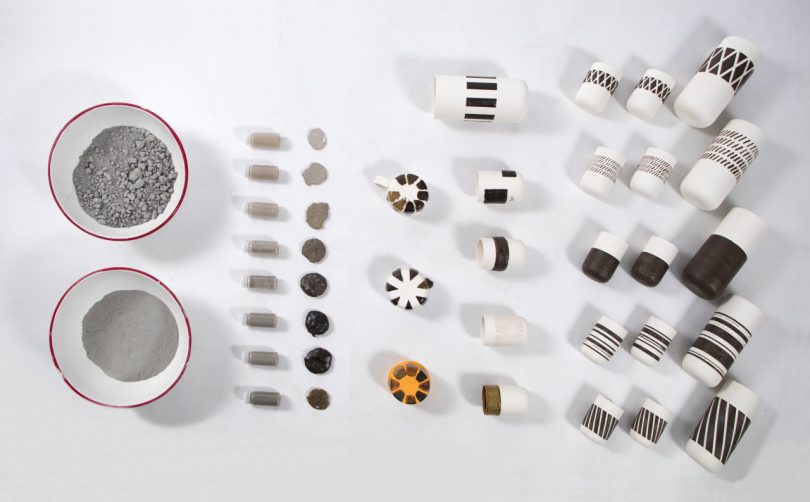 Studio Rope Turns Dust From Stone Processing Into Pottery Glazes
Hiroyuki Morita established Studio Rope in 2017, while studying for his Master's Degree at ECAL Switzerland. "Design connects many relationships in our own life, in the same way as rope makes a knot," he says, explaining the studio's core philosophy. He believes that design is as much about forming strong bonds and flexible partnerships with clients, craftsmen, makers and users as it is about creating objects. His Stone Pottery collection is just one example of this. By working in close collaboration with stone factories, he was able to turn their waste dust into a unique glaze that provides thermo-insulating and tactile properties to a porcelain coffee set.
Studio Nienke Hoogvliet Turns Seaweed and Fish Skin into Rugs, Fabrics + Leather
Based in The Hague, in The Netherlands, Studio Nienke Hoogvliet is a design studio specializing in material research, experimental and conceptual design. Nienke Hoogvliet founded the studio in 2013, and has since been joined by Tim Jongerius. The pair now engage in freelance projects as well as self-initiated research and design projects that raise awareness of social and environmental problems in the textile, leather and food industry. By creating innovative material alternatives, they hope to change both perspectives and systems.
Yair Neuman Turns Waste Eyewear Lenses Into Lighting Collectioncubitt
Yair Neuman is a London-based designer and entrepreneur, exploring sustainable design opportunities, while minimizing the environmental impact of everything he produces and conceives. His most recent collection was developed in collaboration with eyewear brand Cubitts. As with most eyewear stores, Cubitts' frames are displayed with dummy 'plano' lenses that are replaced with prescription lenses once purchased by the customer. The average high-street eyeglasses store discards 200 such lenses every week. Neuman is turning these lenses, otherwise destined for landfill, into polycarbonate sheet materials, from which he has created a striking lighting collection called Lens Light, recently launched during the London Design Festival.
Ella Doran Turns Waste Plastic into an Upholstered Chair With a Message
Award-winning London-based designer Ella Doran set up her homewares business in the late 1990s, quickly winning fans and plaudits for her pioneering application of photography-based images and patterns onto functional, household products. Her involvement in the RSA's Great Recovery project – and specifically, the restoration of a sofa that was bound for landfill simply because its fire safety label had been removed – sparked a renewed interest in, and commitment to, the circular economy. We spoke to her about her latest project, the Clean Up Plastic Camo Chair.
Jacqueline de la Fuente Turns Waste Paper + Cardboard Into Sculptural Vases
UK-based artist and designer Jacqueline de la Fuente was inspired to start making sculptural vases from waste paper and cardboard when she had children – from noticing the increase in waste her family now generated, through experimenting with papier-mâché alongside them, and through wanting to leave them the legacy of a healthier planet on which to grow up. Through her studio, De La Jardin, she now hand-makes eye-catching decorative objects which are sought-after by interior designers and private collectors alike. We spoke to Jacqueline to find out more.
Circular&Co Turn Discarded Single-Use Coffee Cups into Reusable Ones
Former Dyson inventor, Dan Dicker, founded the forerunner to Circular&Co in his garden shed in the far southwest of the UK in 2003. Circular Cup is the latest in a series of innovative products that reuse waste and create value from materials that were once destined for landfill – in fact, 17 years on, Dan estimates that his company has prevented 187 million single-use cups from entering waste streams. We caught up with him to find out more.
Zoe Murphy Turns Unloved Furniture, Wood and Textiles into Vibrant Home Accessories
British designer Zoe Murphy champions the notion of 'loving what belongs to you' by printing onto recycled furniture and textiles using imagery inspired by the faded glory of her seaside hometown of Margate, Kent, on the south coast of England. Zoe graduated from Loughborough University in 2008 with a first-class honors degree in printed textiles. Having always been fascinated by the potential of re-use and rejuvenation of unwanted items, she works closely with the idea of encouraging others to consume with more care.