The following post is brought to you by Skinner Inc. Our partners are hand-picked by the Design Milk team because they represent the best in design.
On Saturday, December 7th at 10 AM EST, Skinner is holding a public 20th Century Design auction at their Downtown Boston gallery (63 Park Plaza) that will feature some big names, big ticket items, and affordable contemporary designs.
The auction's nearly 600 lots will include great examples from the American craft movement, lighting by Tiffany Studios, and iconic furniture designs from Saarinen, Wegner, and Eames. You don't have to be a serious collector to throw your hat in the game. If you're just refreshing your home, moving into a new space, or simply looking for that perfect little accent piece, there are tons of high-quality items to choose from.
I have to say it was hard not to book a flight to Boston while combing through the lots, but luckily you can leave a bid online or inquire online. Here are some of our favorites:
Pierre Poulin Tongue Chair (Est. $400-600)
Tubular steel, upholstery
Artifort, Holland, designed 1967
The curving form in red wool upholstery, ht. 24 1/4, wd. 33 1/2 in.
Hugh O'Donnell painting (Est. $300-$500)
Untitled II, 1979
Signed and dated Hugh O'Donnell '79 l.r., also signed and dated Hugh O'Donnell 79 in pencil and identified on labels from The American Federation of Arts, New York, The British Council, London, and The Solomon R. Guggenheim Museum, New York, affixed to the backing.
Mixed media on paper, sight size 54 x 39 1/2 in., framed (under glass).
Hans Wegner (1914-2007) Peacock Chair (Est. $1,000-1,500)
Ash, teak, paper cord
Johannes Hansen, Denmark, c. 1960
Signed with branded mark, approx. ht. 41 1/2, seat 14 1/2, wd. 30, dp. 29 in.
Mathieu Matégot Baghdad Table Lamp (Est. $800-1,200)
Enameled perforated steel
France, c. 1954
Red polygon form over a single socket, European wiring, base stamped 4, finial ball damaged, solder splits, ht. 15 in.
Angelo Mangiarotti Saffo Table Light (Est. $700-900)
Blown glass, aluminum
Artemidi, Murano, Italy, design c. 1966
Mushroom form of clear to white glass with central smoked glass inclusion over single socket, glass bearing Vetri Murano label, and metal base stamped with manufacturer's mark, ht. 12 5/8 in.
David Roy Kinetic Sculpture (Est. $500-$700)
Avian, 1989, edition of 150
Unsigned. 20th Century
Wood, veneers, metal, string, approx. 36 x 28 x 7 in.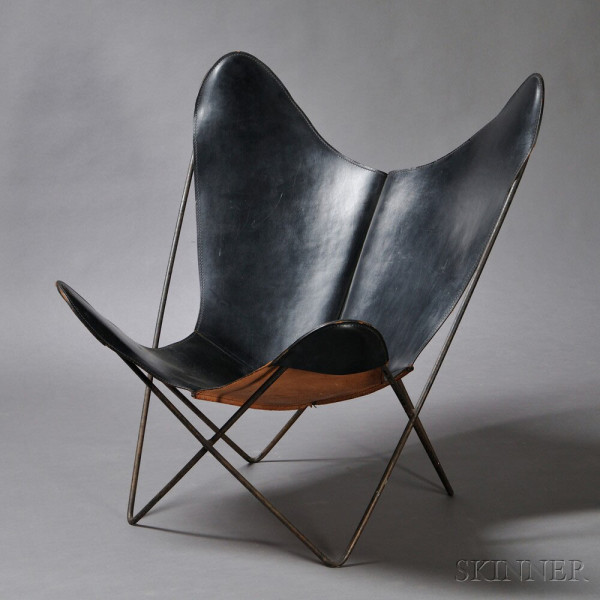 Butterfly Lounge Chair (Est. $400-$600)
Leather, painted wrought iron.
Jorge Ferrari-Hardoy, Bonet & Kurchan, designed 1938, Knoll, mid-20th century.
The black leather sling seat on a black painted bent rod frame.
Skinner has also selected five of their favorite affordable lots from the upcoming auction that might be what you're looking for (did someone say Eames lounge chair?).
If you're interested, view the sale, register to bid online, make inquiries, or contact a department specialist here. You can also call or email: 508-970-3111 \\\ [email protected]

Design From Around The Web