Part art museum. Part award-winning boutique hotel. Part New American restaurant. 21c Museum Hotel Cincinnati is an immersive contemporary art experience in the center of the Queen City. There's art everywhere you go: the rooms, hallways, and even elevators. And, it's all intended to create a transformative experience for hotel guests and museum visitors.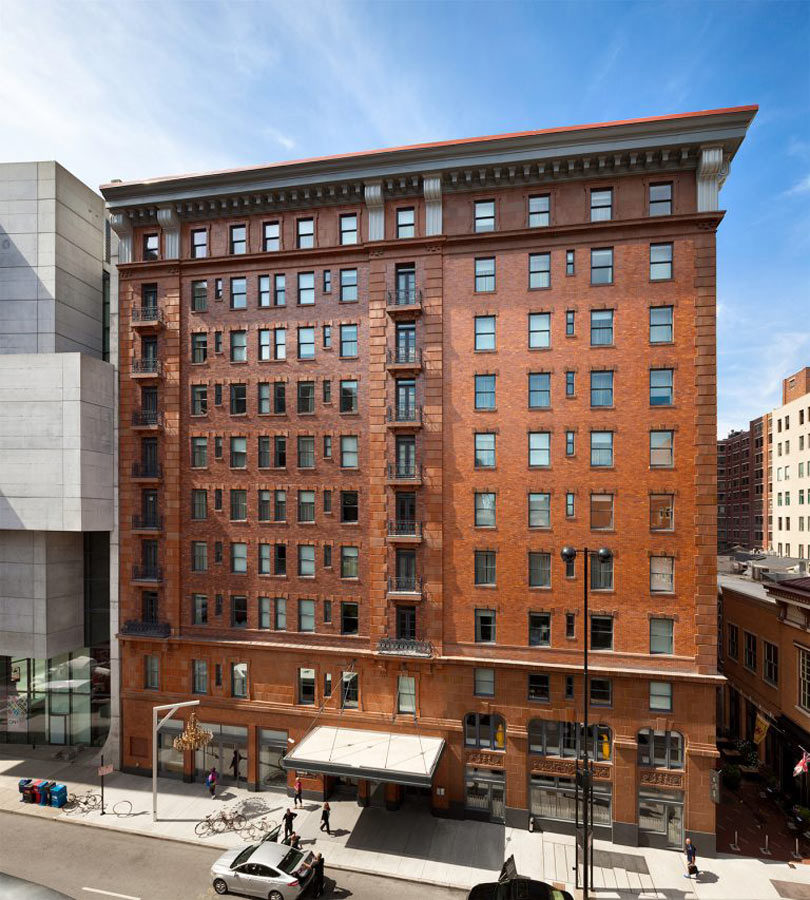 The building, originally the 100-year-old Metropole Hotel, is on the National Register of Historic Places. To help maintain its historic character, the founders, Laura Lee Brown and Steve Wilson, hired architecture and interiors firm Deborah Berke Partners to renovate the space.
While the architecture has retained its historic personality, the art museum is focused on modern, innovative works and artists. They have site-specific work commissioned for 21c, rotating art exhibitions, and cultural programs. The selection of work is curated by Museum Director and Chief Curator Alice Gray Stites. And, depending on the current exhibit, you may see everything from paintings and sculptures to photography and video. The museum is free and open to anyone 24 hours a day, 365 days a year—so there's always a place in Cincinnati to see cutting-edge contemporary art.
The hotel's rooms are adorned with custom furnishings to imbue them with a comfortable, residential feel. To add a local touch, they've also included custom tiles crafted by Rookwood Pottery Company—a Cincinnati-based ceramics company that's been around for more than 130 years.
Inside the hotel is a chef-driven restaurant: Metropole. It maintains the building's original mosaic tile floors and arched windows to showcase its historic charm. Metropole serves New American cuisine and sources ingredients from local sustainable farmers. And, the restaurant recently brought on a new executive chef, David Kelsey, whose menu highlights a contemporary interpretation of traditional techniques to create innovative, nourishing dishes.
During the warmer months, 21c Museum Hotel Cincinnati also opens up a rooftop cocktail terrace that overlooks downtown Cincinnati, providing some of the most stunning views of the city. You can sip a selection of creative cocktails as you enjoy the surrounding historic architecture.
Everything you need to know when booking your stay: 21c Museum Hotel Cincinnati's room prices typically start around $180 a night. The 156-room boutique hotel was designed by the New York-based Deborah Berke Partners to create a welcoming, artistic space for all while still celebrating the original building's historic character. The museum hotel is also known for its yellow penguin statues, which you'll see scattered throughout the hotel, restaurant, and cocktail terrace.
21c Museum Hotel Cincinnati is located at 609 Walnut St, Cincinnati, OH 45202. Visit 21c Museum Hotel Cincinnati to book your stay!
Be sure to tag us in your travels with @designmilktravels and #designmilktravels.
All images courtesy of 21c Museum Hotels.

Design From Around The Web