Wallpaper Year Planner 2016 by All The Fruits \\\ € 20
Wallpaper makers All The Fruits took their unique wallpaper ideas and turned them into a color block calendar. The planner is pre-glued so you just submerge it into water and apply it to the wall. It comes off easily when the year is done. (You can also tack it to the wall if you don't want to adhere it.)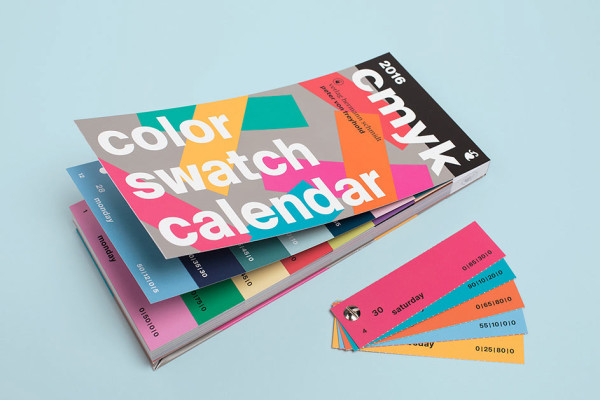 Color Swatch Calendar by Peter von Freyhold \\\ € 39,80
A colorful calendar that lets you tear off a swatch for each day of the year that you can then collect in the storage box or connect together for a color swatch book.
2016 Isometric Risograph Calendar by JP King \\\ $24
Printed with soy-based ink, these 3-color risograph prints pop with the use of fluorescent pink, blue and yellow on oatmeal-colored Kraft paper.
Typodarium 2016 \\\ € 19,80
Every day you can get a typography fix with typefaces from 223 designers from 32 countries.
The Circular Calendar 2016 (PDF) \\\ € 8,00
If you have access to a large format printer, this printable PDF calendar shows the daily sun hours on latitude 40° north of the equator during 365 days.
2016 Matchbook Calendar by Inkello \\\ $8
Back for its 7th year, this pocket-sized calendar is handprinted with your choice of a metallic grey, bubblegum pink, blue raspberry, or mango orange cover that features hypotrochoids.
2016 Calendar Tea Towel by Avril Loreti \\\ $25
Avril Loreti is back with her latest tea towel calendar that looks like twinkling, geometric shapes with her signature hand lettering on top.
The Cube Calendar by Philip Stroomberg \\\ $40
A fun block that invites you to play with it each day by tearing off that day's card. Every few days, a card will appear featuring a quote about time.
Vertical Calendar by Nack Studio \\\ $26
A wall calendar that displays time in a long, linear panel for each month of the year. It even includes magnets and tacks to hold it in place, as well as 72 event stickers.
Polardarium 2016 \\\ € 29,80
Now in it's 5th printing, the world's first and only Polaroid calendar is back with new snapshots from well-known photographers and beginners alike.
Stendig Calendar by Massimo Vignelli \\\ $45
Massimo Vignelli's classic design from 1966, which is always a Design Milk favorite.
2016 Year Planner by Crispin Finn \\\ £15
A limited edition, embossed, 2 color screen print in red and blue that lets you see the entire year at a colorful glance.
2016 Colors Wall Calendar by Dozi \\\ $26
Minimal, modern designs in colorful geometric patterns that easily hang from the included bulldog clip.
2016 Calendar by Michelle Armas \\\ $35
A signed print featuring one of Armas' signature, colorful, abstract paintings. When the year is done, clip the bottom off and you have the artwork left to hang up.
Bubble Calendar \\\ $26
Get the satisfaction of popping a bubble every day of the year as each day passes in 2016.
SNUG.TOYBLOCKS Calendar 2015 by snug.studio \\\ € 18.90
Available in several colors, this wall calendar features circles, semi-circles, triangles, and rectangles artfully arranged to mark each month.
2016 Calendar To-Do List Pad \\\ $30
A calendar and to-do list all rolled into one convenient pad of paper featuring 365 drawings.
2016 Typography Calendar by Studio Hinrichs \\\ $32 (desk) or $49 (super)
A mix of 12 unique typefaces that includes descriptions of the type and biographies of the designers.
Perforated Calendar by Snæfríð & Hidigunnur for Hay \\\ DKK 149
A single sheet calendar that lets you tear off a square for each day of the year.
2016 Year Planner by Tom Pigeon \\\ £15
Tom Pigeon brings back their two color A1 planner that's screen printed with black and light blue ink and is limited to just 100 prints.
A Year Long Calendar by One Must Dash \\\ £10
A long, narrow calendar that comes with a leather buckle that you slide down to keep track of each day.
Today – 2016 Daily Calendar by Matthew Hoffman \\\ $36.50
This small, desktop calendar features a piece of paper for each day of the year with a daily phrase in Hoffman's own handwriting.