There are always plenty of reasons to say thank you and now you can do it in a less Hallmarky kind of way. Here are 30 (yes 30!) of my favorite modern thank you cards:
The Retro Dot letterpress card from Night Owl Paper Goods brings one of my favorite color combinations together: turquoise and red. The eco-friendly card is printed on 100% cotton paper made from the textile industry's recovered fibers.
How could I do a roundup without including this Frank Lloyd Wright Greenwich Letterpress "Thanks for the advice… you're always [Frank Lloyd W]right" card?
All-around designer Angela Adams joined forces with Egg Press on a collection of letterpress cards that reference designs that are uniquely her. The organic shapes of the blue on blue Kenga Thank You card are my favorite.
Mini Thank You cards from Yee-Haw Industries that are hand-printed from Gothic extra condensed wood type on 100% recycled paper. They come in an array of color combinations with various paper and ink colors.
I love the simplicity of these Ruby Press no ink impression Thank You cards with a modern block type. You can also choose to get the "Thank You" printed in an ink color of your choice, as well as choose the envelope color.
From Rachel Herring of Fish and Line Design, the simple design of this diagonal Thanks card features a nice color combination and modern all-caps type.
I love the font on this Thank You card from Alive and Kicking Design. You can get the band in various colors along with a coordinating envelope.
Wood grain patterns are still ever so popular in the design world and I love it on this card from Elum. The card is letterpress printed on 100% pure cotton rag paper.
Screen printed by hand with water-based inks, this rectangular spiral card comes from Two Trick Pony in green.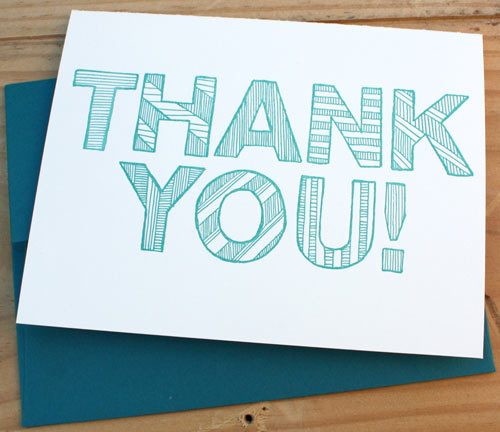 From Brooklyn-based Tella Press, the teal-colored Thank You is a hand-drawn illustration of an all-caps original type and then letterpress printed on tree-free paper.
I love the simplicity of the letterpress Thank You cards from Ruben de Golferichs that are printed on various colors of metallic cardstock, black being my favorite.
This Thanks card from Egg Press features a messy geometric print with a die-cut window that reveals the message.
Inspired by the designer's non-forgiving antique typewriter, a. favorite design's edited Thanks card is two-color letterpress printed in black and red ink.
Letterpress printed in purple and orange on recycled gray chipboard, this Hey Thanks card is designed by Starshaped Press. The labor-intensive design, inspired by the marriage of typographic design and LEGO building, was created by having each tiny block set by hand.
Letterpress printed with yellow and green inks, this Thank You card from Pistachio Press is hand-printed on fluorescent white paper.
The Thank You Bag letterpress-printed card from Nic Studio mimics the thank you plastic bag that's seen in stores everywhere.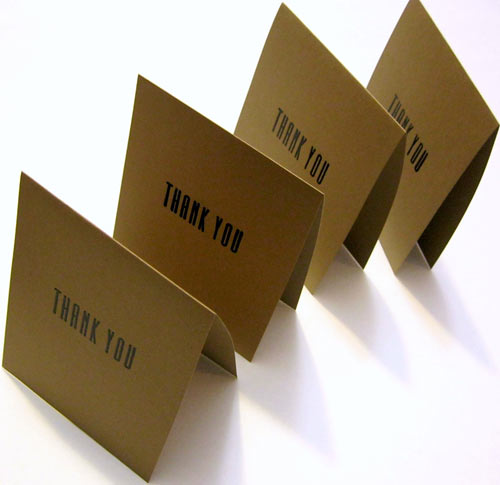 These hand-embossed Thank You cards from Almond Crafts are done on brown kraft paper with black pigment that is slightly raised and shiny.
Another great card from Greenwich Letterpress that has a red burlap textured background with a black, block type font.
From Bears Eat Berries Press, the simple but effective Thank You Flag card is the perfect example of minimal but bold design.
From Hammerpress, the letterpress printed Diamonds Thanks card is colorful and geometric.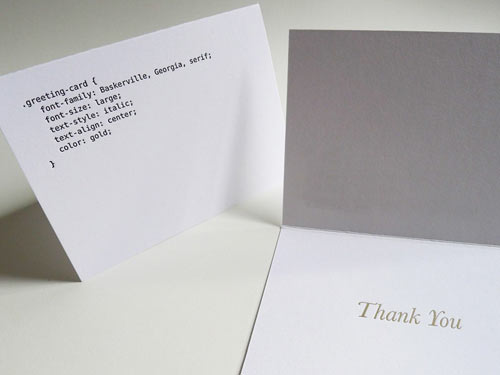 If you want to say thanks to your favorite web designer, say it with these letterpress printed CSS Code Cards.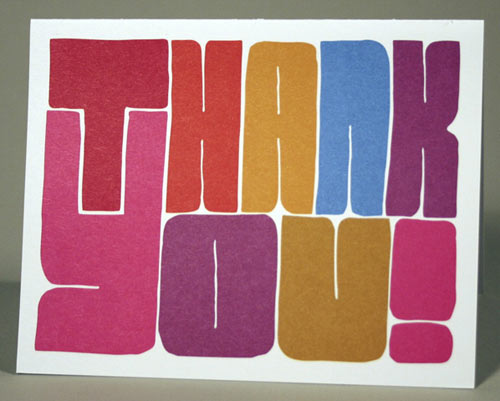 The colorful big, bold type of this Big Type Thank You card from Andy Pratt Design is offset printed on bright white cover paper.
I love the light blue and gold color scheme of this letterpressed Drip Thank You card from Paper + Cup Design.
With a slightly illustrative style and a touch of whimsy, these Geometric Thank You Cards from Quill and Fox have just enough modern in them.
The simplicity of this letterpress design from The Palmetto Press features a classic black font on white paper with a bright yellow envelope.
The colorful design of The Dotty Thank You card from Adrianna Velazco looks like overlapping drops of water and has a mid-century modern feel.
When you really want to thank someone you can thank them soooooooooooo much with this card from Wit & Whistle.
And if you're looking for bold, perhaps this Flag Thank You Card from Anemone Letterpress that features shocking pink and ultra salmon inks on bright white tree-free paper.
One card, endless purposes. The All Purpose Thank You card from Fifi du Vie makes card selection super easy.
And in closing, let's all give T.Hanks for this Tom Hanks thank you card from Blue Barnhouse.
Oh, and of course we have our own… (I guess, technically, this one makes 31…) Here's our Thank You card designed by Joel Pirela and printed by Igloo Letterpress, and if you do something REALLY nice for us, you might just get one: