5 Designers From Our Milk Stand Pop-Up Shop Share Their Favorite Memories
Happy birthday to us! Our 15th anniversary celebration is underway! Stay tuned for more special 15th anniversary content and fun surprises as our celebration continues!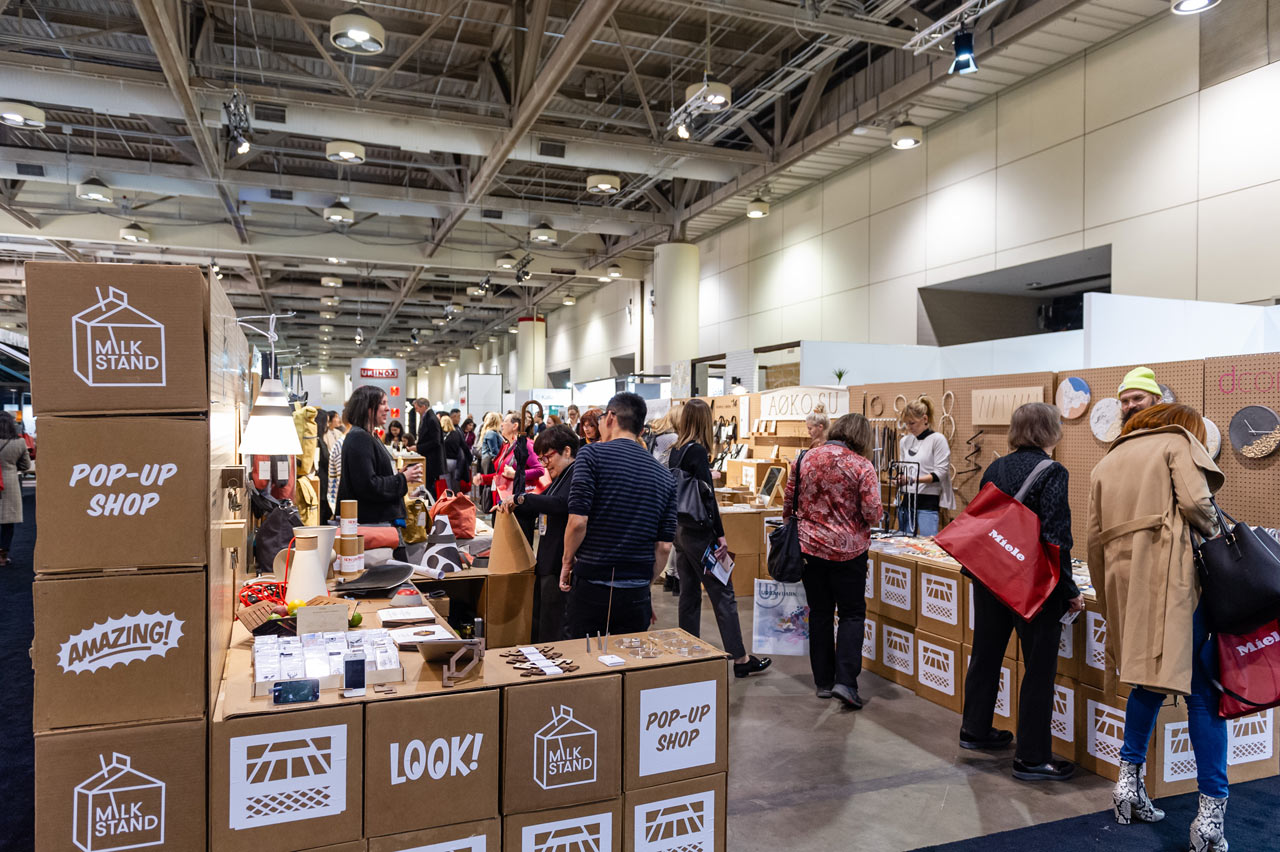 5 Designers From Our Milk Stand Pop-Up Shop Share Their Favorite Memories
In 2015, Design Milk launched its first ever pop-up shop called The Milk Stand at ICFF to showcase and share talented, independent designers and makers who are flying under the radar making the coolest products, from textiles to wallets to planters to jewelry. Every year since then (with the exception of 2020/2021 due to the pandemic), we've taken the Milk Stand around the country and the world at design events and trade shows, highlighting what we believe is the best of the best in design. Each year we invited new designers and welcomed back old ones. To commemorate 5+ years of Milk Stands for our 15th Anniversary, we asked past participants to share their favorite memories:
LACE by Jenny Wu: "There were so many great memories from all of the Milk Stands we have participated in. Perhaps our first time at ICFF was the most stressful. Traveling to NY with our whole installation, we somehow managed to pack our entire inventory in our carry on luggage. The day before the show opened was truly insane. It was amazing how the whole exhibition hall can go from empty to fully installed in 24 hours. Being part of the Design Milk family is definitely the best part of the show. I love how everyone is so supportive of each other and the curation of the designers really makes Milk Stand so unique!" >>> Check out designs by LACE by Jenny Wu here!
KONZUK: "I have many favorite memories from our Milk Stand participation, particularly the camaraderie with the other amazing designers. West Edge in Santa Monica stands out as the most fun in particular. Finding out which booths were giving away free food and alcohol and sharing with the rest of Milk Stand! Riding electric scooters to and from the show and going out for dinner en masse. Many friendships were formed from our participation in these shows. Congrats on 15 years!" >>> Check out designs by KONZUK here!
DITTOHOUSE: "Design Milk attracts the most fabulous and interesting people in the industry and participating in the Milk Stand allowed me to get outside of my home studio in Cleveland, Ohio and exchange ideas with a much wider audience.
"My favorite Milk Stand memory was the day before the show started when all Milk Stand exhibitors and I were setting up. There was such a great sense of camaraderie; everyone was helping each other out by lending a hand to put the finishing touches on their booths. The excitement was very palpable to be in such creative company and it was really nice to meet other design oriented entrepreneurs and have the opportunity to share business notes and encourage each other for a great show." >>> Check out designs by Dittohouse here!
LUPA: "There are so many Milk Stand memories I cherish. The best ones would be the many years I had participated and shared a booth with Marja from MGG Studio – we've always had such a great time whether the shows were in L.A. or New York. We've created a great community of like minded brands and designers. I have kept in touch with many of the designers that have participated over the years and they are such a great community to lean on for anything relating to design and business." >>> Check out designs by LUPA here!
STUDIO STOCKHOME: "Our first Milk Stand was in 2018 at ICFF during NYC Design Week. It was the ideal launching pad to introduce our company and fragrance collection that we started earlier that year. At first we were intimidated to be amongst the best designers in the industry, but the mood was so upbeat and convivial – we made meaningful connections with retailers and peers and even some lifelong friends! It was our first Milk Stand, but not our last! We didn't hesitate to participate in several more over the years." >>> Check out designs by Studio Stockhome here!
Interested in learning more about the Milk Stand + applying for our next one? Be sure to follow us on @designmilk so you can be the first to know about upcoming events and calls for applications!