Cape Town-based SAOTA (Stefan Antoni Olmesdahl Truen Architects), in collaboration with Antoni Associates (interiors), completed yet another jaw-dropping residence. Located in the Houghton suburb of Johannesburg on a slightly sloped, tree-filled lot, the U-shaped home sits around a central courtyard giving access to all spots in the residence.
The indoors blends with the outdoors with low patios making access easy. The structure also features floor-to-ceiling windows that slide open making the separation disappear.
Move closer into the courtyard and you spot the pool nestled into the U-shape making it completely private from prying eyes.
The wood room divider is simply fantastic!
Also in the central part of the house is a spiral staircase that wraps around like a curled ribbon in the double height living room.
Every room has views to the outdoors, including the kitchen.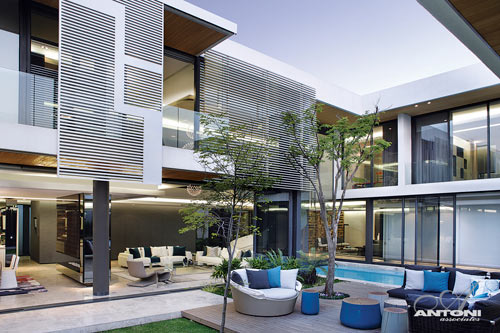 The second floor comes complete with the slatted shutters to block out some of the sun.
I kinda wish that staircase was a slide into the pool.
Photos by Adam Letch and Elsa Young.