I love fancy footworks as much as the next person and believe that a great outfit can be ruined (or at the very least, go undocumented) with a bad choice in shoes (nothing a little photo-cropping can't fix to salvage that photo though). However, when it comes to sneakers, I hail from the "less is more" camp, even while 'Dad shoes' and retro 'sneaks are making a comeback. Simple, minimalist sneakers just have a soft spot in my heart, especially when they're well-made and classically designed with modern elements. I'm also more inclined to hand over $200 when I think about how many outfits can go with a minimalist sneaker over a maximalist one.
If you're in the market for a pair of fresh new kicks, here are 7 current favorites that our Tech Editor Gregory and I rounded up to help with your window shopping.
1. Rennes by Oliver Cabell: Minneapolis-based Oliver Cabell, whom we love for their backpacks and weekenders, just launched their footwear collection after serendipitously uncovering a set of old sneaker molds in the factory where the brand produces its accessories. These new sneakers have a refined aesthetic that subtly exude 'cool.' Every component of the sneaker is high-quality, from the full grain leather crafted from the same tannery as Prada and Saint Laurent to the waxed cotton laces sourced from a factory that has been producing those laces for 115 years. These are luxury sneakers without the luxury price but don't just take our word for it. Every pair on the website has a price breakdown, so you can know exactly what you're paying for.
2. Circle Low by THEY: When you think of color-blocking, you probably think of bold and loud colors but THEY shows us that color-blocking can be understated without losing its pattern appeal. Inspired by Japanese minimalism and Bauhaus principles, these sneakers give new meaning to pattern play in a way that's easy on the eyes (and the soles).
3. Capri by KOIO x James Whiteside: This footwear brand's collaboration with James Whiteside, Principal Dancer at the American Ballet Theatre, satisfies your need to get a pair of shoes that aren't black or white while still looking sleek enough to pair with any outfit for an unexpected pop of color. The sneaker features one small personal detail: an embroidery of James' one and only tattoo.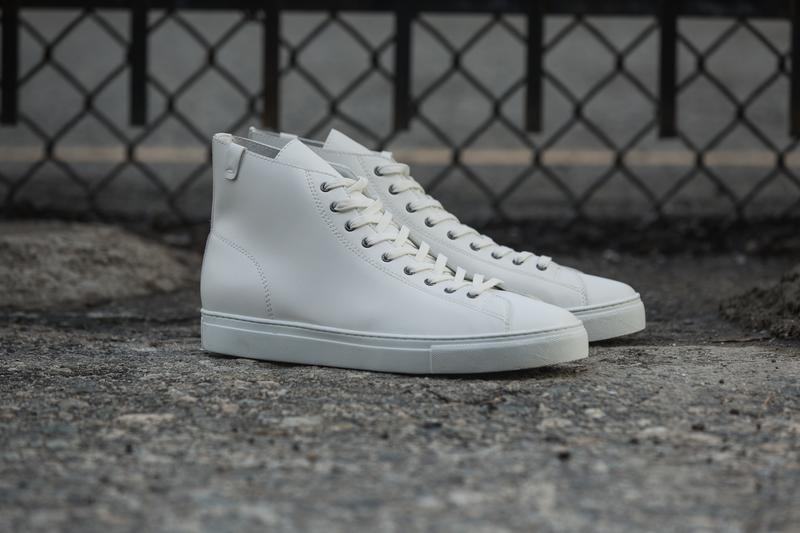 4. Original Hi Top by House of Future: Leather elevates the design of the traditional basketball high-top silhouette. Not just for 6-foot-tall athletes, these minimalist sneakers are as clean as they get and have been updated with new color ways for your spring wardrobe.
5. Adrian Turnup by Acne Studios: Gregory is eyeing these gumshoes himself. These classic tennis shoes by Stockholm-based Acne Studios can be dressed up or dressed down with its Italian calf leather and minimal stitching.
6. Ultraboost Laceless by Adidas: You can't get any more minimalist with a shoe that does away with the laces entirely. The Ultraboost line has stayed a headliner in sneaker news for a while now for its ultra-comfortable midsole cushioning and form-fitting Primeknit upper. The laceless design means there's one less step between you and pillowy walks in the park.
7. RA II by Vivobarefoot: The traditional Oxford lace-up shoe gets an update with a patented, ultra-thin sole that's puncture-resistant. These sneakers are lightweight, versatile, flexible and sturdy – everything you really want in an everyday sneaker.