Turett Collaborative Architects, the architecture firm that designed the condo with a steel slide in the East Village, has recently completed another innovative space, this one a triplex penthouse on the Upper East Side. A spokesperson for the firm tells us "the attention to detail on this [project] is unusually high — even by our standards." This was driven by the client, who was interested in unique solutions rather than compromises.
The homeowner traveled with architect Wayne Turrett to a remote quarry in the Swiss alps to hand pick the stone for the double-height wall around the 15-foot-wide fireplace. The soaring, meandering triple-height stair has laser-cut steel supports and translucent resin treads that cantilever like stiff diving boards.
The kitchen counter has an integrated double sink. The appliances are built into the wall.
The second floor, overlooking the living room.
The stairway from the second to third floor.
Stair tread detail. They cast warm, orange-tinted shadows through the halls.
Top floor.
A bathroom, but not the master.
The master bedroom.
The master bathroom shower and seamless tub is in an all glass room. The glass is clear, but can turn opaque for privacy at the flip of a switch.
Here the opaque shield is "on" for privacy.
Water trickles down from a fixture in the ceiling.
A trough sink with two faucets. The toilet, which is attached to the wall, seems to float.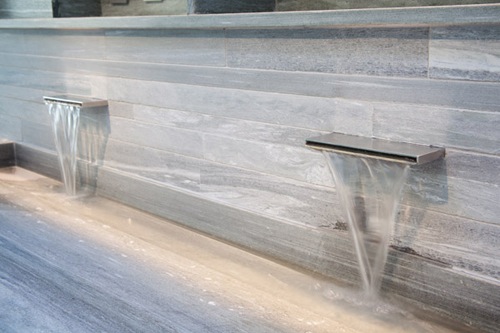 A detail of the faucets in the trough sink.
Photos by Travis Dubreuil.