I think I can speak for all of us when I say, we can't wait for the day to come when we can hug our friends and family, go out and dine in at our favorite restaurants, and not need to wear masks wherever we go. Until then, we'll gladly shelter in place and don our masks to keep our communities safe. Today we're rounding up a few of our favorite independent brands + designers who have generously shifted their focus and manufacturing towards creating masks available for purchase and for donating them to healthcare workers, food delivery workers, elderly, and immuno-compromised individuals.
Please consider purchasing a few for you, friends, family, and neighbors, even if it means pre-ordering or signing up for email notifications for out of stock items. In these uncertain circumstances, small businesses are struggling to meet demands due to limited workers/time/resources/materials, and many are generously donating masks out of pocket. Some aren't taking profits at all for their buy-one-give-one programs. In purchasing a mask, you're protecting yourself, your community, and communities beyond your city limit. Stay safe out there, we're all in this together.
Featured image: Masks by Minna, $12 for one. For every mask purchased, Minna will donate a mask to a New York shelter for women with mental health disorders experiencing homelessness.
Masks by Parachute Home, $30 for five. For every set sold, a set will be donated to those in need.
Masks by Lupa Bags, $20 for one. Instead of a 1-for-1 program, designer Katrina Espiritu is donating as many masks as she can for as long as her funds allow. Your purchase contributes to shipping and materials for the continued production of masks for workers.
Masks by Pepper Home, $14 for one. You can also place a donation between $25-100 which helps provide masks for healthcare workers. A minimum donation of $25 provides four masks, and you can specify where you'd like the masks to go during checkout.
Masks by Heather Taylor Home, $50 for 10. For every 10 pack purchased, HTH is donating 10 to those in need, including St. Joseph Center for distribution among LA's homeless population, health care workers at several Los Angeles hospitals including UCLA, Cedars Sinai, MLK, LA County, + USC, as well as LA County social workers, among others.
Masks by Aplat, $28 for one. Aplat has several programs, including free masks for medical workers at the cost of shipping, $70 for five masks for essential workers in food, grocery, and hospitality businesses, or a buy-one-give-one program in which a mask will be donated to a frontline medical worker for the purchase of one mask.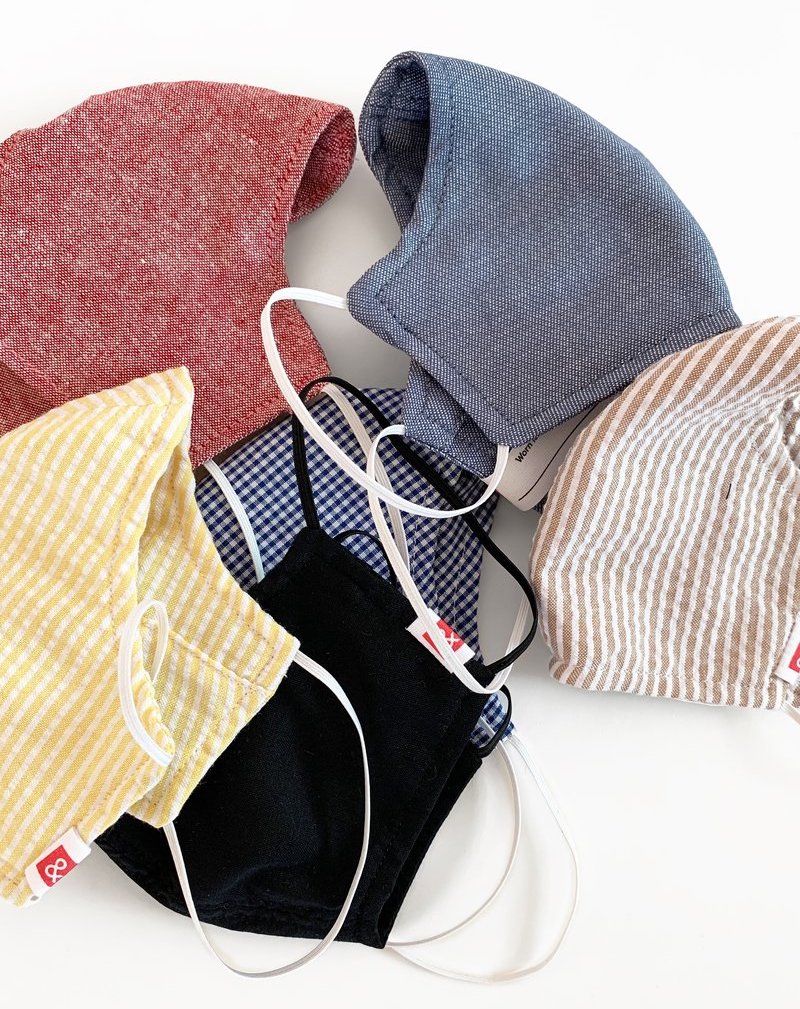 Masks by Hedley & Bennett, $22 for one. Founder Ellen Marie Bennett (you might have caught her during our Brave New World IGTV series!) is doing a buy-one-give-one program with masks being donated to those working on our front lines: the doctors, nurses, first responders, grocery store employees, restaurant workers, and all others who are putting their lives on the line for us every day.
Masks by Christy Dawn, $30 for five. Los Angeles-based designer Christy Dawn is prioritizing mask only orders and for every five sold, five are donated. These sustainable masks are made with 100% doubled headstock cotton and are also available in child sizes.
One final note: if you're unable to purchase a mask, this video from Headspace shows you how to make a no-sew masks in less than two minutes.

Design From Around The Web