Olha Wood was hired to design a new project for a former client whose mother had bought an apartment in a new concrete building in Kiev, Ukraine. The AFM Interior was designed to focus on the views with a colorful interior, indoor garden, yoga space, and room enough for two sofa beds to house overnight guests.
They positioned the main living area by the long expanse of windows to increase natural light and to enjoy the skyline views. Right underneath the windows is an embedded garden which adds greenery to the views even on the 28th floor.
Instead of walling the apartment off, they designed partitions that help divide the spaces up without closing them off. Cherry wood panels form the living room and pair nicely with the pink sofa and yellow chairs.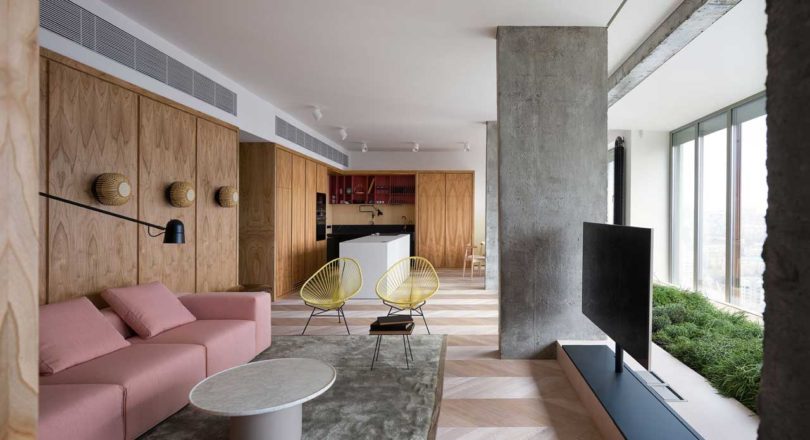 The floors throughout are made of oak and are laid in a herringbone pattern.
In the kitchen, the cherry wood continues to form sleek, simple cabinets.
The bedroom is separated by a partition wall to give privacy to guests sleeping on the two green Gervasoni armchair beds on the other side. Gradient Smart House controlled curtains provide additional privacy.
Photos by Andrey Avdeenko.