This month's Designer Dailies takes a peek into the workday of Gabriel Hendifar, designer for the New York-based lighting company Apparatus. Together with partner Jeremy Anderson, the duo creates a collection of playful, one-of-a-kind fixtures made from salvaged components, along with pieces constructed using contemporary materials. Taking inspiration from the kinetic sculptures of Arthur Ganson all the way to aerialist Philippe Petit's high wire acts, the handcrafted collection tows the line between having a vintage, never-go-out-of-style feel and classically modern. Either way, these beautiful, eclectic fixtures aren't going anywhere. Let's see how the duo spends a typical day of work in the city that never sleeps.
Morning light in the living room is always so inspiring.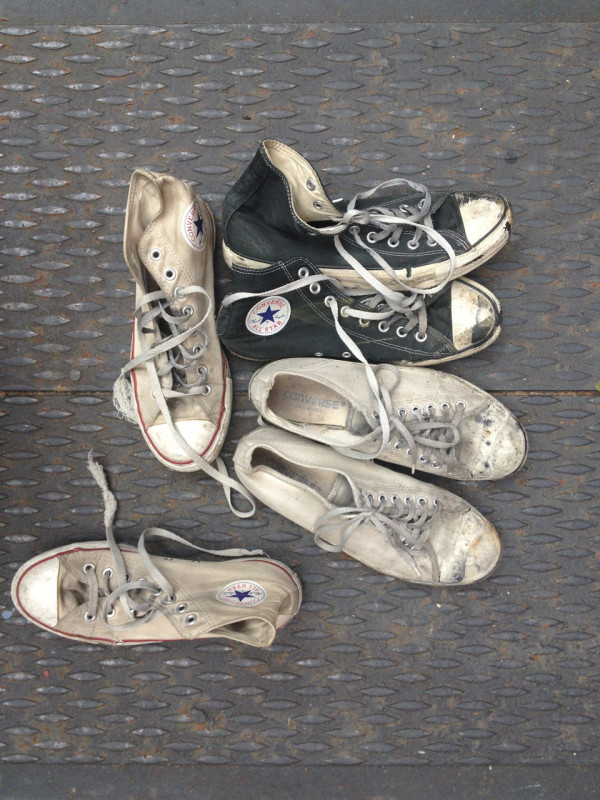 After much deliberation about what shoes to wear today, I realize that its probably time to throw out some old pairs of Converse. Seeing them go is never a happy moment.
Walking through Park Slope on the way to the subway.
I have to stop for a man vs. nature moment. Oh, and those are the shoes I decided to wear.
The Bates Motel on the corner is getting a facelift.
On the subway, this woman is dressed unseasonably warm, but she is so awesome!
I arrive at the studio to find Bryan working on production orders.
And Joey putting finishing touches on a a fixture that will be shipping later today.
The production line up.
The studio is momentarily taken over by massive bags of peanuts.
Jeremy is working on the leather wrapping for a fixture we will be installing later this afternoon. It's a custom piece, and we're really excited to see it installed.
A pair of Synapses await their pickup.
We're off to the installation. Jeremy looks concerned!
A few final adjustments.
And mission accomplished!
Jeremy rides his bike home to Brooklyn.
At home we deliberate over custom color options for our collaboration with Zak & Fox.
The fabric will go on the walls with this great Jamie Bush painting that just arrived. We're so excited!
A quick run to the grocery store to pick up fixin's for dinner.
But we're so tired we decide to go to our favorite spot around the corner, Franny's.