Meshu isn't your average jewelry company that just cranks out interesting designs. Rachel Binx and Sha Hwang, the duo behind the brand, set out to create unique jewelry based on the places on a map you tell them or your check-ins from Foursquare. They take those plotted points and the results are a custom geometric piece with personal meaning to the owner. The duo recently packed up and left their San Francisco digs to go out and explore the world and in today's Designer Dailies, they take us along for a non-routine like day on the road.
Today you've caught us during our slow trek from Melbourne to Sydney. We wake up in Tathra, a coastal town in New South Wales. Our home for the morning is a tent that sits on top of our car. The whole thing folds and packs up in five minutes, so it's pretty easy for us to wake up and go!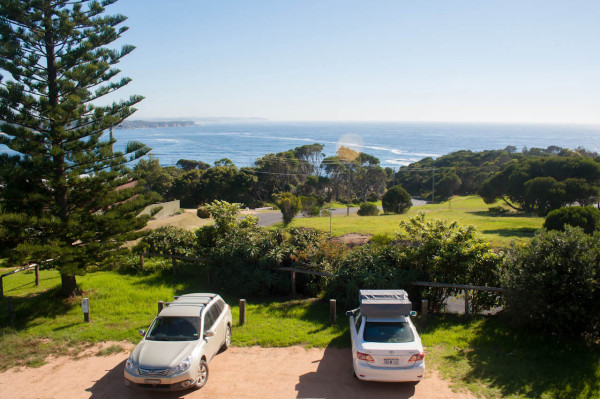 Before we leave Tathra, we head to breakfast with a stunning view of the ocean. It's a good way to start the day and a good space to think and talk about our ideas.
Of course, there's no better way to fuel our thoughts than coffee and notebooks. We don't often have internet access, so sketching out our plans for a new project becomes a crucial part of our workflow. After breakfast and sketching, we say goodbye to the coast, and start our drive inland, towards Canberra!
We try to fill our drives with music and Meshu, our jewelry company. There are often customers to talk to, orders to keep track of, and coordination to be done with Tess, who is taking care of the fulfillment side of Meshu while we're away.
Here's a shot of the admin page that we built for ourselves to show the status of all of our orders — though perhaps a mobile web version is in order!
We arrive in Canberra in the afternoon, enough time to stop by the National Gallery to see a Toulouse-Lautrec exhibit. Lautrec has always been one of Rachel's favorite painters. We try and balance our nature with culture and our decadence with inspiration :)
After the museum, we explore a bit of the city before meeting up with friends. We find a nice outdoor pub and soak in a summer sangria.
Our host in Canberra is our friend Mitchell Whitelaw, who teaches Digital Design at the University of Canberra, and is the designer behind the excellent Weather Bracelet, which is very near and dear to our hearts. It's great to finally meet Mitchell in person, and he takes us out to dinner at a restaurant called Elk & Pea with several of his UC colleagues (Ben Ennis Butler, Paul Krix, and Geoff Hinchcliffe). It's a long, lush dinner, and we talk about generative design, data visualization, digital fabrication, and teaching. It's wonderful to be so far away from home and feel so close at the same time, meeting new people who are exploring similar territory all over the world.
We come home to stay in Mitchell's garden house for the night, and end the night quietly by unwinding with work on our new project, and tomorrow we'll continue our journey. Thanks for having us, Design Milk!
Thanks Meshu!