A Former Office Becomes a Minimalist Beach House in Spain
A Former Office Becomes a Minimalist Beach House in Spain
1/13 Photos
2/13 Photos
3/13 Photos
4/13 Photos
5/13 Photos
6/13 Photos
7/13 Photos
8/13 Photos
9/13 Photos
10/13 Photos
11/13 Photos
12/13 Photos
13/13 Photos
Previously an office in Gavà, Spain, this box-shaped space has been transformed into a beach house by Roman Izquierdo Bouldstridge. The blank space was ripe for an overhaul with unlimited possibilities, all with views of Gava Mar Beach through the pine trees. Inside, a mezzanine level has been installed to increase the usable space. The front facade comprises floor-to-ceiling windows, allowing different views depending on which floor you're on. The massive glass front also provides natural light to the entire house keeping it bright and airy.
With a ceiling that spans 5 meters high (approx. 16.5 feet high), the open second level makes complete sense. The wooden mezzanine covers the minimalist, all-white kitchen, while leaving a double-height ceiling for the living room.
At the back of the space, three stairs lead to a level that houses the bathroom and bottom of the actual staircase. The staircase is open as not to block any light and to keep sight lines open in the compact space.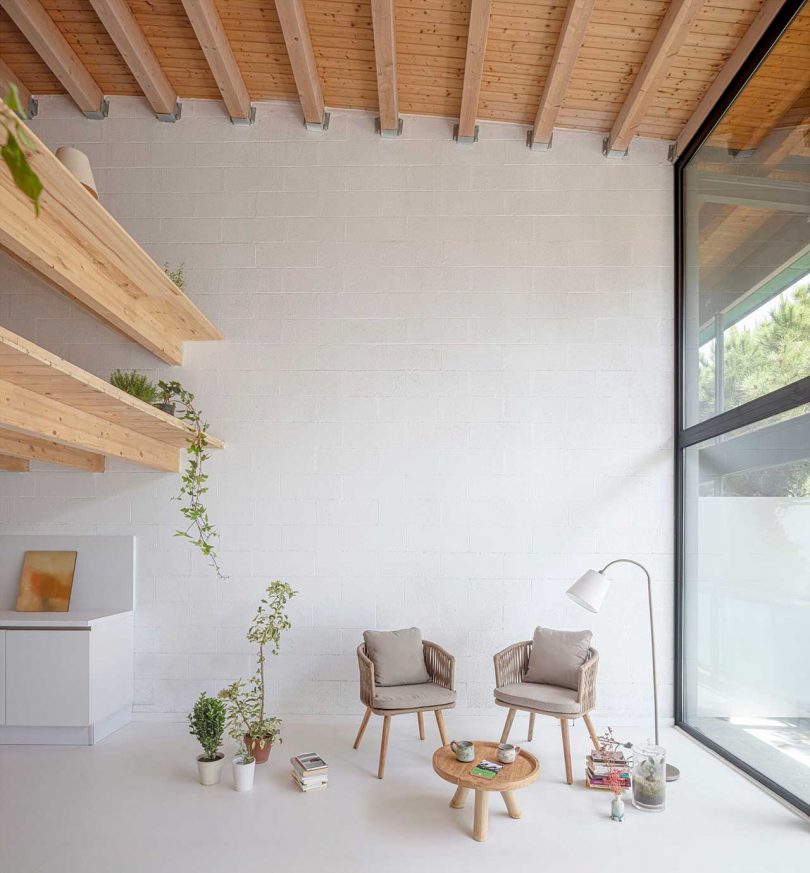 The white walls and floor are balanced with the unfinished wood mezzanine and curved ceiling. Green plants are scattered about to help warm up the space.
Upstairs, a long wooden table/desk provides lots of usable surface space while doubling as a railing. Directly behind the desk is a third level which houses the bed.
Photos by Adrià Goula.