A Former Pottery Studio Becomes a Homey Corporate Office
A Former Pottery Studio Becomes a Homey Corporate Office
1/24 Photos
2/24 Photos
3/24 Photos
4/24 Photos
5/24 Photos
6/24 Photos
7/24 Photos
8/24 Photos
9/24 Photos
10/24 Photos
11/24 Photos
12/24 Photos
13/24 Photos
14/24 Photos
15/24 Photos
16/24 Photos
17/24 Photos
18/24 Photos
19/24 Photos
20/24 Photos
21/24 Photos
22/24 Photos
23/24 Photos
24/24 Photos
The words "homey" and "corporate office" don't normally go together but that's what British-Nigerian artist and designer Mimi Shodeinde, founder of design studio Miminat Designs, accomplished for venture capital firm Giant Ventures' new office in Holland Park, London. Formerly a pottery studio, the space is a warm, inviting work haven that feels elevated yet relaxed, professional yet cozy. It's perhaps one of the most un-office-like offices we've seen yet.
The office offers an abundance of sunlight streaming through the glass ceilings and floor-to-ceiling windows. To balance out the natural light, a mix of sustainable raw materials, including wood, jute, and stone grounds the space while luxe finishes of velvet, glass, and brass add a layer of elegance. Wood plays a prominent role as a material; a variety of different timbers including British Oak, Ash, Mahogany, Wenge, Zebrano, and Walnut make up the flooring, walls, and furniture.
Tonal hues of mustard, ochre, and cognac act as the pop of color in this mostly neutral office. The built-in storage and shelving highlight the beauty of the wood grain while custom furniture, including a RINA Cabinet by Miminat Designs that shines proudly in the boardroom, create a one-of-a-kind workspace.
A featured wall showcasing a massive collection of 3,000 vintage copies of National Geographic dating back to 1892 act as a focal point of the office. On the walls, art by renowned artists such as David Hockney, Bridget Riley, Sebastiao Salgado, and Mattea Perrotta, as well as Shodeinde's own works, collectively create the office's own little gallery.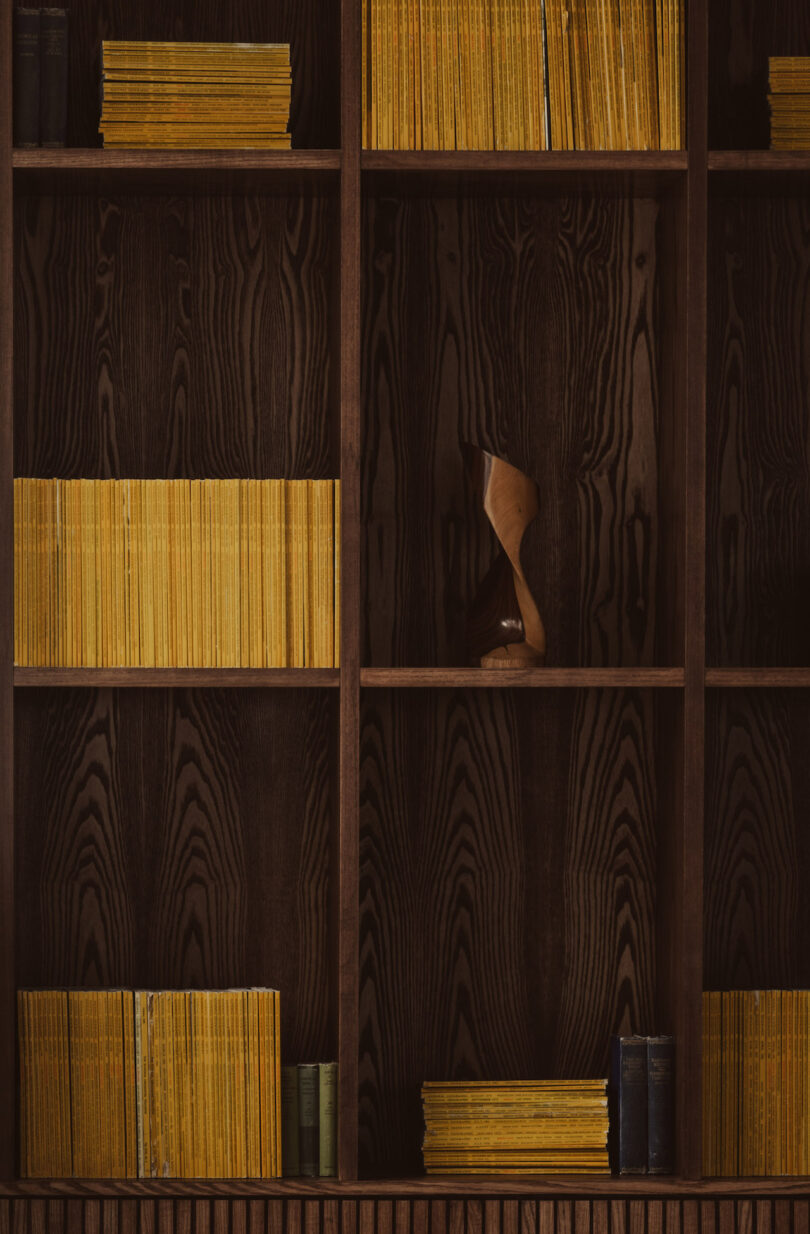 Photography by Alixe Lay.