A German Villa Transformed With Built-in Sofa, Green Hues, and a Slide
A German Villa Transformed With Built-in Sofa, Green Hues, and a Slide
1/17 Photos
2/17 Photos
3/17 Photos
4/17 Photos
5/17 Photos
6/17 Photos
7/17 Photos
8/17 Photos
9/17 Photos
10/17 Photos
11/17 Photos
12/17 Photos
13/17 Photos
14/17 Photos
15/17 Photos
16/17 Photos
17/17 Photos
When tasked with transforming the main level of an old villa in Stuttgart, Germany, Studio Alexander Fehre removed as many walls as possible to open the space up. The homeowners, who are in the medical field, longed for a clean, minimalist home that was mostly white, which resulted in some compromising on both sides to avoid it looking stark and clinical. To bring in a more grounded and homely feel, Alexander Fehre designed a central, L-shaped storage structure with organic curves to help define the rooms without making them feel separate. The unit is clad in floor-to-ceiling wood slats that offer warmth and texture while unifying the spaces around it.
The long, outer side of the structure features an embedded reading nook that looks out into the dining room. The light oiled oak slats complement the wide planked floors and wood-topped dining table and chairs. The trio of copper wire pendants above the table adds a metallic accent to the scaled-back space.
The interior section of the L-shape houses the kitchen with most of the appliances hidden behind the slatted fronts. A cutout in the cabinets, which pops in a dark green teal color, holds the sink and a coffee machine.
Another focal point of the kitchen is the massive island topped and fronted in stone.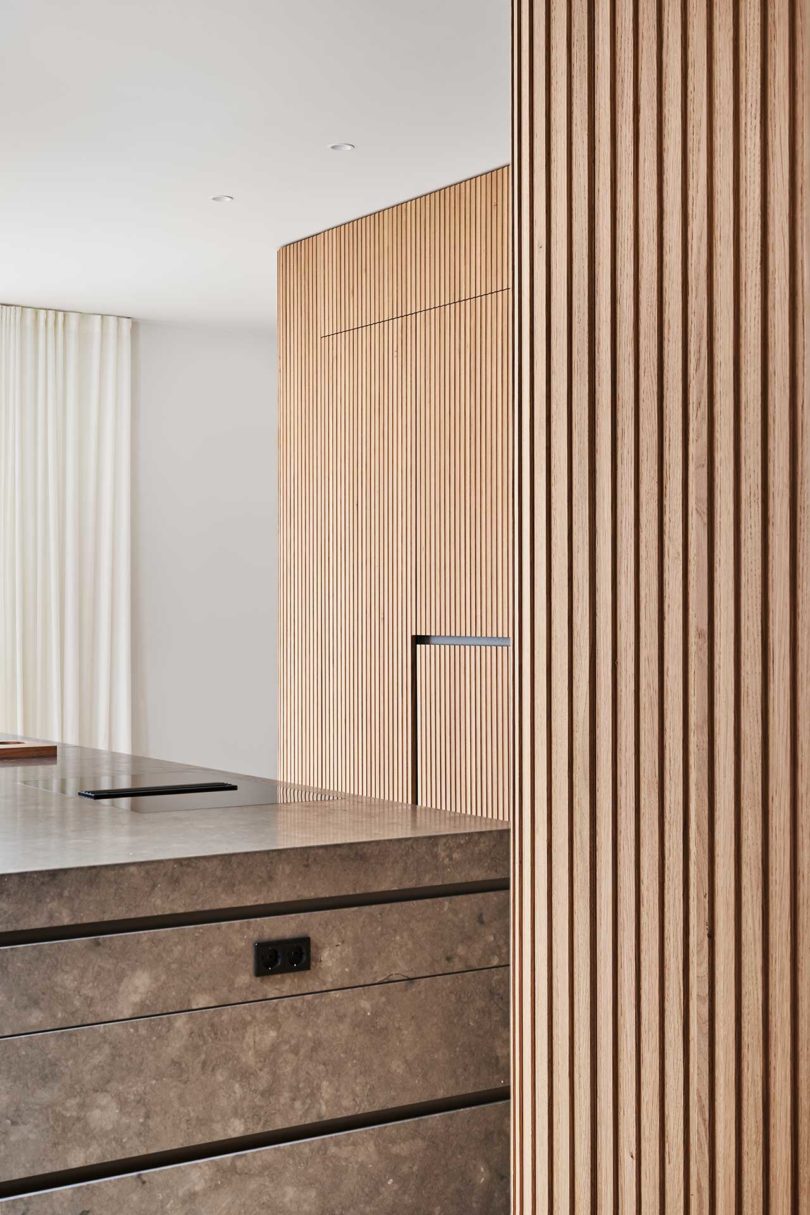 In lieu of a traditional living room sofa, the family opted for a built-in sitting niche in front of a window. The textile walls on the sides disguise an embedded audio system for relaxing to music or an audio book.
Display shelves live within the central structure, one with green mirrors and shelves for added visual appeal.
Overall, the project was designed with the kids in mind. A special lounge room by the stairs includes multiple tiers for play, as well as a slide. Window seats spanning two walls provide plenty of space for the kids to be creative or to read. As the kids get older, the room can evolve with the removal of the slide.
Photos by Philip Kottlorz Fotografie.