Korean architecture firm, Office 53427 delved into a first for Korea with the construction of the Pan-gyo Residence – the first to have a facade covered in HI-MACS®.
Led by architect Kiwoong Ko, the corner lot home was built for a young couple and their two sons in a recently developed area where single family houses were being built.
Located in Pankyo, Korea, about 30 minutes from Seoul, the futuristic, all-white exterior is made from HI-MACS® which is an acrylic stone. Using this material not only makes the property stand out from the neighbors (in a good way), its also super durable making it a perfect material for the exterior.
The bottom of the house is partially covered in horizontal wood planks, making it a nice contrast with the white. It's meant to look like an ocean wave and the foam is shown through the perforated squares at the top.
The windows protrude out from the facade, breaking up the stone and giving it more character.
You enter the home through the vestibule (above), which is also made of HI-MACS®. The floors are the same wood used on the base of the exterior.
The HI-MACS® theme continues to the interior with the built-in furniture in the living room, the kitchen, and the staircase banister, all being made out of the material.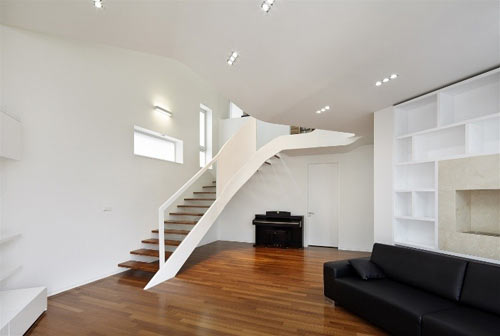 Photos by Yongkwan Kim.

Design From Around The Web