For this month's Deconstruction, we're checking in with Brooklyn-based Juniper who collaborated with Montreal-based artist and ceramicist Pascale Girardin on the Love Me Not (À La Folie) pendant. The sculptural fixture's organic form is created through five layers of hand-formed, porcelain-finished acrylic, ensuring that each light is a little bit different and unique. Here, Juniper shares a look at the design process, from ideation to material choices to the finished project. Take a look.
The Love Me Not (À La Folie) light pendant was a natural collaboration that bloomed on our first meeting with artist and ceramicist Pascale Girardin. Pascale has been creating these beautiful ceramic floral sculptures out of her Montreal studio for years. It was clear that its second most natural incarnation was to be a light pendant.
Like all good design, it has to start with pen on paper.
Like the ceramic sculptures, each piece would be different, but more structure would be needed to make this a viable product.
While the design intent remains fully intact, it was obvious early on that a lot would have to change behind the scenes for this to work as a functional lighting product.
Using LEDs has innumerable benefits, but they are very sensitive to heat. Aaron Meyers, industrial designer at Juniper, designed a series of heatsink options that maximized heat dissipation, and served as retaining hardware, while all the while retaining the organic design.
With cut drawings prepared it is time to fabricate the two-part molds used to form the petals.
Aaron Meyers is building out the MDF molds. This detailed process took over three weeks to process the full set of molds required to form the five diffuser layers in each lamp.
Choosing the right material for the leaves was elemental. Ceramic has the right feel, but it is too fragile and far too opaque. Acrylic has the correct optical and forming properties, but it was important that the finish emulate the tactile and aesthetic properties of ceramic. Ultimately, we found the right magic in a highly specialized acrylic material produced by the German manufacturer Evonik.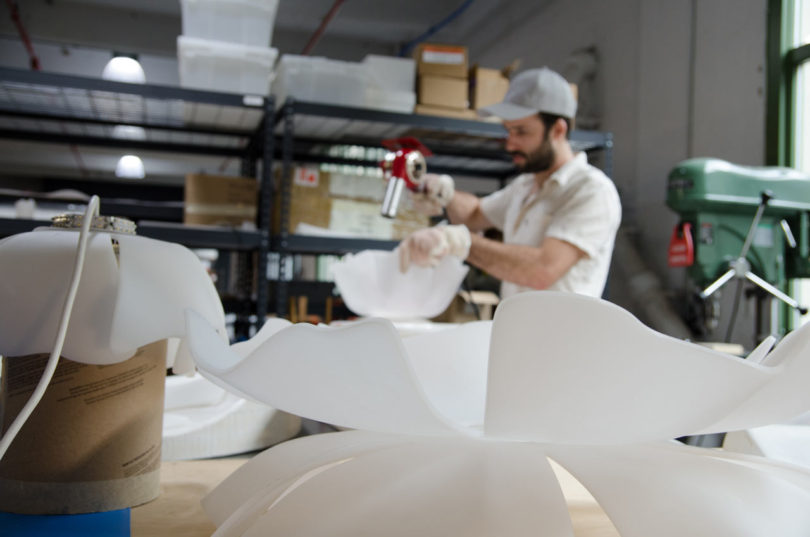 Each layer is heated in an oven and placed in its respective mold for the initial forming. Once cooled, each layer is reheated with a high-powered heat gun and further contorted into more natural and organic forms.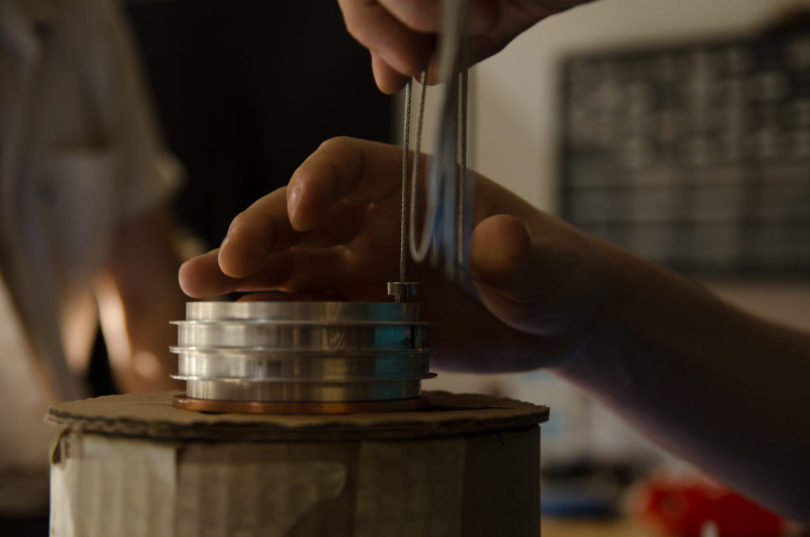 The machined aluminum LED core is carefully assembled.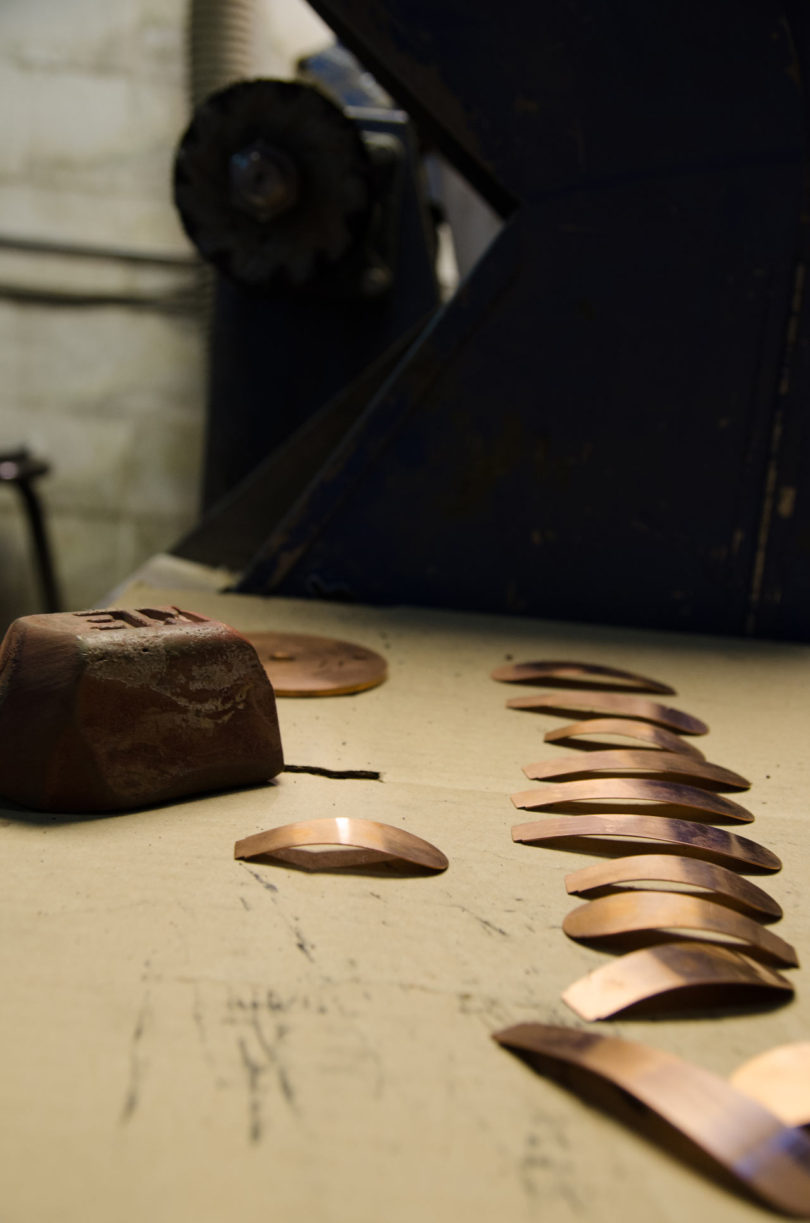 Preparing the laser-cut copper heatsink part for polishing.
Copper is among the most thermally conductive materials making it ideal material for an LED heatsink. Each piece is polished prior to brazing.
Each copper leaf is carefully brazed onto a copper base forming the floral heatsink sculpture. From here it will get treated and oxidized.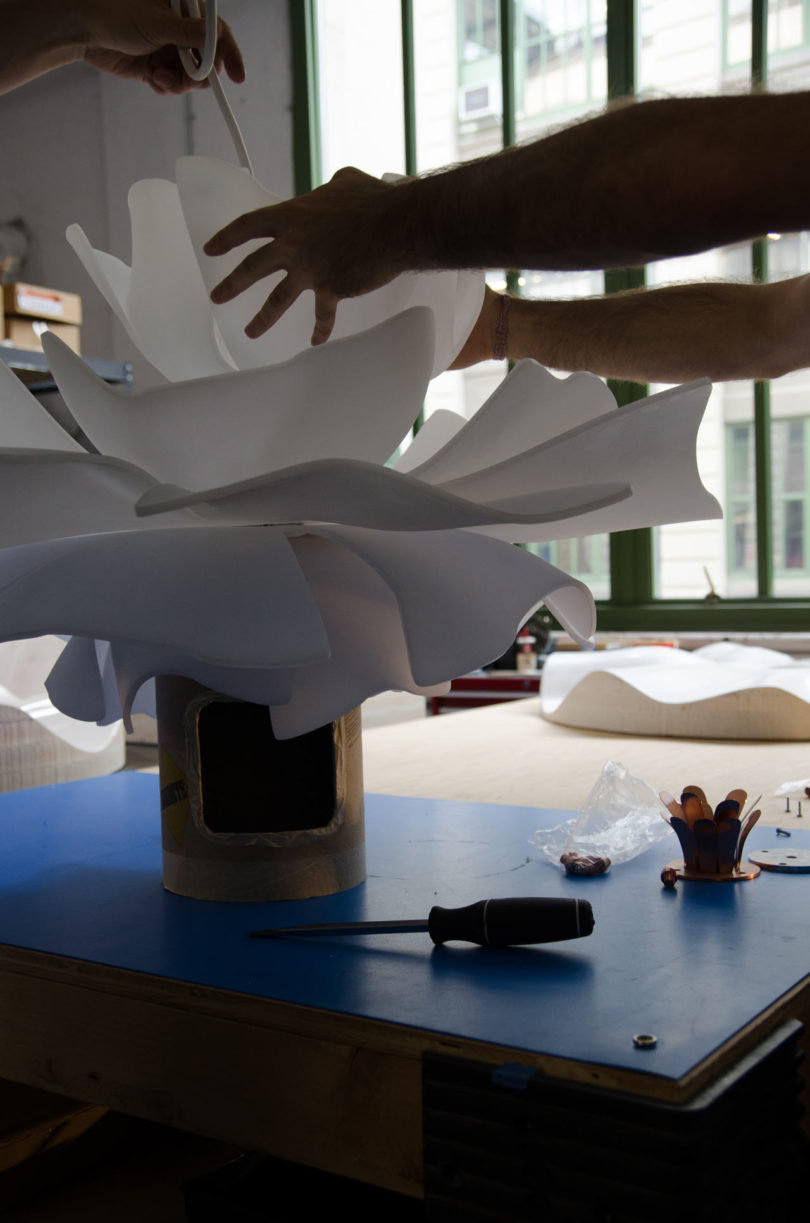 Each layer is stacked and assembled around the LED core.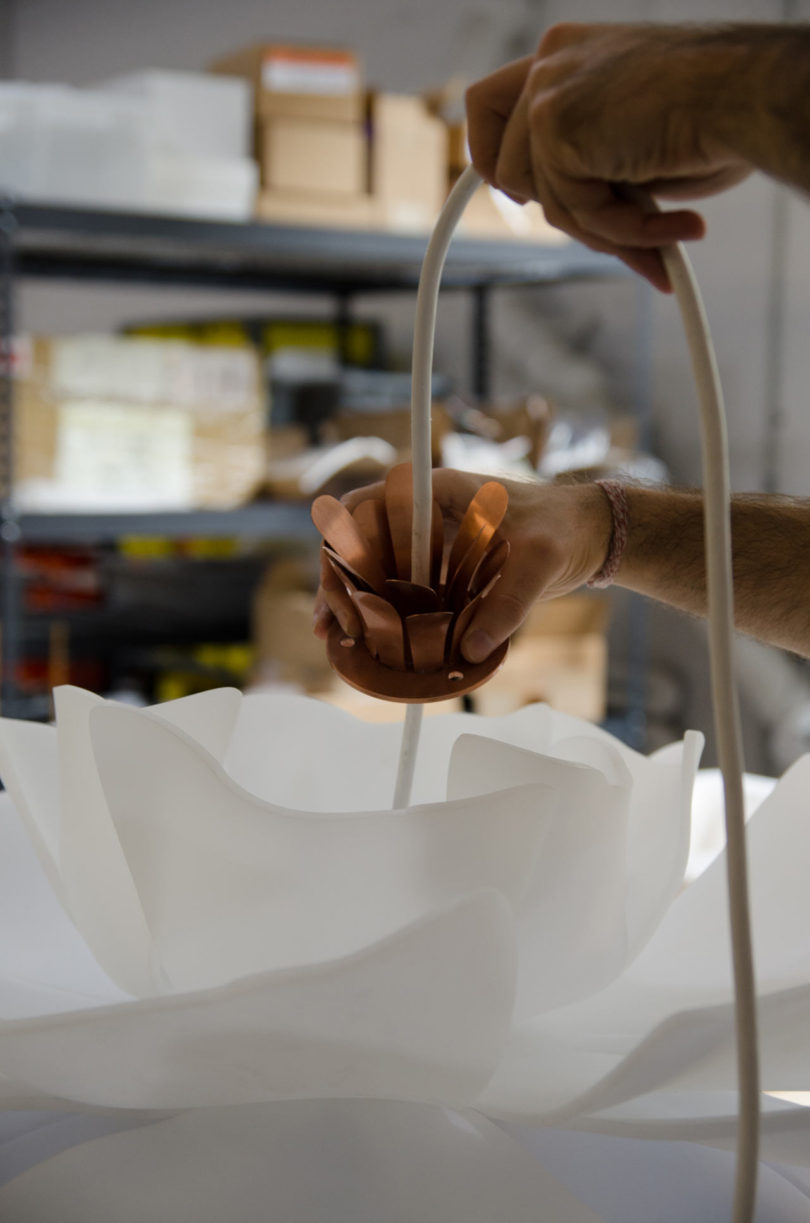 The heatsink is put on last and the whole fixture is bolted together with custom copper bolts.
The final product. Each one a little different.