At almost 10,000 square feet, this house in Rishpon, Israel, comprises two concrete rectangular volumes laid out in the form of a 'T' and joined together by a vertical light structure. The house was designed by Studio de Lange on a piece of property that spans 20 acres with lush greenery all around. The landscape played a key role in the design with grassy areas and the pool cutting in and out of the concrete structures, helping to join the interior and exterior together.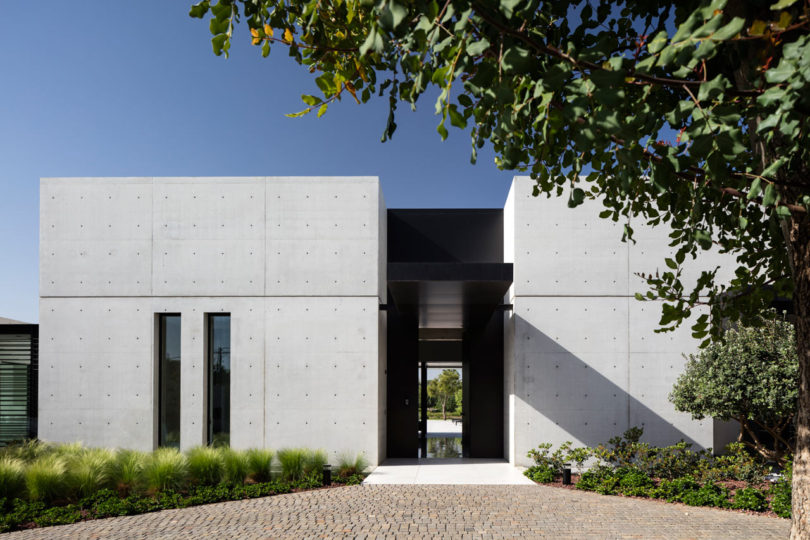 The project scope included a minimalist design with materials that include natural stone, exposed concrete, and aluminum, used both on the interior and exterior.
The homeowners are avid art collectors so the interior materials and color palette were kept simple letting the art be the focal points.
Large slabs of natural stone are paired with concrete and white walls for a clean, contemporary look.
The home's architectural details are black helping to create a cohesive design element throughout.
The layout is divided into two sections, one housing the public areas (entry, living, dining, and kitchen areas), and the other containing the private sleeping quarters and office. The private wing has lower ceilings for a more cozy feel, while the public areas have larger proportions of both height and volume.
Between the two volumes is a vertical glass structure that gives full views to the gardens. Horizontal blinds can adjust to help control the sunlight.
Photos by Amit Geron.