A Ramen Shop in Japan Inspired by Old, Pixelated Video Games
A Ramen Shop in Japan Inspired by Old, Pixelated Video Games
1/24 Photos
2/24 Photos
3/24 Photos
4/24 Photos
5/24 Photos
6/24 Photos
7/24 Photos
8/24 Photos
9/24 Photos
10/24 Photos
11/24 Photos
12/24 Photos
13/24 Photos
14/24 Photos
15/24 Photos
16/24 Photos
17/24 Photos
18/24 Photos
19/24 Photos
20/24 Photos
21/24 Photos
22/24 Photos
23/24 Photos
24/24 Photos
If you want to feel like you've jumped inside a 1980's video game, visit this ramen shop in Okinawa, Japan. It's like a mix between Tetris and Q*bert and I'm 100% intrigued. At the start of the design process, 07BEACH only received the future name of the restaurant – Kaishin No Ichigeki – a signature phrase that comes from an old RPG (role playing game). The design takes nostalgia to the next level with its low res, pixelated look without any semblance of childishness.
Everything from the flooring to the seating to the condiment displays takes on the cube aesthetic, all made from inexpensive materials. White, square ceramic tiles cover the the surfaces, while cement, wood, and carpet tiles round out the rest of the material list.
The rounded stool bases soften all of the squares and straight lines.
While the design is inspired by video games, which could easily come across as tacky, the overall feel is both sophisticated and playful. In lieu of bright colors typically associated with video games, the restaurant is decked out in white and grey, with wood and green-colored elements.
Each condiment gets its own pedestal, much like an item you'd score in a game.
The walls feature an abstract, block-like pattern that gives nod to wavy ramen noodles.
The seating area for groups resembles a castle you'd find in a game.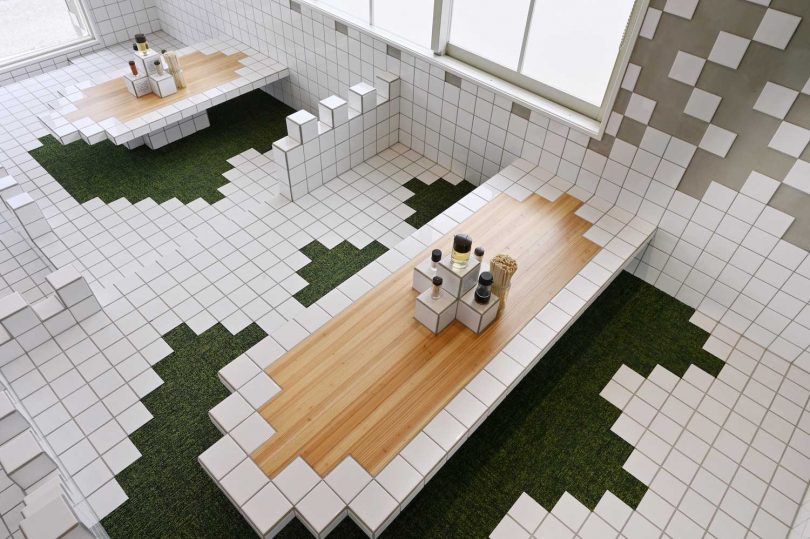 Even the sign, which says "つけめん" ("Tsukemen" means dipping noodles, the signature of the shop), is made up of cubes.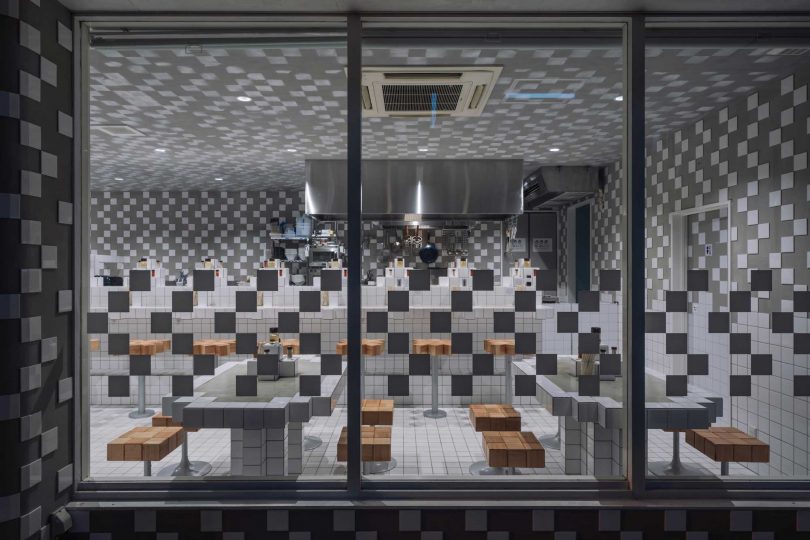 Photos by Yoshiaki Ida.