Located in Venice, California, 4016 Tivoli is a residence that boasts lots of personality with a 3,000 square foot facade of metallic, computer-cut flowers. Reminiscent of Andy Warhol's oversized flower pattern, the house is the brainchild of Electroland architect Cameron McNall who looked to his California childhood for inspiration. The colorful house was designed for his family as kind of a living experience that reflected his love of art, architecture, and design.
The house is clad in Aluminum Composite Material (ACM) that was designed in CAD and cut using CNC technology.
The facade not only brings an art component to its curb appeal, it creates cool light patterns from either side you view it.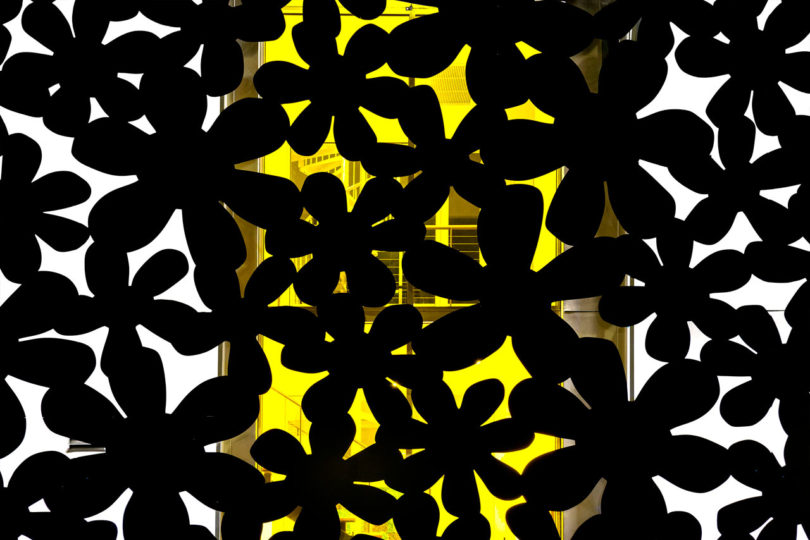 The house features four bedrooms (plus a flex room) and four and a half bathrooms, each with a bold tile color.  In addition, the home was built to LA's "Green Building" stands (Calgreen 2013) and includes two high-efficiency heating/cooling units, double-pane thermal low-E windows and doors, LED lights, low VOC paints and adhesives, low-flow toilets, rain barrels, permeable pavers, eco-compliant insulation, and EV vehicle 100-amp Tesla quick-charging capability.
To top it off, there's an 800 square foot roof deck, complete with a gas-heated hot tub, that offers privacy and surrounding views.