One of the highlights of last month's trip to Rochester Institute of Technology (RIT) was The Vignelli Center for Design Studies.

Melamine dishes for Heller
Massimo and Lella Vignelli, who founded Vignelli Associates in the 1970, have designed some of the most iconic graphics, signage, packaging and products known in the world of design. Some are classics, like their Heller melamine dinnerware (pictured above) or their 2003 Heller chair, are well-known by many.
Other iconic designs that have become staples in our everyday lives were also designed by the Vignellis. For example, the National Parks Service maps and materials or the New York Subway system signage and subway diagram. Also, the Bloomingdale's logo and "big brown bag" we've all come to know and love. Oh, yeah, and the Knoll logo. Bam. This guy (and his amazing wife) are ubiquitous.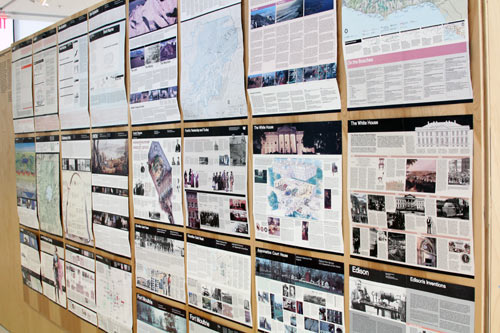 The Vignelli Center for Design Studies is unique in that not only is it a museum of Massimo and Lella's many many designs, but it houses all of their design archives, which Massimo has requested be used as teaching tools for design students and visiting designers. Essentially, he wanted a place where his legacy could live on without becoming extinct; he didn't want his drawings and prototypes to sit in some dark museum basement but rather he wanted others to learn from them. Therefore, students have access to the archives, and teachers can use blueprints and drawings and sketches in their courses.

Sketches for book pages: detail. The level of detail in these book sketches is mind-blowing.

Sketches for book pages

A selection of Vignelli furniture sits on the bright second floor
I got a peek at the archives myself, and I was pretty impressed with the vast amount of stuff – from prototypes, to boxes of defunct dishware, blueprints, drawings, sketches, plans, and even a collection of the Vignellis' clothing patterns. Yes, they designed clothing, too! I hear that there's going to be a fashion show some time next year, too.

Don't think I didn't want to grab these and run!

I love how these lockers are so nicely numbered. I feel like everywhere I turned, I could see Massimo's touch and attention to detail – right down to the floor tiles. In fact, he didn't quite like how the drawer labeling looked so he began drawing his own set of Bodoni letters!

We're not quite sure what this is all about, but we hope to find out!
In the spirit of using the process of design as teaching, the Vignelli Center staff will also be acquiring designs from soup to nuts to use in exhibitions and also as teaching tools. This collection, known as Product Timecapsule, has acquired the Clipt Chair by Jeff Miller, from his sketches to a model to various prototypes and even a factory mold, as well as Cory Grosser's Airline 009 chair for the Disney Signature Collection. Their most recent donation is the 1969 Molar chair by Rochester local (and living legend) Wendell Castle.

Clipt chair mold

Clipt chair sketches
The RIT Industrial Design department organized a project last year called "Activating the (Vignelli) Archive" where each student was assigned a particular group of processes from the Vignelli's cache. They were asked to research the context of those artifacts in order to inspire a contemporary idea, seeded by these items. Although the Vignelli Center is just two years old, they students are already putting it to good use.