A series of three lightweight steel chairs inspired by the bicycle.
American-born, Netherlands-based designer Max Lipsey will present a new project, Acciaio Series, in the Rossignoli Bicycle shop (Corso Garibladi 71, Milan) during the Salone Furniture Fair.
The Acciaio Series ("acciaio" is Italian for "steel") of three lightweight chairs is inspired by the classic racing bicycle. The chairs are constructed from specialized, c tapered steel bicycle tubes, using brazing techniques from the bike frame-building craft. The results are strikingly strong and light. In the series are a stool, dining chair, and lounge chair. The seating surface on all three is a perforated sandwich of leather and aluminum: light, comfortable and slightly flexible.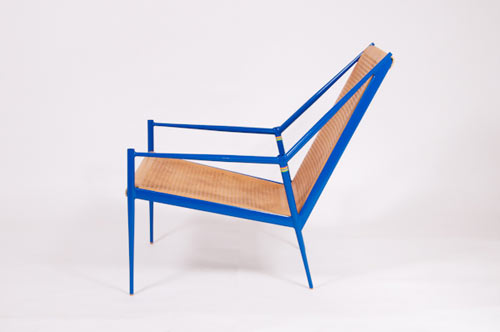 The exhibition will take place form April 12-17th. At that time, the Acciaio chairs will be available for pre-order in 16 different colors. Each color is selected and named after a bicycle maker who inspired the Acciaio project. The chairs will be hand produced in a small batch production in Eindhoven, the Netherlands.