Danish philosopher Soren Kierkegaard once noted, "The more a person limits himself, the more resourceful he becomes." The observation could have likely been inspired by the trials and tribulations of navigating a small kitchen. Because any small space dweller will tell you it's the kitchen that most often poses the greatest challenge when it comes to balancing utility with storage. That's why this design by Adriano Design for Italian kitchen appliance/accessories manufacturer Fabita – the Ordine – seems a promising venture, exploiting the flexibility of induction cooktop technology and turning it into a space efficient cooktop that can be hung up like a pan between uses.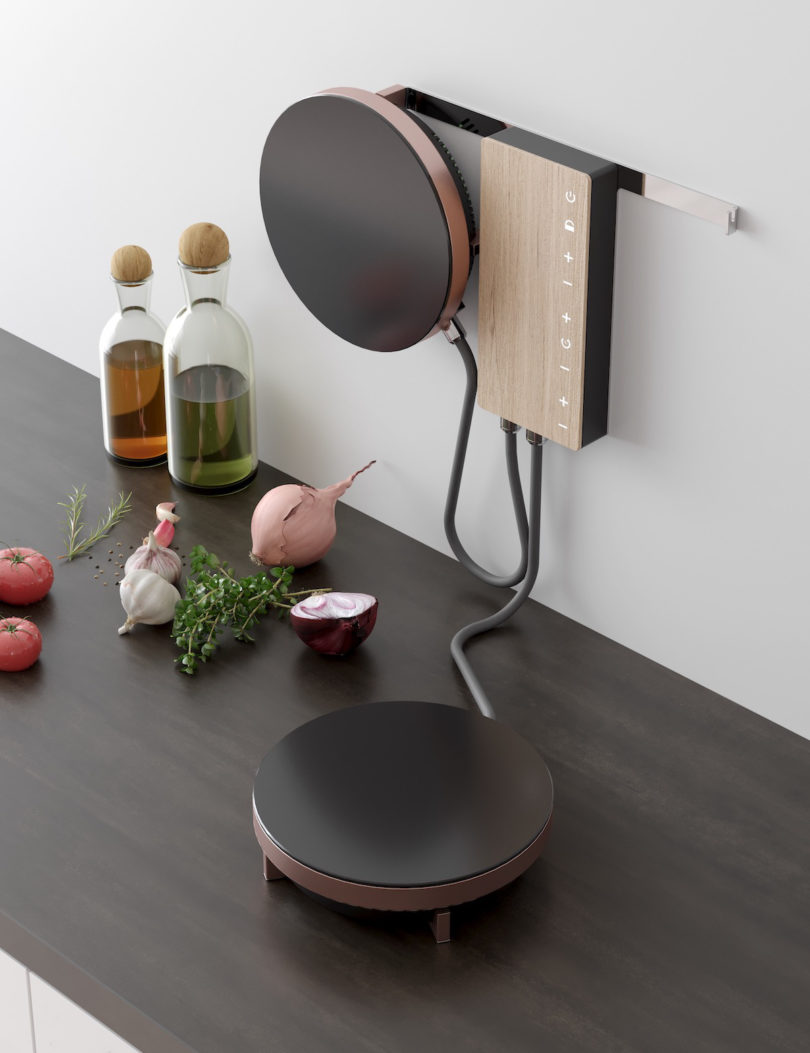 Turin-based Adriano Design deviates from the surface orientation of the typical cooktop (or portable induction burner) for a wall-mountable copper ringed twin induction appliance design complemented by a level of ornamental beauty atypical of space-saving solutions. The concept reflects a genuine appreciation for the challenges of small kitchens, where putting away something…anything…may not always be an option. With both burners mounted onto the wall, the appliance takes on the appearance of an audio system designed by the likes of Bang & Olufsen.
Adriano Design was also charged with several other prognosticating small-space concepts for Fabita, including the Cucinotta (above), an induction cooktop, utility drawer (with the option to operate as a fridge), and hood all with a minimal footprint and powered by a single cord.
Fabita's focus on kitchen vents is also expressed in a selection of wall and ceiling mounted kitchen hoods, each proposing form factors actively congruous with home decor outside of the kitchen. The Enigma is an example rethinking the form factor of a kitchen hood in impressively deceptive fashion, a linear shelf topped with two ceramic vases, camouflaging the filtration mechanism within a decorative silhouette.
For more examples of Adriano Design's work for Fabita unveiled at Living Kitchen 2019, check out the Fabita website.