Airstream has developed only a few new trailers for 2010, including the Victorinox and International Serenity.
The Victorinox Special Edition Airstream trailer is a product of a new partnership between Victorinox Swiss Army and Airstream trailers. Production of the 19-foot trailer is limited to 125 units to celebrate the 125th anniversary of Victorinox Swiss Army. Each trailer embodies the shared qualities of the two iconic brands: precision, functionality, reliability and a classically elegant design.  Like the legendary Swiss Army Knife, the details of the trailer are precise, clean and sure to last a lifetime. The solid surface countertops, cutting-edge cabinets and hardware and the luxurious custom bedding ensemble with embroidered wool blanket are all housed within the iconic Airstream aluminum shell. And to ensure consumers are fully equipped, a collection of Victorinox Swiss Army timepieces, kitchen cutlery, Swiss Army Knives and accessories are included to enhance any camping adventure.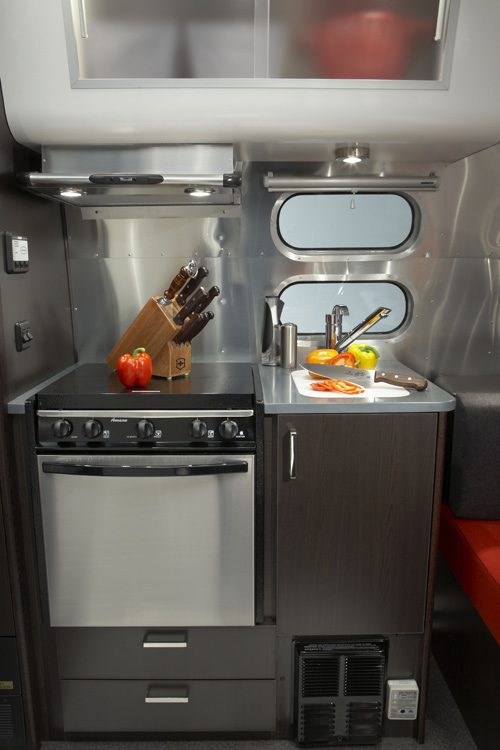 Pictured below, "Serenity" is truly is the perfect name for this new Airstream trailer with an ambiance suited for relaxation and tranquility while you travel on the road in luxury. The International Serenity is geared towards a design-savvy audience, every color, shape, surface, and texture contributes to an atmosphere of relaxed luxury and tranquility. Like all International models, the Serenity is equipped for your go-anywhere-any-time lifestyle with Internet hook-up, satellite pre-wire and optional solar package. The International Serenity is available in 16, 19, 23, 25, 27 and 28-foot lengths.