We spotted the work of Al-Hamad Design at ICFF this year and really loved the unique approach they have with their designs. They definitely think outside the box with innovative (and sometimes quirky) twists on furniture design making each of their pieces memorable. Here are some of our favorites:
Little Oyster is a side table that converts to a chair by lifting the tabletop up. Lift the seat up and you have a secret compartment underneath.
It even has built-in lighting.
Chandelier is a piece that serves two functions – a chandelier and a throne. This is a tame way to act out your swinging from the chandelier fantasy.
Gibbous isn't just a giant looking volleyball. It's an outdoor chair and ottoman that glows in the dark. You heard me! The material is heavy duty and waterproof and perfect for sitting by the pool. When not in use, simply put the ottoman back on and it's a glowing orb at night.
Cradle is another outdoor, glow-in-the-dark option but this time in the form of a two-person rocking hammock. It charges by the sunlight during the day and glows by night making it look like it floats in mid-air.
Bulb Box is a table lamp that's pretty self-explanatory. A few of the bulbs light up which illuminates the other bulbs in the box creating shadows.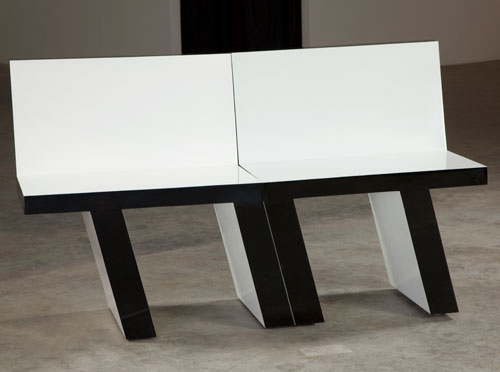 Parallel Angles are a pair of chairs that feature parallel diagonal legs that give the appearance that they are falling over.
Embarakiya is a human floor lamp that is decked out in traditional Kuwaiti garb. Shake hands with the lamp to turn it on and off!